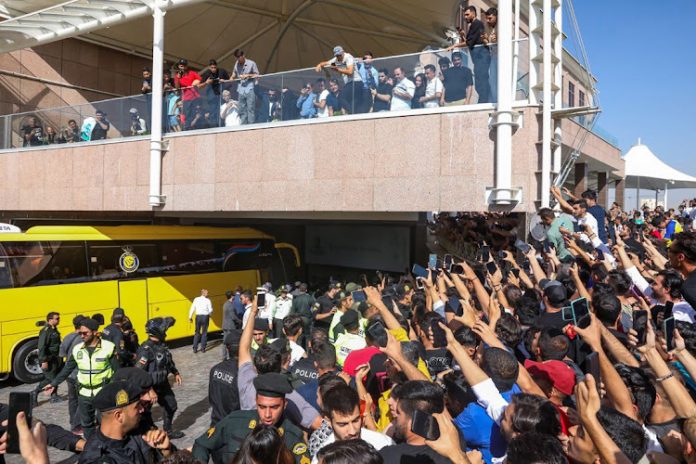 In a historic moment, Al-Nassr's captain, Cristiano Ronaldo, was greeted with a heartfelt reception during his visit to Iran on Monday.
This marked the first time a Saudi team had set foot in Iran since 2016, as they prepared for the commencement of the group stage of the Asian Champions League.
Al-Nassr was scheduled to face off against the Iranian side, Persepolis, in Group E on Tuesday, while the Qatari team, Al-Duhail, was set to play against Istiklol Dushanbe from Tajikistan.
As the Saudi Arabian team arrived in Iran, the streets teemed with enthusiastic fans who proudly displayed welcoming banners and images of Ronaldo. This warm reception came as a result of the recent restoration of relations between the two nations.
The Asian Football Confederation (AFC) had announced that matches between Saudi and Iranian teams would now be held on a home-and-away basis, following an agreement reached by the two local football federations.
Despite security personnel's efforts to maintain order, fervent supporters managed to infiltrate the team's hotel. The chants of Ronaldo's name echoed through the air, with both children and women proudly holding up portraits of the Portuguese captain.
In a touching gesture, Al-Nassr shared several photos of Ronaldo graciously accepting a luxurious, hand-crafted Iranian carpet gifted by Persepolis supporters. The inscription read, "Mr. Cristiano Ronaldo, welcome to Iran. A token of appreciation, an original hand-woven piece of art made by Iranian artists to commemorate your presence in Iran, on behalf of Persepolis's fans."