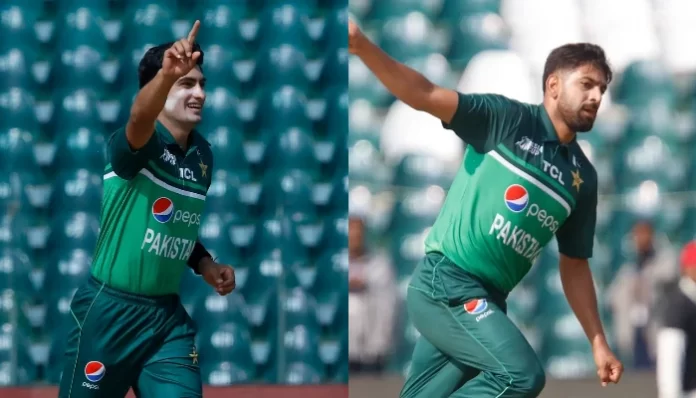 In anticipation of the upcoming World Cup, Pakistan's cricket team may have to compete without their star pace sensation, Naseem Shah, who is battling a shoulder injury.
Conversely, fellow fast bowler Haris Rauf is on the path to recovery and is likely to secure a spot in the squad when the official announcement is made on Friday.
Naseem Shah sustained a shoulder injury during Pakistan's Asia Cup Super Four match against India. Reports indicate that the 20-year-old cricketer has been advised to undergo an extended period of rest from the sport due to his medical condition. In contrast, Haris Rauf, who experienced a side strain during the same match against India, has successfully regained full fitness and is poised to join Pakistan's roster for the World Cup.
Replacing Naseem Shah in the lineup is Zaman Khan, who made his debut in One-day International cricket during Pakistan's Asia Cup Super Four match against Sri Lanka.
Pakistan enters the World Cup on the back of a disappointing Asia Cup campaign. The team, initially considered favorites to win the tournament, ended up at the bottom of the Super Four standings. They suffered a resounding 228-run defeat to India and a heartbreaking two-wicket loss to Sri Lanka.
The absence of Naseem Shah and Haris Rauf was acutely felt by Pakistan during the Asia Cup. Their title prospects heavily relied on the prowess of their star-studded pace attack, with Shaheen Shah Afridi leading the charge.
In a review of the team's performance in the Asia Cup, the Pakistan Cricket Board (PCB) attributed Naseem and Haris' injuries to mismanaged workloads, particularly their participation in franchise T20 leagues. The PCB, currently under the interim leadership of Zaka Ashraf, held the "previous management" responsible for allowing this situation to develop.
Zaka Ashraf stated in a PCB announcement on Thursday, "Discussion revealed that the previous management had permitted many players to participate in league cricket, leading to fatigue ahead of their national duties. However, moving forward, we are committed to adopting a proactive approach to manage players' workloads and prioritize national duties."