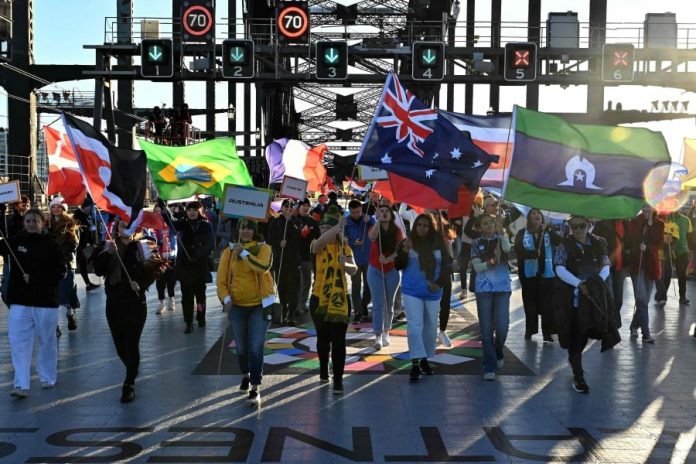 SYDNEY: Thousands of football fans marched over the Sydney Harbour Bridge on Sunday to mark 25 days before the Women's World Cup starts in Australia and New Zealand.
Football's governing body FIFA estimated around 4,000 braved chilly temperatures to take part in the early morning event on the famed bridge, which was temporarily closed to traffic.
Co-hosts Australia and New Zealand kick off the 32-team tournament on July 20 when the Matildas play Ireland in Sydney and the Football Ferns face Norway in Auckland.
FIFA says more than one million tickets have been sold for the 64 games in nine host cities, surpassing total sales for the 2019 World Cup in France.
FIFA official Rhiannon Martin told AFP she expected this year's tournament would be a "milestone" for women's football in Australia.
"We've seen how women's football has developed here over the last years," added Martin, who is head of FIFA Women's World Cup.
FIFA has said each player at the World Cup will earn at least $30,000, with the winners taking home $270,000 apiece.
Martin said the boost to the prize money pot showed that "women's football is really being valued".
James Johnson, chief executive of Football Australia, told AFP it "starts to bridge the gap" between prize money for the men's and women's World Cup.
"We still have a bit of work to do over the next four years, but being the World Cup where the lift occurred makes us very proud," he added.