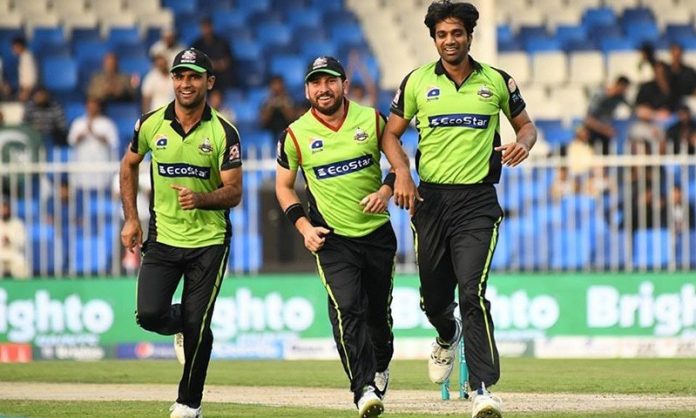 KARACHI: Lahore Qalandars, arguably the most favourite HBL Pakistan Super League franchise for the cricketing masses, had to suffer four years of heartbreak on the trot since the start of the T20 extravaganza as each season they were plummeted in the last place.
However, the year 2020 changed everything for the beleaguered Qalandars who not just qualified for the playoffs but also managed to go all the way to the final where they misread the pitch conditions at the National Stadium and lost after the Covid-19 pandemic cruelly denied them the opportunity of playing the decider in their hometown, Lahore.
Despite that setback, Qalandars were not disgraced since it was a massive turnaround for the franchise, which is owned by Fawad Rana, who is a very popular figure and had been through countless periods of tribulations and ecstasy all these years.
There is no denying that Lahore Qalandars will be one of the top contenders for the HBL PSL 6 title and would surely love to make the playoffs — and of course, the final — for the second straight season and perhaps bask themselves in the ultimate glory in front of ardent supporters at the Gaddafi Stadium on March 22.
Their team composition looks formidable, particularly on the bowling front with the prized acquisition of star Afghanistan leg-spinner Rashid Khan. The top-ranked T20 bowler in the world makes the Qalandars' bowling even more threatening this time since he would be operating alongside Pakistan pace spearhead Shaheen Shah Afridi, who had been announced as the vice-captain, and speedster Haris Rauf with Dilbar Hussain also in the support cast.
Sohail Akhtar may lack the charisma his all rival captains in the HBL PSL 6 enjoy but his quiet personally is just what Lahore Qalandars require with a star-studded squad that features the prolific Mohammad Hafeez — who will be heading into the tournament after enjoying a purple patch with the bat in Twenty20 Internationals last year — Fakhar Zaman and Ben Dunk, the dashing wicket-keeper/batsman from Australia.
Squad: Sohail Akhtar (captain), Shaheen Shah Afridi (vice-captain), Mohammad Hafeez, Rashid Khan, Fakhar Zaman, David Wiese Haris Rauf, Ben Dunk, Samit Patel, Dilbar Hussain, Salman Ali Agha, Tom Abell, Zeeshan Ashraf, Mohammad Faizan, Mohammad Zaid Alam, Maaz Khan, Joe Denly, Ahmed Daniyal
Backroom staff: Aaqib Javed (head coach), Mansoor Rana (batting coach), Waqas Ahmed (bowling coach), Shahzad Butt (fielding coach), Nabeel Edgar Pace (analyst), Paul Khoury (physio), Moeen Nadeem (trainer), Derek Sedgman (masseur), Simon Paul (masseur), Malang Ali (masseur), Sameen Rana (media manager).
Result summary
Season M W L T NR/Abd SR Rank
2016 8 2 6 0 0 25.00 5th
2017 8 3 5 0 0 37.50 5th
2018 10 2 6 2 0 30.00 6th
2019 10 3 7 0 0 30.00 6th
2020 13 7 6 0 0 53.85 2nd
Overall 49 17 30 2 0 34.60 —
Head-to-head count
Opponents M W L T NR/Abd SR
Islamabad United 10 2 7 1 0 25.00
Karachi Kings 11 3 7 1 0 31.81
Multan Sultans 7 4 3 0 0 57.14
Peshawar Zalmi 11 3 8 0 0 27.27
Quetta Gladiators 10 5 5 0 0 50.00
Lahore Qalandars' fixtures (all times PST)
Feb 21: vs Peshawar Zalmi (Karachi, 2:00pm)
Feb 22: vs Quetta Gladiators (Karachi, 7:00pm)
Feb 26: vs Multan Sultans (Karachi, 3:00pm)
Feb 28: vs Karachi Kings (Karachi, 7:00pm)
March 4: vs Islamabad United (Karachi, 7:00pm)
March 6: vs Peshawar Zalmi (Karachi, 7:00pm)
March 11: vs Quetta Gladiators (Lahore, 7:00pm)
March 12: vs Islamabad United (Lahore, 8:00pm)
March 13: vs Karachi Kings (Lahore, 7:00pm)
March 16: vs Multan Sultans (Lahore, 7:00pm)