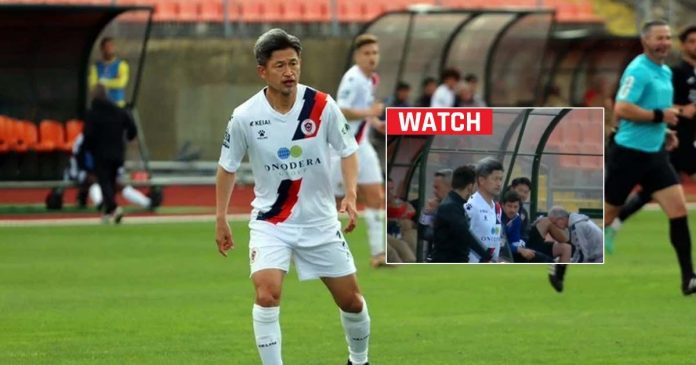 In a remarkable decision, former Japan international Kazuyoshi Miura has extended his loan deal with Oliveirense, a Portuguese second-division team, ensuring that he will continue playing football at the age of 56.
 After joining Oliveirense from Yokohama FC in February, Miura has already made three appearances for the club, and now he is set to stay with them for the upcoming season.
Expressing his desire to keep playing until he turns 60, Miura remains committed to the sport he loves. While acknowledging that there might be times when he won't be involved in games, he is determined to stay motivated and contribute wherever possible. His dedication and passion for the game are evident, as he continues to defy age-related barriers.
Revered as "King Kazu" in Japan, Miura made his professional debut in 1986 with Santos in Brazil, subsequently showcasing his skills in various countries, including Japan, Italy, Croatia, and Australia. As one of Asia's most prominent footballers during the 1990s, he played a significant role in elevating the sport's popularity in Japan when the professional J-League was launched in 1993.
Although he made his debut for the Japanese national team in 1990 and amassed an impressive record of 55 goals in 89 games, Miura was controversially left out of the squad for their inaugural World Cup appearance in 1998. Nevertheless, his contributions to Japanese football and his enduring career have left an indelible mark on the sport.
As Miura's journey continues, fans of Pakistan sports news and updates witness the remarkable story of a footballer defying age and expectations. While the focus may predominantly revolve around cricket, the news of Miura's perseverance serves as a testament to the enduring spirit of athletes across various sports.