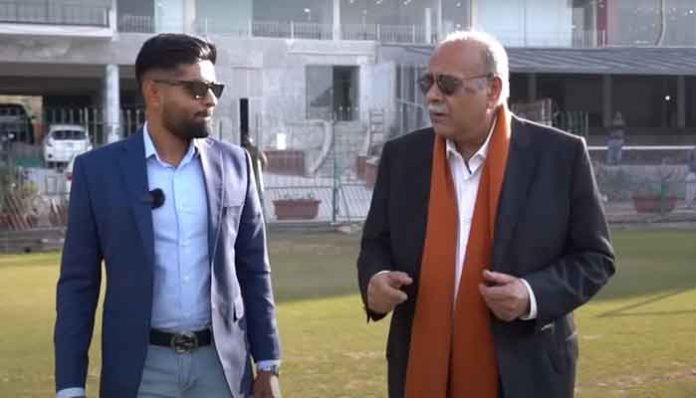 The interim management committee chairman of the Pakistan Cricket Board, Najam Sethi, has attempted to address the ongoing discussions surrounding Babar Azam's captaincy of the national team.
The controversy around Babar's captaincy has been in the air for a quite long time now. PCB chairman Najam Sethi has given several statements regarding the issues several times.  
Sethi stated on social media that for now, the "status quo will remain intact," effectively putting a hold on any changes to Azam's position. While Sethi stated that a final decision would be made based on the success or failure of the current arrangement, he urged that any controversy over the matter should be avoided.
Despite speculation that Azam would be relieved of his captaincy duties in one format, he is set to lead Pakistan in the upcoming five-match Twenty20 series against New Zealand. Following the T20s, a five-match One-day International series against the Black Caps will take place, and the result of these matches, according to Sethi's statement on Twitter, could determine who will lead Pakistan at the World Cup later this year.
Sethi's decision was backed by the views of Selection Committees headed by Shahid Afridi and Haroon Rashid, both of whom concluded that the status quo should be maintained. 
While Sethi's decision is subject to the success or failure of the current arrangement, he stated that he would be guided by the Selectors, Director Cricket Ops, and Head Coach going forward. He also urged support for Babar and not to create any controversies that could harm the national team's interests.
It has been rumored that a lobby in the PCB is pushing for a separate T20 captain for Pakistan, and Sethi's tweets came after an interview where he stated that the interim selection committee led by Afridi wanted to replace Babar as captain. However, Afridi later confirmed on social media that he had not suggested the PCB replace Babar and wished the best for him and the team ahead of the New Zealand series.