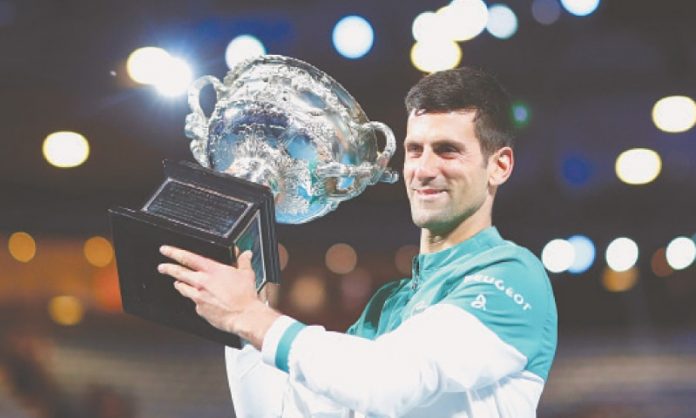 MELBOURNE: Maybe, just maybe, the thinking went, Novak Djokovic would be just a tad more susceptible to trouble this time around at the Australian Open.
After all, he tore an abdominal muscle in the third round and wasn't sure he could continue to compete. Entering Sunday, Djokovic ceded five sets in the tournament, the most he ever dropped en route to a major final. And to top it all off, he was facing Daniil Medvedev, owner of a 20-match winning streak.
Yeah, right. We're talking about Djokovic at Melbourne Park, where his dominance is most certainly intact — nine finals, nine championships. Plus, he's still gaining on Roger Federer and Rafael Nadal in the Grand Slam standings, now up to 18 overall, two shy of the men's record those rivals share.
Djokovic used improved serving, along with his usual relentless returning and baseline excellence to grab 11 of 13 games in one stretch and beat Medvedev 7-5, 6-2, 6-2 for a third consecutive Australian Open trophy.
"Definitely, emotionally, the most challenging Grand Slam that I ever had, with everything that was happening injury, off-the-court stuff, quarantines," Djokovic said. "A roller-coaster ride."
When the match ended after less than two hours, Djokovic went to the sideline, lifted his white shirt and peeled pieces of beige athletic tape from his stomach.
"I was quite worried," Djokovic said about the injury. "I did not [think] realistically that I could actually play. I didn't know until two hours before the fourth-round match."
Dealing with what he called bearable pain, Djokovic improved to a combined 18-0 in semifinals and finals on Melbourne's hard courts.
"Probably, it's not your last one," Medvedev said. "I have no words to say."
Djokovic, a 33-year-old from Serbia, has won six of the last 10 majors and will stay top of the rankings at least through March 8. That will give him 311 weeks there, breaking another mark held by Federer.
His goals now are squarely on Grand Slams, even more than before.
Put Djokovic's nine triumphs in Australia alongside five at Wimbledon, three at the U.S. Open and one at the French Open. The math looks good for him: He is about a year younger than Nadal and six-and-half years younger than Federer.
"I do enjoy the success every single time even more," Djokovic said, "because I know that the longer the time passes, the more difficult it's going to become."
Much like Dominic Thiem in last year's final, Djokovic faced an opponent desperate for a seat at the Grand Slam table.
Unlike Thiem, who pushed Djokovic to five sets, Medvedev never threatened in his second major final.
"Yeah, it's definitely tough. I don't like to lose matches. Doesn't matter if it's a first round or a final of a Grand Slam," said Medvedev. "He was better than me today. I could have done things for sure better today, but I didn't manage to. That's why I don't have the trophy."
Djokovic had said pre-match that Medvedev was the man to beat but it all seemed like mental games when the Serb shot out to a 3-0 lead.
Medvedev rallied to 3-3, though, edging Djokovic in fierce baseline exchanges.
Long rallies ensued and it went with serve until some brilliant groundstrokes from Djokovic earned three break points at 6-5. Medvedev saved two but not the third to lose the opening set.
Undeterred, the tall, pencil-thin Russian kept coming and dialed up the pressure to break Djokovic's opening serve in set two, only for the Serb to immediately strike back.
Djokovic won three games in a row, despite the disruption of two fans being ejected in an apparent refugee protest, as he took control.
He raced to a 5-2 lead with Medvedev smashing his racquet in frustration as the set and the championship began slipping away.
Deflated, Medvedev dropped his opening serve in set three and never looked like finding a way back as Djokovic, in his 28th Grand Slam final, drew on his experience to close out the match, dropping to the court in celebration.