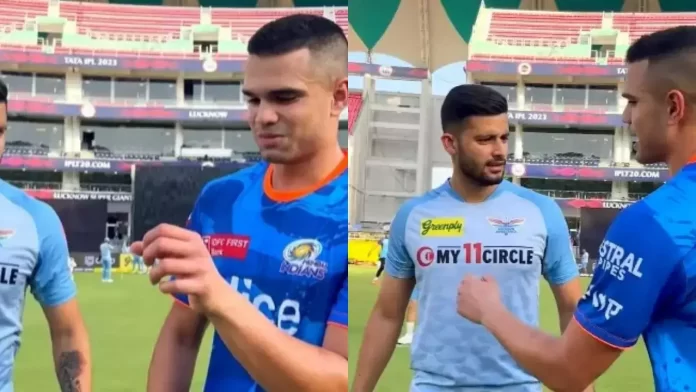 He revealed that he had been bitten by a dog while interacting with LSG player Yudhvir Singh before the face-off between their teams. 
In an unfortunate incident prior to the Mumbai Indians' match against the Lucknow Super Giants in the IPL 2023 season, Arjun Tendulkar, the talented all-rounder, found himself at the center of attention. LSG shared a video on Twitter where Arjun could be heard disclosing the incident.
During their conversation, Yudhvir inquired about Arjun's well-being, prompting Sachin Tendulkar's son to disclose the dog bite. Arjun pointed to his left hand, the one used for bowling, as he revealed what had happened.
Despite the setback, Arjun has made a mark in multiple games this season for the five-time champions. In four matches, the young all-rounder has taken a total of three wickets, averaging 30.66 with an economy rate of 9.35. He has had limited opportunities with the bat, scoring only 13 runs in his sole outing.
With two more matches remaining in the league stage, Arjun hopes to receive another chance to showcase his skills against some of the world's finest players.
Mumbai Indians are in a promising position for qualifying for the playoffs. They need to win at least one of the remaining two matches to secure their spot.
On the other hand, Lucknow Super Giants face a more challenging scenario. Led by Krunal Pandya, they currently have 13 points with two matches remaining. Ideally, LSG would aim to win both matches as a single defeat could hinder their chances of making it to the playoffs.