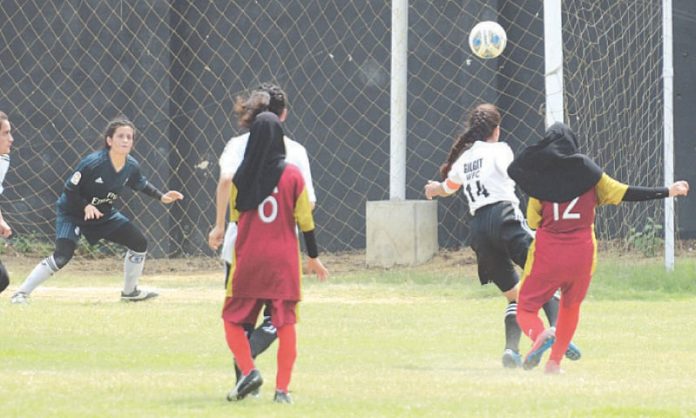 KARACHI: With her back towards the goal and on the edge of the box, Zohra Nasir controlled the ball with the outside of her right foot before turning inside.
The 13-year-old Hazara Girls Football Academy forward took another touch to steady herself and another to give herself some shooting space on the right wing before letting fly.
The finish was perfect; Zohra's shot having the perfect trajectory, its projectile motion seeing it go over the Gilgit FC goalkeeper and nestling the back of the net, bringing unbridled joy to Hazara Girls.
That goal, six minutes from time, was more than just a winner at the KMC Stadium on Tuesday. It was a goal that took Hazara Girls into the quarter-finals on their maiden appearance in the National Women's Football Championship.
It reverberated in the Manghopir district in Karachi, where the team is based. On their arrival back home, the players were showered with rose petals. That's how much that goal meant.
But most of all, the goal represented a culmination of a long, arduous journey in which these young girls, a majority of them not even in their teens, have overcome societal challenges to continue playing the sport they love. A fairytale ending. But, in effect, this is just the beginning.
"When I started the academy a few years ago, I wanted to give the girls who wanted to play football in Manghopir a pathway to go up to the Pakistan national women's team," Hazara Girls founder and coach Ali Daad told Dawn amid the celebrations. "We've certainly taken a step towards that today."
At the start of the tournament, Hazara Girls were never expected to go to the quarter-finals. Going into their final Group 'A' match, they needed a victory with Gilgit needing just a draw to progress.
In an earlier outing, they had been thrashed 17-0 by group winners and national giants Wapda. They looked destined to go into the developmental stage tournament organised by the Pakistan Football Federation Normalisation Committee for teams that fail to finish in the top two of their groups.
But how destiny changes. Ali and his girls have seen that first hand.
"After that [17-0] defeat, everyone in Manghopir was taunting us about that scoreline," Ali said. "They've always been saying that we've been wasting our time by giving girls of the community a chance to play football. But today, all of those detractors are standing up to applaud us."
On a day when Masha United buried Karachi Women's FC 35-0 to book their place in the quarter-finals from Group 'B' and Higher Education Commission put 10 unanswered goals past Sialkot City Women's FC, the goal that most mattered was Zohra's.
Since she took up the game, Zohra has had to defy the odds. Her family was against her taking up the game. There were times when she thought that she wouldn't be able to play anymore. Scoring goals in several local tournaments helped her showcase her potential to them. And on Tuesday, her talent shone on the highest stage of women's football in the country.
"I didn't believe I would score today but I'm really happy that I was able to take the team into the quarter-finals," Zohra said. "Our coach had told us that we had to give our all today to win and show that we're not as bad as that defeat to Wapda suggested."
The victory for a big vindication for Ali, who started the Hazara Girls Academy after he saw his daughter Farwa Zehra's interest in the game and finances the team by selling several species of birds that he breeds at his home.
"No one really supported me," he recalled. "Those who criticised me for taking girls out of their homes and bringing them to the field. Those people are celebrating at my home today."
MASHA ADVANCE
Unlike fellow tournament debutants Hazara Girls, Masha are a team with vast financial resources thanks to their businessman owner Rai Intikhab Ali.
In order to form a competitive team, they plucked four top players from the Nepalese Women's League, including the MVP Saru Limbu, and are looming as a big threat to the country's top teams like defending champions Pakistan Army and Wapda.
Their margin of victory against Karachi WFC was the biggest at this year's competition, beating the previous one by 10 goals. Their first test, though, comes on Thursday against last year's beaten finalists Karachi United in a match to decide which team finishes top of Group 'B'.
On Tuesday's showing, Masha look unstoppable.
All of their Nepalese players scored at the KMC including goalkeeper Angela Tumpabo Subba who got a brace. Gita Rana also got two but Anita KC and Saru got into double figures — scoring 16 and 10 respectively.
Samroz Samreena got two goals while Areeba got a hat-trick.
HEC needed to get their first win of the tournament and an unlikely victory for Karachi WFC to stay in the quarter-finals chase but go out despite having a game to play.
Animal Hira scored a hat-trick for HEC against Sialkot City at the KPT Stadium with Samana Baig and Sidra scoring twice each and Tajda Parveen, Kulsum Badar and Meherngaz getting one apiece.