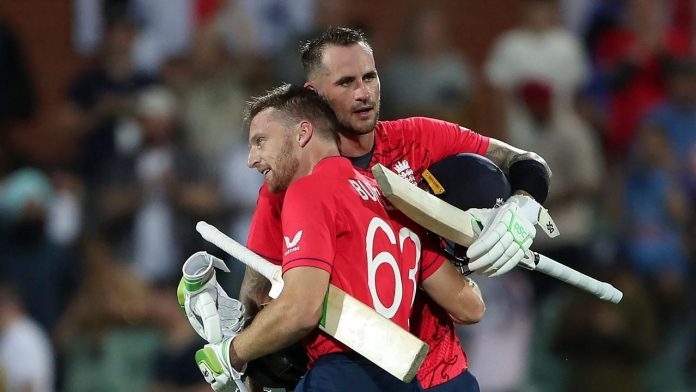 WC dream denied: England blow up fairy tale final in 'remarkable' T20 destruction
England is going to the T20 World Cup final, blowing up a dream date between Pakistan and India by annihilating the latter by 10 wickets at Adelaide Oval on Thursday night.
Openers Jos Buttler and Alex Hales ruthlessly chased down India's 6-168, finishing unbeaten on 80 off 49 and 86 off 47 respectively.
England booked its spot in the final at the MCG with four overs to spare against India.
The result leaves both India fans and cricket neutrals without a blockbuster final between two of sport's most bitter rivals.
England will be pleased to have spoiled the occasion as this golden generation goes one match closer to earning more white ball silverware.
Sunday will be England's third World Cup final across the past four ODI and T20 tournaments.
Asked if it was a perfect T20 innings by England, Hales said: "It would be right up there for sure.
"A huge occasion, India in the semi final of the World Cup. I'm really happy with the way I played — it's as special as it gets."
For India, the damage was done early after making just 3-80 from the first 13 overs. By comparison, Buttler and Hales put on 0-140 at the same point.
Hardik Pandya's 33-ball 63, and another fifty from Virat Kohli, recovered India's stuttering innings, but its 168 still proved well under par.
England captain Buttler smashed Bhuvneshwar Kumar for three boundaries in the opening over of the chase and his side never looked back until he emphatically hit the winning runs with a six at the end of the 16th over.
Hales reached his 50 off 28 balls and was severe on Mohammad Shami, who leaked 39 runs from his four overs as the match was torn away from India in a flurry of sixes and fours.
Earlier, Chris Jordan, in the side for the injured Mark Wood, picked up three wickets.
Pakistan will play England in the final at the MCG 30 years after it did the same in 1992.