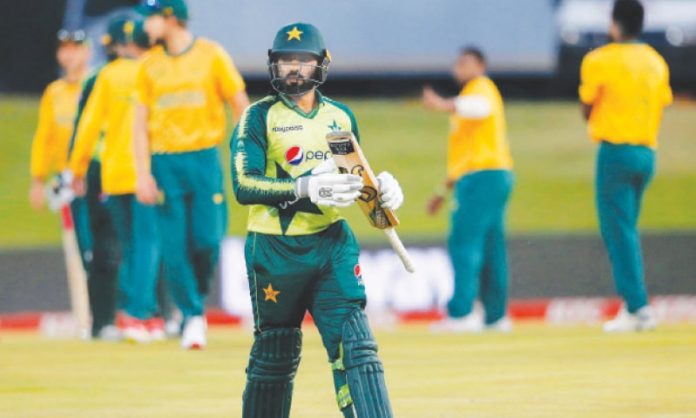 KARACHI: Batting coach Younis Khan on Saturday said that despite their struggles on the South Africa tour, both Haider Ali and Asif Ali should get more opportunities but admitted they should not expect undue favour from the selectors as Pakistan completed a grand double by winning both the ODI and Twenty20 International series against the Proteas.
Addressing a virtual media conference from the team hotel in Centurion before the Pakistan squad left for Harare on the second leg of their African safari during which they will face Zimbabwe in three T20 Internationals and two Tests — with all fixtures taking place at the Harare Sports Club — Younis was candid in saying the white-ball trip to South Africa provided ample glimpses of how captain Babar Azam, Fakhar Zaman and Mohammad Rizwan grew in stature across the seven matches — three ODIs and the four T20 games.
"But there are grey areas that Pakistan must address and learn," Younis warned. "There were a number of positives. Ever since I came to the set-up on the [team] management side, my emphasis has always been to keep reminding the batsmen to understand the art of playing in different environments. As a batting unit, there is nothing more pleasing to see guys performing and doing well in situational conditions."
Says it's time for team management to decide the fate of faltering Asif Ali
Younis, who retired in 2017 as Pakistan's most prolific Test run-getter — 10,099 from 118 matches — said the most pleasing aspect from his perspective was the 'maturity' exhibited by Babar, Fakhar and Rizwan.
"I was pleasantly surprised by Fakhar's newfound philosophy of how to bat deep into the innings. It means he is eager to learn and not repeat his past mistakes. Now he wants to score and score big as we saw during the ODI series. The innings he played during the second game of that series was an example of how well he was focusing on batting.
The batting coach continued, "We all know Babar is a world-class batsman with a proven track record but one lingering issue which had troubled him for long was he used to get stuck and then get out. However on this tour, everyone watched a new Babar who was willing to bat deep as much as possible. Likewise, Rizwan continues to improve at the top.
Younis expressed his concerns about the team's middle-order batting.
"Our problem has been the lack of runs from the middle order, which is indeed a worrying sign considering the amount of cricket Pakistan will play in the lead-up to [this year's] Twenty20 World Cup in what is a challenging year with several tough series to come.
"I will especially speak about Haider. There's no denying about him being a highly talented batsman. How many of us remember the first major scoring shot on debut — a massive six over long on when Haider went down his knee to blast England spinner Moeen Ali during the T20 game in Manchester last September — and that alone showed Haider's braveness," Younis recalled.
"The real issue is that Haider had been shuffled in the batting order since his debut. His form in the PSL this year was incredible while batting in the middle order and it was thought that Haider should be batting in the middle part against South Africa but somehow he didn't adjust according to the situation. Being only 20, Haider is still inexperienced. There is mental stress related to Haider not making runs but it doesn't mean he isn't keen on learning from mistakes he had been making of late. In fact, he wants to make a major impact performance-wise. He's hungry for success and when he made his debut against England, what did he score on his second ball in international cricket? He hit a six and scored a fifty on debut; I have noted it down in my diary because I'm not someone drawing cartoons while sitting in the dressing-room but keep an eye by writing all bits and pieces about players and work with them on those points [Younis made this observation with a broad smile]!
"Mind you, we don't work on technique but we make sure that we allow players like Haider to play his natural game but we also work on tactics. He has had many opportunities and we need to give him time too because players need to learn from their own mistakes and if you ask him, he will tell you that he is learning from his mistakes and trying to overcome his weaknesses," Younis stressed.
Commenting on faltering Asif who has failed with the bat on many occasions, Younis clearly pointed out the onus is on the selectors, head coach and captain to decide which route to take after Asif's latest comeback proved a major flop. In 28 T20 Internationals, Asif has mustered just 343 runs at a pathetic average of 17.14 with a strike-rate of 124.72 and a best score of 41 not out, while in ODIs he has managed only 382 runs in 20 appearances at a measly average of 25.46 with a 121.65 strike rate with three 50-plus scores.
"Either the [team] management gets more patience and give him proper chance before discarding a player like Asif, who has had been in and out of the side. Considering Asif faced a family tragedy [his young daughter passing away], I still believe he should be given more time because not all players are not as strong minded as Javed Miandad or Shahid Afridi or a Saeed Anwar.
"And if the problem persists in the next series then someone must draw a line if the same old failings continue, and decide whether to keep faith with him or move on. Even though I shouldn't be sharing this, but before we board the flight to Zimbabwe I'll be distributing chits to the batsmen so that they know where they stand and improve," Younis concluded.