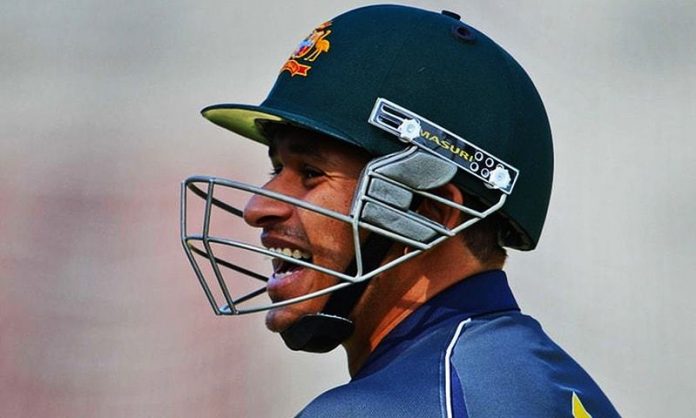 KARACHI: Usman Khawaja is no stranger for Pakistan cricket fans because he was born in Islamabad. One of sport's true journeymen, the 34-year-old left-hander hasn't played for his adopted country Australia since the Ashes series of 2019.
Having never played in the land of his birth, Khawaja would be turning up for Islamabad United — two-time former champions of the HBL Pakistan Super League when action finally resumes after the sixth edition was abruptly halted in Karachi due to the Covid-19 pandemic striking the tournament in the first week of March.
The soft-spoken Khawaja, while saying he was thrilled at the unexpected opportunity of being picked in the player redraft after several first-choice overseas signings became unavailable for the rescheduled competition, told reporters during a virtual online media conference on Saturday that he would be enjoying every moment coming his way during the June 9-24 PSL extravaganza.
"Look, it's probably six games or possibly seven or eight depending on [if Islamabad make] the final. Everything helps if one is performing well and if you help your team with runs and win big games it all helps. But I think it is too far because if one does well back in domestic competitions that probably a bit more weight playing here," Khawaja said.
"I love playing cricket and I'm definitely looking forward to playing in the PSL something I've never done [before]. And although we can't play in Pakistan [for obvious reason], it's still nice to be playing in the PSL. Hopefully in the future, I would love to play in the country of my birth. Unfortunately, for the moment, I'm not able to visit Pakistan where I've never played in my life.
"Hopefully, I look forward to the day when I do get a chance to play and playing among the fans. Whilst I was growing up, my ambitions were to play for Australia but I never thought of representing a Pakistani team because there was no T20 cricket then!"
To a query posed in Urdu, Usman surprised all by answering quite expertly in the same language.
"People speak of fast-bowling standard very high in the PSL. Spinners are equally good and Pakistan also have good fast bowlers and spinners but since I haven't played in Pakistan, I can't compare," he said.
"I think pitches in the subcontinent and UAE are more or less the same. On Australia pitches the bounce is quite high and even.
"I think the ball tends to skid more on the UAE pitches and since all matches are in one place [Abu Dhabi the spinners will dominate].
"Having said that I have fair idea of playing in these conditions because I have had played in India, Sri Lanka and the UAE before. At the end of the day, how you figure it counts because whatever it's a battle between bat and ball," Khawaja quipped.
Khawaja further stated playing the PSL would give him opportunities of rubbing shoulders against to players. "I think the beauty of franchise-based league is that you get to play against a number of quality players. That for me is a plus point because you seldom get that sort of a chance. I've played the BBL [Big Bash League] in Australia, the T20 Blast in England and the IPL [Indian Premier League] before coming to the PSL.
"Obviously from my perspective, playing in the PSL will be challenging because that's how I can improve [as a cricketer] since I'm [currently] not playing international."
Reminiscing his early life in Islamabad, Khawaja remarked: "I still remember the house [where lived] and I do remember quite well playing with my brothers. We actually visited [Islam­abad] after moving to Australia. I do have memories of Islamabad."
Meanwhile, Afghanistan's spinning ace Rashid Khan expressed his delight at being able to reunite with his Lahore Qalandars team-mates, while stating he's impatiently waiting for the resumption of matches at the Sheikh Zayed Stadium from Wednesday when his team takes on Islamabad United.
"I thoroughly enjoyed my first stint in Karachi. The two weeks there seemed more like two years because of the enthusiastic support from the entire team, the Qalandars management and the fans. I developed great camaraderie with the players. Fakhar Zaman and Shaheen Shah Afridi had already become friends with me," Rashid told reporters.
"Meeting them again in Karachi further strengthened our friendship. So basically, I am thrilled to be back and part of the PSL because now feel that I had been playing PSL for the last two years despite this is my first taste of PSL. So this is another chance where I can share my experience with my team-mates and enjoy playing alongside with them over the next couple of weeks.
"I'm grateful to the Sussex management for granting permission so that I could play all remaining fixtures for Lahore Qalandars, something I thought would do be good because our collective target is to make Lahore Qalandars champions this year. Mind you, this is the wish of all Qalandars' fans that I should be playing for the team because last time out [in Karachi] I could take part in just two matches because of national duty," Rashid added.