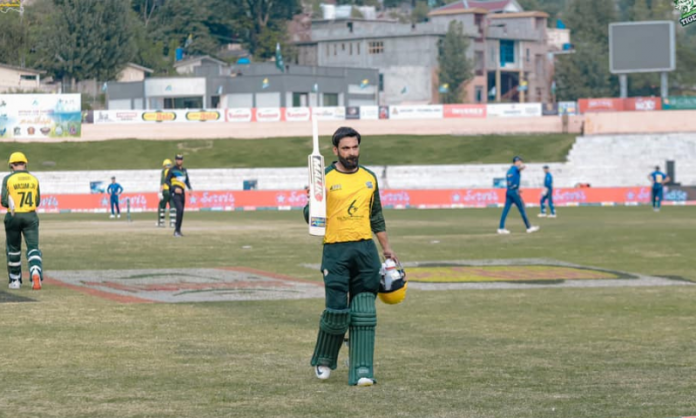 KARACHI: In a nail-biting finish to the Kashmir Premier League (KPL) Qualifier on Saturday in Muzaffarabad, tournament hosts Muzaffarabad Tigers edged past Rawalakot Hawks by seven runs to seal their place in the final.
Discarded Pakistan seamer Sohail Tanvir starred for the Tigers with four wickets as the Hawks — which had topped the six-team league standings — were bowled out for 157 in 19.4 overs. The left-armer was later adjudged player-of-the-match for his return of 4-29.
Hussain Talat kept his side in the game with robust 35-ball innings of 52, featuring four sixes and two fours, until he was run out in the 16th over to leave Hawks in dire straits at 117-6 after having shared a partnership of 52 with fellow left-hander Danish Aziz.
Danish struck a brisk 37 from 22 balls (three fours and two sixes) but Sohail dismissed in the penultimate over and also had caught Waqas Maqsood caught in the deep by Anwar Ali for a first-ball duck.
Earlier, it was Anwar who rescued the Tigers by blasting five fours and three sixes while scoring 57 off 34 deliveries after his side had slumped to 51-5 in the 10th over. The other notable run-getter was the identical namesake of former Pakistan captain Inzamam-ul-Haq. The young Inzamam, who was born in Rawalakot, scored 30 with his 33-ball knock including two sixes and one four.
The Tigers eventually posted 164-8. While the Tigers get ample rest before Tuesday's final, the Hawks will be in action in the Eliminator 2 on Monday to face either Mirpur Royals or Overseas Warriors who clash in Sunday's Eliminator 1.
Scoreboard
MUZAFFARABAD TIGERS:
Zeeshan Ashraf c Shahid b Imran 5
Mohammad Hafeez run out 0
Sohaib Maqsood c Hussain b Imran 17
Inzamam-ul-Haq c Asif b Danish 30
Sohail Akhtar c Bismillah b Waqas 1
Sohail Tanvir c Kashif b Asif 10
Anwar Ali c Bismillah b Waqas 57
Mohammad Wasim c Imran b Danish 9
Usama Mir not out 20
Arsalan Arif not out 4
EXTRAS (LB-2, W-8, NB-1) 11
TOTAL (for eight wkts, 20 overs) 164
FALL OF WKTS: 1-5, 2-8, 3-23, 4-38, 5-51, 6-76, 7-100, 8-145.
DID NOT BAT: Arshad Iqbal.
BOWLING: Waqas Maqsood 3-0-32-1 (3w); Mohammad Imran Randhawa 2-0-9-2; Asif Afridi 4-0-15-1; Zaman Khan 4-0-50-0 (1nb, 3w); Shahid Afridi 4-0-20-1; Danish Aziz 3-0-36-2 (2w).
RAWALAKOT HAWKS:
Bismillah Khan run out 19
Ahmed Shehzad c Zeeshan b Sohail Tanvir 3
Sahibzada Farhan lbw b Sohail Tanvir 7
Kashif Ali st Zeeshan b Hafeez 13
Hussain Talat run out 52
Shahid Afridi b Usama 11
Danish Aziz b Sohail Tanvir 37
M. Imran Randhawa b Arshad 8
Asif Afridi not out 4
Waqas Maqsood c Anwar b Sohail Tanvir 0
Zaman Khan run out 0
EXTRAS (LB-1, W-2) 3
TOTAL (all out, 19.4 overs) 157
FALL OF WKTS: 1-12, 2-26, 3-32, 4-49, 5-65, 6-117, 7-132, 8-155, 9-155.
BOWLING: Arsalan Arif 1-0-10-0; Sohail Tanvir 4-0-29-4; Mohammad Wasim 4-0-36-0 (1w); Mohammad Hafeez 4-0-32-1 (1w); Usama Mir 3-0-23-1; Arshad Iqbal 3.4-0-26-1.
RESULT: Muzaffarabad Tigers won by seven runs.
UMPIRES: Aleem Dar and Asif Yaqoob.
TV UMPIRE: Shozab Raza.
MATCH REFEREE: Mohammad Javed.
PLAYER-OF-THE-MATCH: Sohail Tanvir (Muzaffarabad Tigers).
SUNDAY'S FIXTURE: Eliminator 1 — Mirpur Royals vs Overseas Warriors (3:30pm PST).