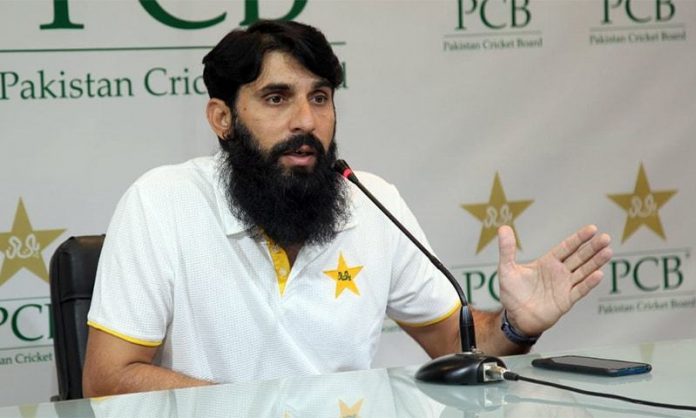 LAHORE: While defending the selection of opener Sharjeel Khan, Pakistan head coach Misbah-ul-Haq on Thursday claimed he is taking a well-balanced squad to South Africa and the bunch has the ability and the necessary ingredients to win on the tour.
Addressing a virtual press conference from Lahore, Misbah said the squad would leave for South Africa on a chartered flight on Friday morning and good news is that all the 34 members of the squad touring South Africa and then Zimbabwe, including paceman Hasan Ali, had tested negative for Covid-19.
Pakistan in South Africa will play four ODIs and three T20 Internationals after which the tourists go to Zimbabwe for a short series of two Tests and three T20s.
At the presser, Misbah faced a barrage of questions about Sharjeel who was included in the T20 squad of the Africa-bound squad. It is feared that the rules and regulations on the physical fitness standards set by the PCB in selecting the 31-year-old batsman have been compromised.
While admitting that Sharjeel's fitness was not at par with the set standard, the head coach said that the selection was made because the opener had the match and ground fitness.
Sharjeel selected after proper discussion, says head coach
"It is also a wrong impression that Sharjeel was selected without our consent. We have discussed it in a proper way where he stands in terms of fitness and how long we need to bring him to our the prescribed fitness level. We agreed that his match fitness is good and he is performing, and that his fitness [level] is not affecting his performance. However, in the same way we have in our mind how we bring him towards our fitness standard," Misbah elaborated.
Misbah also defended incumbent chief selector Mohammad Wasim's statement in which he said the players' fitness standards are being reviewed to relate them with skills and performance.
"It is wrong that we are bringing down the standard of [physical] fitness. Yes, we are trying to simplify the standards to relate it with skills and match fitness," he insisted.
The head coach was all praise for captain Babar Azam and vice-captains Mohammad Rizwan (Test and ODI) and Shadab Khan (T20), saying a good sign is that all three are leading from the front, particularly Babar who captained impressively against South Africa in the recent home series.
About the tour of South Africa, Misbah said good news is that the Pakistan team have the ability and the ingredients to do well.
"Considering the conditions, particularly bouncy and fast pitches of South Africa, it is a challenge for our batsmen but the way they are performing and have performed in the last series our batsmen have the ability to cope with it," the head coach remarked.
"I think the pitches for white-ball matches in South Africa are friendly for batsmen but for red-ball games the tracks there are difficult " he reckoned.
The head coach said the Africa-bound squad is well-balanced.
"Our top batsmen like Babar Azam, Mohammad Rizwan, Fakhar Zaman and Imam-ul-Haq are in good form and they have also performed well in the last series against South Africa. Similarly, we have a strong pace attack in Shaheen Shah Afridi and Hasan Ali plus Faheem's good all-round show which makes the Pakistan team a well-balanced side," Misbah said.
"Imad Wasim was dropped on performance while Mohammad Nawaz was picked due to his good form."
Misbah said though the conditions are tough due to the Covid-19 pandemic his charges are ready to play cricket.
"I expect the same gesture from our players which they showed while touring England and New Zealand under Covid-19 situation," he said.
Commenting on his future as coach, Misbah said presently he had nothing in his mind about his future saying he always believes in focusing on the series at hand.