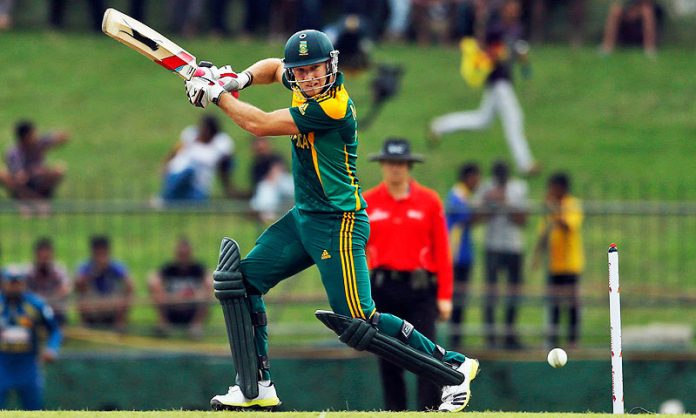 KARACHI: South Africa's star batsman David Miller is really excited about his debut in Pakistan Super League (PSL) for Peshawar Zalmi.
The recent uncertainty about the remaining PSL matches in Abu Dhabi may have upset fans and kept them anxiously waiting, but the 31-year-old Miller remains upbeat about the league and is raring to go.
In an exclusive interview with DawnNews programme 'Replay', The flamboyant left-hander said he watched and also heard a lot about the high standard of PSL games and was looking forward to the contests.
"I am very happy to be here [in Abu Dhabi]. I was in Pakistan for three days when the league was suspended but I am happy to be back again," he said. "I may not be available for too long but I am excited to represent Peshawar Zalmi."
Miller, who has so far played 134 ODIs and 81 T20 Internationals for South Africa, said quarantine and self-isolation was very tough to manage but said is mandatory for the Covid-19 pandemic.
"It is very difficult and tough to manage the quarantine and self isolation, even after the completion of that period, the life in bio secure is not easy as players are not allowed to travel much and there are SOPs and restrictions which every one have to follow as SOPs."
Miller said Peshawar Zalmi looks like a very balanced T20 side and hoped that the team will do better in remaining PSL 6 matches.
"I didn't get a chance to meet any one from Peshawar Zalmi when I was in Pakistan and league was suspended," said Miller. "For various reasons I was not able to play PSL in the past, mainly because of my international commitments with South Africa and our own domestic tournaments. But finally the moment has arrived."
Miller said he played under the captaincy of Darren Sammy in the Caribbean Premier League (CPL) and "it will be excited to play under his coaching."
"Sammy is a good leader, I have played under him in CPL and I know him very well. He is someone who always creates a good fun environment in the team which is a boost," observed Miller. "He sings, dances and knows how to bring the best out of his team and players.
"Zalmi have good solid batting in the presence of Kamran Akmal, Malik, Rutherford and youngsters like Haider, Imam and they also have experience in bowling with Wahab Riaz and Irfan."
Miller, however, admitted that playing in hot Abu Dhabi weather is surely going to be challenging.
In recent years, he noted, Pakistan and India did well and managed to play good competitive cricket outside Asia.
The South African rated Pakistan captain and batting prodigy Babar Azam as one of the best batsmen in the world.
"Babar is a class player, he may not be seen as a power hitter but the way he picks gaps and keeps hitting boundaries is a treat to watch. He is one of the best players in the world and I am looking forward to playing against him and seeing him in action in coming years."
Commenting on the ICC World Test Championship final between India and New Zealand, Miller reckoned the former would have an upper hand in the June 18-23 decider at Southampton.
"Both the teams did well during the last couple of years. However, in my opinion New Zealand at this stage will have an upper hand because of the conditions the final will be played in," Miller concluded.