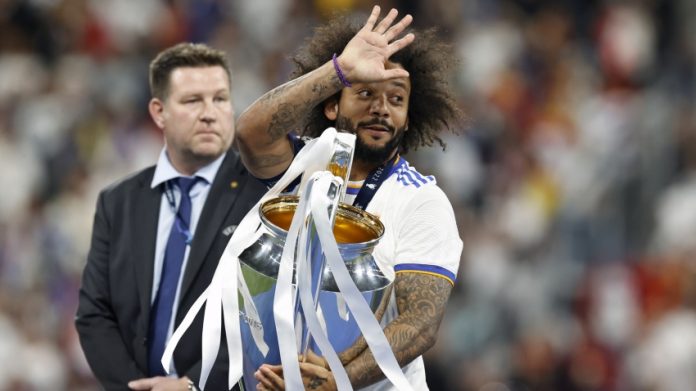 3 Real Madrid players that deserve a bigger role next season
Real Madrid's 14th Champions League victory came about as a result of various players giving it their all over the 2021–2022 season. Out of these, certain players were so dependable that a lineup without them was nearly hard to fathom.
Additionally, there were Real Madrid players who did not play frequently in the top division but who yet showed exemplary character when given the chance to prove that they have what it takes to succeed at the best football club in the world.
Of course, for some, the race to stardom may be tougher than for others, but persistence and patience have always been essential at Real Madrid.
In this piece, I shall focus on three such players who, while not being granted much playing time last season for a range of factors, deserve to represent the club with more time on the pitch in 2022/23.
3. Sergio Arribas
When I ask who the most talked about and celebrated player from the current Castilla batch is, without a doubt, Arribas comes to mind, and deservedly so. Sergio Arribas deserves every accolade for the player that he is. The 20-year-old Real Madrid ace is a hidden gem who is on the verge of taking the world by storm with his feet.
The Spanish midfielder joined La Fabrica at the age of 11 and rose to prominence under the tutelage of club great Raul. Arribas was highly praised during Zidane's second stint as Real Madrid manager and received some minutes with the first team, but something about that does not sit well with Ancelotti. Perhaps the Italian manager does not think very highly of Arribas.
Despite this, the starlet has continued to showcase his worth in Castilla, and the club continues to see him as a future superstar, for which he has been offered a contract renewal, which may finally tempt Ancelotti to try his hands on the midfielder, and there is no doubt the kid will not disappoint.
However, where Arribas slots in front of a midfield already stacked with six great names remains to be seen, but the season is long, and injuries and precautions may always find a way for him. Besides, it's not like he can't play on the wings and replace Marco Asensio, who may leave the club this summer, potentially allowing new players to join.
2. Andriy Lunin
Recently, it came to light that Carlo Ancelotti wants to take home all six trophies in the upcoming campaign, including the Copa Del Rey, which Real Madrid hasn't fared well in. And, as has been seen throughout the years, the key to winning a competition that involves numerous games involving teams from all divisions is a cycle of continual rotations to provide players proper rest and younger players the opportunity to compete versus lesser quality teams.
Thibaut Courtois has risen to become a really vital player for the squad, and it would make little sense to deploy him against lower-level competition, which is where Andriy Lunin should make his point.
Last season, the Ukrainian was granted less than expected playing time in the Copa Del Rey before Real was eliminated, but that should not be the case next season. Courtois needs to rest, and Lunin needs to be given the playing time he deserves because the talent he exhibits merits more attention and development, beginning with lower-level contests. Lunin is also good enough to play against the not-so-good teams in the league, and it'll be the right decision to start him, because Real are going to play more games next season than they did last season.
The ultimate result may not have always been in the team's favour during Lunin's game time last season, but his personal record was fantastic. The quality that the 23-year-old possesses necessitates more starts with the first team, which will not only help his profile rise but will also allow Courtois to perform better in major games with adequate rest.
1. Juanmi Latasa
Juan Miguel "Juanmi" Latasa has emerged as one of Real Madrid Castilla's most talented youngsters. The Spanish centre forward's playing style is similar to Erling Haaland's in order to put his skills in perspective for those who are unfamiliar with him.
The talent of the 6'3″ towering striker is not unknown, and it did not escape Carlo Ancelotti's eye last season, as the Italian coach called the Castilla star multiple times with the first squad. Though the minutes allotted to Latasa were insufficient, the rationale was apparent; he demonstrated enormous aptitude and fire, and it looks likely things are now falling into place for the player.
After the departure of Luka Jovic to Fiorentina and the club's evident desire to avoid keeping Mariano Diaz in the team next season, which guarantees him close to zero minutes should he stay, the route for Latasa as a backup for Karim Benzema appears to be clearer.