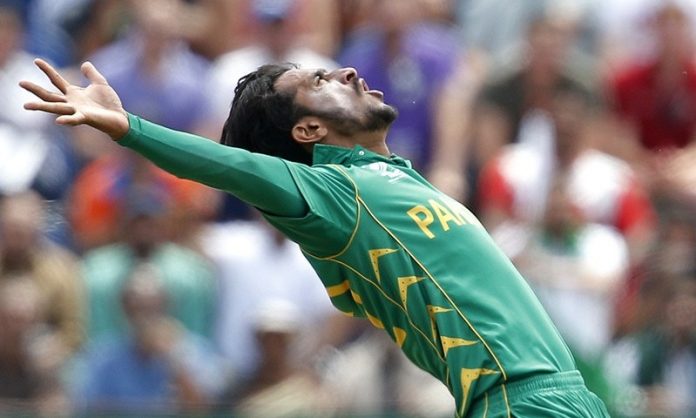 KARACHI: Hasan Ali is the go-to man for Pakistan these days. For the second successive Test match, the 26-year-old pacer played a decisive part with a rich haul of wickets. Against Zimbabwe on Saturday, Hasan was at the forefront with a fourth five-for in 12 Tests.
Pakistan annihilated Zimbabwe some 30 minutes after tea on day three as they recorded their first victory by innings — and 116 runs — over the African nation in what was their 11th triumph in 18 Tests.
After grabbing a career-best 5-36 — and also surpassing the 50-wicket landmark — on way to recording match figures of 9-89 in the Harare Test on Sunday, Hasan dedicated his latest success in international cricket to his daughter Helena while saying the secret behind his newfound confidence is sheer hard work.
"This is a very special day in my life after what I had faced in my career. I cannot forget the period of depression that came my way after the [2019] World Cup when [a spate of] injuries put a halt to my playing days. But since coming back, Allah Almighty has been extremely kind to me," right-armer Hasan told a virtual post-match conference from Harare on Saturday.
"Taking nine wickets and helping Pakistan to victory couldn't have come at a more appropriate moment for me just days after the arrival of my little princess [daughter]. This is, indeed, a very special day and I dedicate my man-of-the-match award to Helena. I'm badly missing her right now but we are on national duty as country always come first in the list of priorities for any [professional] individual."
Hasan, who bagged his second straight man-of-the-match award against Zimbabwe — he picked up four wickets in the final T20 International last Friday — further said that he is enjoying every bit of limelight and attributed his success to playing first-class cricket extensively before being recalled to the national side.
"I think there is no doubt in my mind what I have achieved in the second phase of my international career is mainly because of nothing but hard work, hard work and hard work. I promised myself that there was no substitute for fitness of a sportsperson and as long as one remains fit and strong there are more chances of success," he said.
"The mental stress of not playing at all was a massive learning curve for me. I pledged that whenever I succeed in getting myself back to full fitness I'll play as well as I could so that the cricketing world keep on remembering me …" Hasan said.
"The best way forward was to get involved in competitive cricket and fortunately I got the chance to play in the Quaid-e-Azam Trophy.
"In conditions [in Quaid-e-Azam Trophy contests] which were challenging, I was mighty pleased with my own efforts. Getting the chance to lead Central Punjab was a blessing in disguise and then scoring my maiden century [in first-class cricket] that helped my side tie the final [against Khyber Pakhtunkhwa] gave me a tremendous boost.
"Thereafter, everything started clicking for me. Picking up 10 wickets [five in each innings] against South Africa [during the Rawalpindi Test] were just rewards for the sheer hard work I had put in my game. Of course, it wouldn't be fair if I don't offer my gratitude to Central Punjab head coach Shahid Anwar who was a great source of inspiration throughout," Hasan, who was the player-of-the-tournament during Pakistan's unforgettable campaign at the 2017 ICC Champions Trophy in England, recalled.