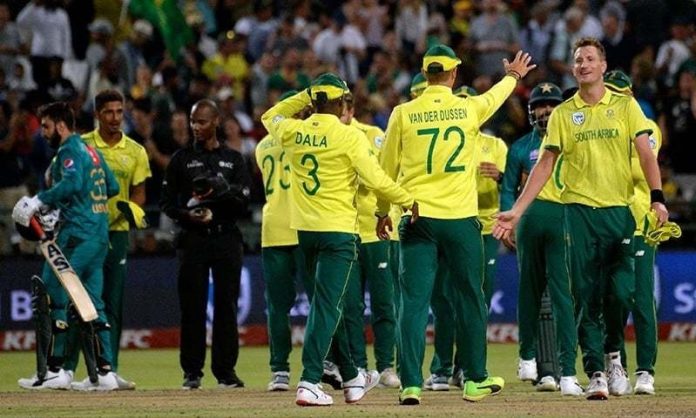 THE proud and valiant team of Nepalese climbers created history by scaling the mighty K2 in the life-threatening winter season a few days ago. By all counts, they ought to have have used some super skills to accomplish the herculean task.
The forthcoming home series against South Africa may also prove to be no less than a mountain to ascend for Babar Azam and Company. The Proteas must be quite charged up after having revived their fortunes with a thumping victory over Sri Lanka at home.
Pakistan on the other hand are looking down the barrel after crushing defeats against New Zealand, who are now the world's top Test team.
Pakistan, battered by their away series defeats in Australia, England and now New Zealand, are already out of the picture as far as qualifying for this year's inaugural final of the ICC World Test Championship is concerned.
To pin high expectations from an embarrassingly fragile side like the current Pakistan outfit — even on their home turf — against a major cricketing opponent like South Africa would be a grave blunder.
Had Babar, presently one of the world's best and our only dependable batsman, not regained fitness by now, what chances would the seventh-ranked Pakistan Test team have had against the fifth-ranked South Africa who unlike their predecessors are no star-studded opponents!
"Babar's absence due to injury made a huge difference," was Pakistan head coach Misbah-ul-Haq's observation on the team's disaster in New Zealand. The head coach went on to add that the 18-day quarantine period also affected his players' preparations. Blaming the circumstances signifies a weak mindset. Here, one would like to ask Misbah that even if the quarantine period had a negative impact on the team against New Zealand in the first Test at Mount Maunganui, Pakistan's performance in the second Test at Christchurch — where Mohammad Rizwan's men suffered an innings thrashing — should naturally have been better as they had more time to recover.
Earlier, when Babar was ruled out of the Twenty20 International rubber in New Zealand, bowling coach Waqar Younis had termed it "a major setback" for Pakistan on the tour. Indeed it was. But don't our coaches have a plan-B in case of injuries? Are injuries to any player in coaches' control? If not then why did Misbah and Waqar sounded like all was lost after Babar's injury?
Cricket is a game of sheer teamwork and India, with their splendid series triumph in Australia on Tuesday, demonstrated it and proved that the will to endure and compete — not stardom — matters in the fiercest of contests.
Without the services of regular captain and batting genius Virat Kohli and their premier bowlers, a largely inexperienced but spirited Indian side conquered Gabba — the Australian bastion since 1988.
Chasing a huge 328 on the last day of a series-deciding Test in Australia and that too with almost half a dozen rookies on a double-bounce track is definitely exceptional. Led by stand-in captain Ajinkya Rahane, experienced pros Cheteshwar Pujara and Rohit Sharma alongside budding players like Shubman Gill, Rishabh Pant, Washington Sundar, Shardul Thakur, Navdeep Saini, Mohammed Siraj and Thangarasu Natarajan earned at the Gabba what many just dream of in international cricket.
The absence of regular campaigners Ravichandran Ashwin, Jasprit Bumrah and Ravindra Jadeja was brilliantly made up with top-quality teamwork. And the end result was for everyone to see. One Test win against Australia on their soil can be termed a stroke of luck, not the entire four-match series. And not to forget India under Kohli had also clinched the Test series 2-1 Down Under in 2018-19.
A proper cricketing system dotted with academies that extensively groom talent at grassroots and where merit earns its due place is paying substantial dividends for Indian cricket. Moreover, with a mature person and batting legend like Rahul Dravid involved in Indian cricket development, one can surely expect it only to grow further and bigger.
As opposed to that, Pakistan cricket — where there is no dearth of talent — has declined over the years simply because raw talent — no matter how rich it may be — is not enough for a country to earn a solid footing in international sport. In fact, there are loads of reasons that have gradually rotten Pakistan cricket. Serious lack of a long-term vision, capricious planning, constant changes to domestic structure, utter disregard for merit, petty politics at every level, discipline issues and to cap it all the lack of accountability have damaged the game severely.
As regards selection for the South Africa series, it is fair to say that instances of blanket changes to the Pakistan team have been rare. Though newly-appointed chief selector Mohammad Wasim has picked as many as nine uncapped players for the Tests against the Quinton De Kock-led tourists, only time will tell how many of them are inducted into the squad and then into the final eleven depending upon the playing conditions. Tried and tested campaigners, if selected, will only damage Pakistan further.
One hopes Pakistan in their own den somehow manage a 1-0 series win or at least a draw against South Africa, otherwise one fears any of our coaches may contend that "harsh winter season affected our players' performance". Winter this time around is expected to be longer. So keep your fingers crossed!