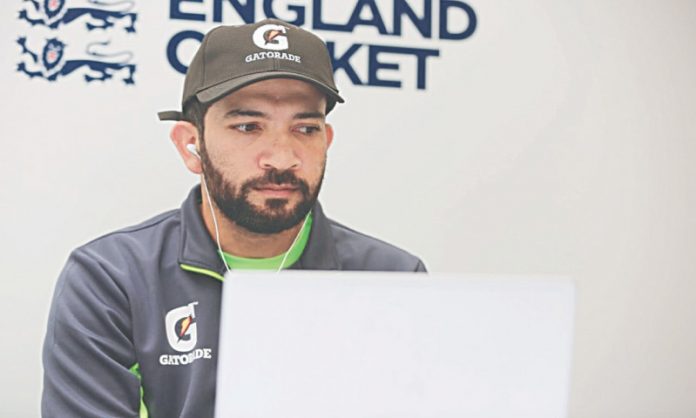 KARACHI: Sohaib Maqsood on Wednesday said that he has no issues where he bats in national colours after a phenomenal run in the recent HBL Pakistan Super League earned the 34-year-old an unexpected spot for the white-ball, tour of England.
Talking to reporters during a virtual media conference from Pakistan team's current base in Derby, Sohaib admitted he will try to adjust himself at whatever batting position if selected during the ODI and Twenty20 series against Eoin Morgan's England.
"Obviously, [my] selection depends on the team requirements because I haven't been part of Pakistan side for five and a half years. Naturally a lot has changed since I last played international cricket [against New Zealand in January 2016]. The current team has a settled top-order," Sohaib, who amassed 428 runs in 12 matches at an average of 47.55 while maintaining a strike-rate of 156.77 during Multan Sultans' title-winning PSL 6 campaign, said.
"One cannot afford to be finicky about your own batting slot in international cricket because team always comes first and the makeup of the [playing] XI is decided by captain and the head coach.
"No doubt I have been successful at No.3 in domestic cricket and the PSL but if the team requires that I should bat at 5 or 6, it is okay with me because my job is to perform if picked. I have also found success at other slots during the PSL, but I'm always available to play in any position for Pakistan.
"Moreover, one has got to remain selfless in such circumstances because when you are representing the country then you must always think like a countryman because when you performed well in domestic cricket at your preferred number, then you have to understand differently."
The Multan-born batsman, who has had a modest run during his early years in international white-ball matches — 956 runs from 46 matches across ODI and T20 formats — attributed his outstanding form to much-improved fitness level and overall approach to his game.
"Over the past 18 months, the reason I have been successful is that I played fearless cricket and expressed myself to the maximum while also keeping fit as well possible since I have had a fair share of injuries over the years. At times when I was playing international cricket, there was always a kind of fear in the mind that if I retained my natural style I might get lost somewhere. I realised later that it was a mistake to restrain myself," Sohaib remarked. "But now I'll try to remain as brave as possible despite the fact I have spent a long period away from the international scene.
"If one has to be successful at all levels, then you must remain clear in the mind. I have nothing to lose really because the new approach suits my game and I would like to redeem myself this time. In the past I also had lingering issues related to shot selection. But Alhamdulillah, I have worked diligently in the nets to improve my skills, which had paid off well. Now I'm much assured and confident of myself as to how I'll play by not letting negativity striking the mind."
Sohaib further said the experience of playing league cricket in England would help him in adjusting to the conditions.
"Unlike Pakistan or the UAE, the English conditions are totally different and although this is my first tour [of England], I do have a fair idea of how one has to adapt here and be successful. In white-ball cricket, the pitches encourage batsmen in general because the ball comes nicely onto the bat. I think Pakistan will compete hard in the upcoming series [against England]."