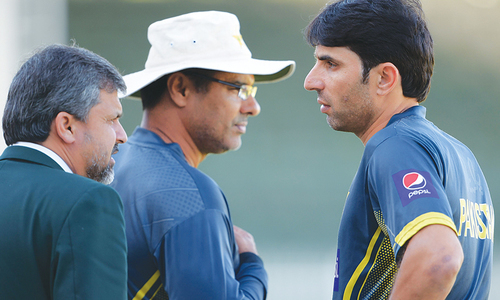 AS Pakistan stared down the barrel at Christchurch, with yet another series loss looming large, head coach Misbah-ul-Haq sat comfortably in the cosy environs of the team's dressing room sipping hot coffee.
The bearded two-in-one official along with bowling coach Waqar Younis — who is taking a break from the challenging tour to have a family outing — knew well their coaching bluff is under no threat of getting called by anyone, least of all their employers the Pakistan Cricket Board.
The joyriding duo had 'earned' their fat paychecks for the tour and that was all that mattered. As for carnage on the field, it was not their problem. It never has been because they haven't the foggiest of idea what is causing it in the first place and have no clue how it could be fixed.
Both Misbah and Waqar, despite attaining the joint status of being public enemy number one following Pakistan's third successive series drubbing overseas, will return home to resume life as usual.
After all, they have been hand-picked by Chairman Ehsan Mani and have been praised sky high by the board's naive though big-talking CEO Wasim Khan.
In all honesty, it has been a sad tale of stooges running the show all around, with neither of them competent or brave enough to blow each other's cover.
Mani, being the patron's stooge, hired Wasim two years ago to do all the dirty work for him and to face the music when going is tough. Wasim in turn hired Misbah who then hired Waqar and Azhar Ali to carry the stooge act with aplomb. Between them, they have quite predictably brought Pakistan cricket to a dead end.
Now all set to return to their own backyard, the bevy of stooges will be hoping for the national team to secure some victories at home that could salvage their tarnished public image and help them pocket their handsome salaries once again without any fear or remorse to live happily ever after.
This mode of working by the PCB has forever been a recipe for disaster. And the disaster has occurred yet again.
Misbah, with no prior experience of either coaching or selection, and Waqar being a tried and failed coach, have accomplished nothing during their tenures whereas Pakistan have gone down in rankings of all three formats.
Putting it succinctly, the team's performance under the two has been awfully poor at best.
Neither the batsmen nor the bowlers have shown any spark or improvement in skills or techniques — areas that warranted specialised coaching and regular motivational doses — while fielding standards have been woefully below the mark.
The vast difference between the playing skills and competitive abilities of Pakistan and New Zealand in the series was for everyone to see and does not require any deep analysis to fathom the lop-sided outcome.
However, given the historic trends in Pakistan cricket and how the affairs have been run, it can be safely said that the two expensive joyriders — Misbah and Waqar — will merrily continue in their jobs, simply because the PCB will be too adamant and too embarrassed to admit their blunder of backing the wrong horses.
It must be mentioned here that the incumbent PCB regime had disdainfully ignored the early warnings by knowledgeable critics, the former players as well as the media against hiring the two former captains for the key posts two years ago and have now paid a heavy price for it.
Funnily enough, the Board had come up with the preposterous logic at the time of hiring Misbah as head coach cum chief selector that he will learn the ropes while being on the job and will improve with time. No accountability of any tour official, therefore, is in the offing in spite of the team's harrowing run abroad since 2018 though fans and critics are now clearly up in arms and are rightfully demanding an overhaul.
After every defeat in Australia and later in England, Misbah and Company cooked up one lame excuse or the other to hide behind it.
It remains to be seen as to what excuse they come up with this time round to hide behind it for the thrashing in New Zealand. In all likelihood, it will be the six feet-eight inches tall Kyle Jamieson.