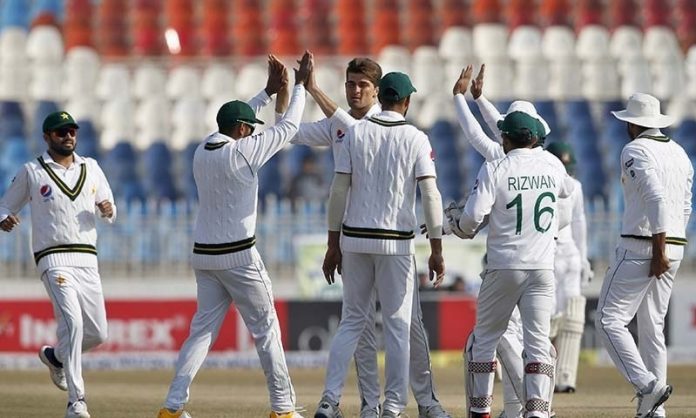 KARACHI: Rookies Sajid Khan and Salman Ali Agha both expressed their excitement on Sunday being named in the preliminary Pakistan squad for the upcoming first Test against South Africa, which starts from Jan 26 here at the National Stadium.
Addressing virtual media pressers, the pair of 27-year-olds admitted feeling over the moon after new chief selector Mohammad Wasim inducted them in the 20-man party — that will be pruned to 16 players in the lead up to the first of two Tests against the South Africans — after they had a prolific season during the Quaid-e-Azam Trophy.
Off-spinner Sajid — who topped the first-class bowling chart with 67 wickets at 25.08 in 11 appearances for joint champions Khyber Pakhtunkhwa — said his first-time inclusion in the national squad was just reward for the excellent form and consistency he maintained throughout the championship.
"Don't have enough words to thank the Almighty for being so kind because it is a dream for every cricketer to represent the country at the highest level one day," the Peshawar-born Sajid said. "I learnt of my selection while sitting in the hotel room with [Khyber Pakhtunkhwa head coach] Abdul Razzaq and some of the team-mates. At that point in time, the feeling inside was incredible and for a while, just couldn't believe that I'd been picked in the Test squad.
"The credit must go to the PCB for restructuring the domestic cricket setup and the players are competing in high-standard competitions across all forms is one big plus point. This season, a number of matches were covered live on television and the media's comprehensive coverage played a huge role in highlighting our performances.
"And opportunities come my way to share the dressing room with fellow player s with some of whom are already stars of Pakistan cricket, it would be simply wonderful for me and others too. To be named in the list of 20 itself is a testimony that if one works really hard, keep on performing consistently, there is every chance of going places."
Sajid, whose father was a soldier who served the Pakistan Army and who passed away in 2003, revealed he's a big fan of Australia's Nathan Lyon, universally rated currently as the best exponent of off-spin bowling.
"After doosra was outlawed by the ICC and [ex-Pakistan off-spinner] Saeed Ajmal handed a long ban for exploiting that art for many years, I never feared losing heart and kept on practicing the orthodox type of bowling. I envy Nathan Lyon just for that reason. He doesn't bowl doosra and yet he is mighty successful [Lyon is closing in on 400 Test wickets]," Sajid, who has claimed 141 wickets in 35 matches since making his first-class debut in October 2016, pointed out.
"I have no worries because there are other options like variations in trajectory and flight available to take wickets. And although I like Lyon, my role models are our own heroes Saqlain Mushtaq and Mohammad Hafeez, while I also used to follow [England's] Graeme Swann."
Salman, in the meantime, said for 10 minutes he couldn't understand what was going on late on Friday afternoon when he was picked in the Pakistan squad.
"I was watching the Australia-India Test on my mobile at the team hotel when Adnan Akmal [the former Test wicket-keeper] nudged me and blurted out: 'Salman you are part of the Test squad'. I thought that I was daydreaming because for 10 minutes my whole body went numbed since the news came as a massive shock," Salman, who also clarified to the media that his full name is Salman Ali Agha instead of Agha Salman as erroneously mentioned for several years now.
"I told Adnan that he must be joking but the moment I saw the team being read out on the TV, I came to my senses. As Sajid says, one just tell you how one feels if the dream is realised."
Salman — third on this season's Quaid Trophy batting chart with a tally of 941 runs at 58.81 from 10 matches — observed there is no shortcut if one aspires to reach the optimum levels.
"Basically, lack of fitness was a hindrance in my career early on," the Lahore-born Salman, who broke into first-class cricket in February 2013, emphasized. "But then I began paying attention to this shortcoming by working extremely hard to gain top fitness because I knew there was no I'll be pushing for places at any level of the game.
"I trained as hard as I could to stay as fit as possible and this time I always had the feeling it would going to be successful season as long as I looked after myself well by maintaining best possible level of fitness."
And taking a cue from Sajid, Salman also idolizes Hafeez as his role model because like the seasoned Pakistan all-rounder he also bowls off-spinners, but only occasionally.