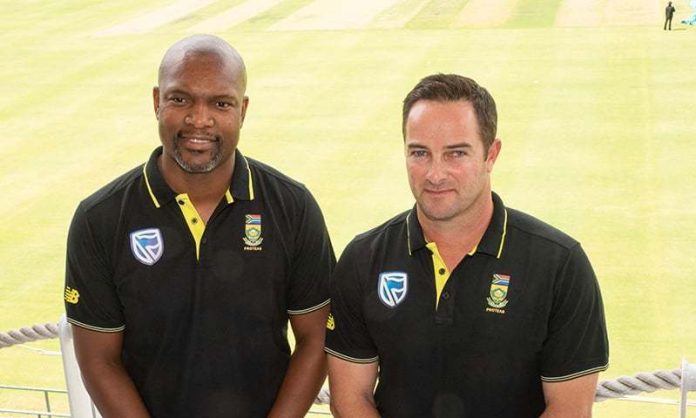 RAWAPINDI: A despondent South Africa head coach Mark Boucher has claimed the 2-0 defeat in the Test series against Pakistan was catastrophic with lack of match-awareness among the key factors behind batting collapses in the two matches.
Shortly after Pakistan secured a 95-run victory at the Pindi Cricket Stadium on Monday, Boucher told reporters at the virtual media conference that playing in Asia in recent years has been disastrous as South Africa have now suffered nine straight Test defeats in the subcontinent since November 2015.
"The technical side is where the guys still getting out with the same kind of shot selection but sometimes from the mental perspective they are still found to be struggling. I think it's more to do more with the mental aspect to be honest because there is lot of scars from past tours to the subcontinent," Boucher bemoaned.
"I've seen guys who had been finding it hard technically but someone like Aiden Markram has toughened up mentally and shown the others how it [scoring runs] is done by getting a superb hundred in tough conditions on day five pitch. I would say it is mental more than anything.
"In the first innings of this Test just when Temba [Bavuma] and Wiaan [Mulder] were looking good, one of them [Mulder] got himself run out in a stupid way. That really cost us the Test because Pakistan managed to get the lead [of 71 runs]."
Commenting on senior pros Dean Elgar, Faf du Plessis and Quinton de Kock collectively accumulating mere 81 runs between them across both innings in Rawalpindi, Boucher lamented their failure: "Obviously it hurts when you need these players to score big runs although they were all playing in Pakistan for the first time. They needed to stand up to be counted but unfortunately that didn't happen."
Recalling the past, Boucher admitted there were far less batting collapses because South Africa had several all-rounders in those years. "In the first innings we were four down quickly but still got some sort of momentum going and then today the [second] new ball led to another major batting collapse when we lost seven wickets for 30 odd runs. That was the last thing we expected.
"Our match awareness was nowhere and I think the guys must understand what the new ball can do on a subcontinental pitch as it did." Boucher was also taken by surprise that the pitch became easier to bat on the last two days. "Yeah, it was surprising because we were anticipating it would crumble and the spinners would turn the ball much more than the first three days. The crust on the surface made the pitchhard on the top and it played fine. I thought it was fantastic Test pitch and it got better and better towards the backend of the match."
Boucher defended the South Africa bowlers and remarked the fast bowlers had performed outstandingly on the tour. "More than bowling I would say clearly here that our fielding standards were extremely poor. In this Test we had Pakistan something like 76-5 and then dropped two chances [Mohammad Rizwan, who was on four and Faheem Ashraf in two balls]. If those catches had been taken and with the tail to come, we could have bowled them for 120 and chasing around 200-220 and would have won."
Boucher, who has stayed back for the three-match Twenty20 International series after Australia called off their tour of South Africa, dispelled the perception that de Kock's batting suffered through the series due to the demand of leading the side. "If Quinny [de Kock] had scored many runs then I don't think anyone would put this question.
"We will have discussions with the National Selection Panel when we get back home and now since there are no series scheduled [after Australia called off their tour to South Africa over the Covid-19 pandemic] what's required to be done going forward. But it [decision]won't be an emotional decision but a smart one if we think it's really imperative to look atsomeone else to do the job [of Test captaincy]. We have got a bit of time on our side to worry about on these lines," Boucher commented.