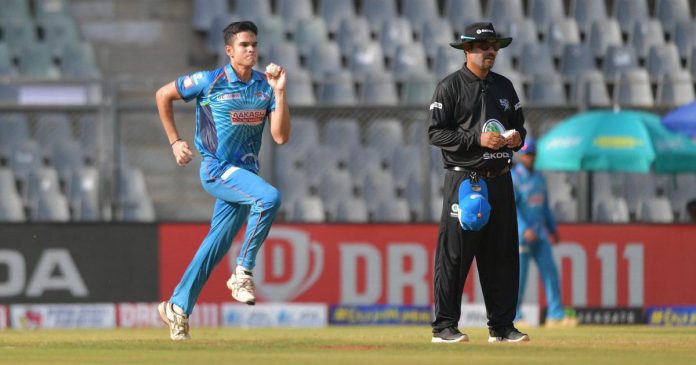 Legendary Indian cricketer Sachin Tandulkar's son Arjun has been brutally trolled over the internet for his bowling speed. 
Arjun might have impressed fans with 18 from 2.5 overs against Sunrisers Hyderabad during an IPL match but he faced brutal trolling on social media for his bowling speed. Several fans tweeted that the bowler is hitting a speed less than 130 KPH that is a big question for standards of Indian Premier League. 
Arjun Tendulkar, the 23-year-old left-arm pacer, secured his wicket in the Indian Premier League 2023 (IPL 2023) in his second match against Sunrisers Hyderabad (SRH). Mumbai Indians (MI) captain Rohit Sharma supported the young player, selecting him for his second consecutive IPL match. Indeed, Arjun Tendulkar did not disappoint. 
Defending 20 off the last over, Tendulkar showed his potential by taking the crucial wicket of Bhuvneshwar Kumar to ensure Mumbai Indians' third consecutive win of the Indian Premier League series. 
Despite his impressive performance, Tendulkar was subjected to brutal trolling on social media. His slower delivery that clocked in at 107.2 kph during the match against SRH became the hot topic for cricket fans. 
Many on social media did not consider how variations in pace can help bowlers pick wickets or at least prevent the batter from scoring big. Moreover it is also believed that, when a fast bowler reduces their pace, they attempt to deceive the batter into playing the shot a second or two early, resulting in their fall or a dot.
Arjun Tendulkar is the son of cricket legend Sachin Tendulkar, and he faces added scrutiny due to his surname because social media finds ways to start a controversy. Many believe that social media is quick to scrutinize Arjun's every move, and a single misstep can result in harsh criticism on Twitter and other social media.