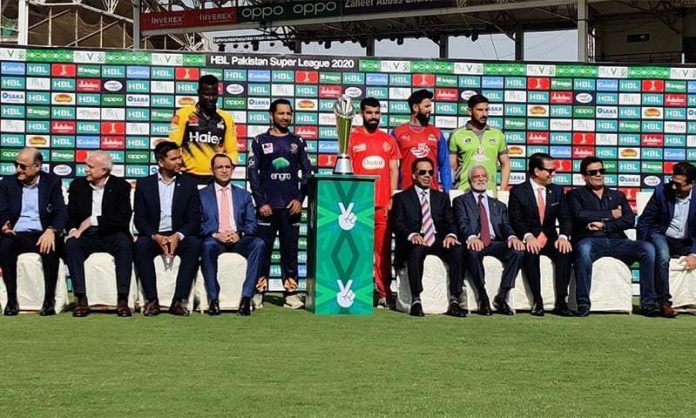 LAHORE: All six franchises of the HBL Pakistan Super League (PSL) have asked the Pakistan Cricket Board (PCB) to hold the remaining 20 matches of Covid-19-hit sixth edition of the league either in April or June, even at the cost of rescheduling Pakistan team's tours of South Africa and Zimbabwe, scheduled for March-April.
The proposal of the franchises came forward during a virtual meeting headed by PCB Chairman Ehsan Mani and also attended by CEO Wasim Khan Director Commercial Babar Hamid and the owners of the six franchises on Monday.
The owners of the franchises have adopted the stance that the importance of restoring the reputation and credibility of the mega national brand of the PSL should be more important as compared to the tours of South Africa and Zimbabwe. And to achieve this purpose, the franchises have argued that the resumption of the remaining matches as soon as possible could restore the country's image as well as the reputation of the league.
Though the month of May is also available, the franchises are not interested because of India's cash-rich IPL will be in progress during that month. The second window, according to the franchises, is available in June when the Pakistan team has no assignment or tour at hand.
Dawn learnt on authority that the PCB did not refuse the proposal of the franchises to reschedule the tours of South Africa and Zimbabwe and may start negotiations with the South African and Zimbabwe cricket authorities to reschedule the African safari.
The month of June seems more suitable for the PCB to hold the matches, but again in Karachi where weather will be more pleasant compared to scorching summer seasons in almost the entire Punjab province during that month.
Moreover, as of now the PCB has to hire the services of a company which will take the responsibility of ensuring the implementation of the SOPs of the Covid-19 very strictly, so it may create a hurdle to hold the matches in April. The PCB committed a blunder by not hiring the services of any such organisation and went to rely on its own medical team which was unable to ensure strict implementation of SOPs.
Seven or more cases of Covid-19 were reported among the players and officials within three days which forced the PCB to defer the league on March 4 after only 14 matches had been completed.
The next meeting between the PCB and the franchises owners will be held after three days. Moreover, it is learnt that the franchises have expressed reservations that there is a serious lack of communication between them and the PCB and many decisions of the Board were imposed unilaterally without taking them into confidence.
It is also learnt that the PCB cited various examples in which the franchises failed to cooperate with the Board despite receiving prompt instructions.