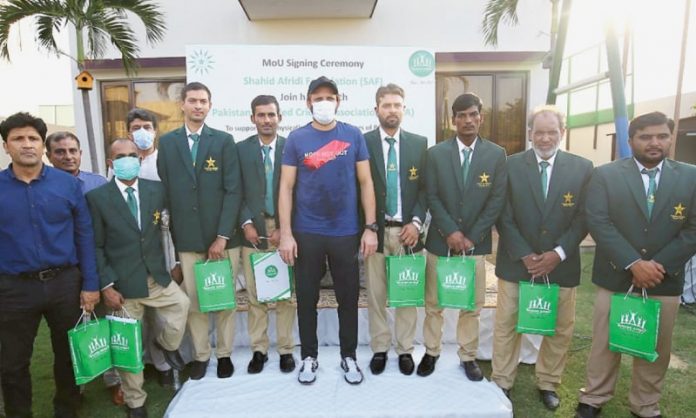 Addressing the media at his residence after signing a Memorandum of Understanding on behalf of his Shahid Afridi Foundation with the Pakistan Disabled Cricket Association (PDCA), Afridi said he often visits the nearby academy to have meaningful exchange with youngsters.
"I would love to share my experience with U-14 and U-16 players. I know what hardships youngsters, at this stage, face hence I do not think about getting involved in coaching at the top level", Afridi said
Touching upon the debate about departmental and regional cricket, the experienced cricketer puts his weight behind the revamped system.
"Without a doubt departments played pivotal role in the development of cricket and cricketers in the country but now this new system should also be given three four years to see it's impact", Afridi opined He, however, was off the opinion that tracks needed to be bettered for an even bat-ball contest.
Prior to the media session, Shahid Afridi was announced as the honorary chairman of the PDCA. The honorary secretary of the PDCA, Amiruddin Ansari, national captain of the physically disabled cricket team Nihar Alam, joint secretary PDCA Mohammad Nizam, players of the national disability team and other PDCA officials were also present on the occasion.
The PDCA secretary, meanwhile, announced a 16-team regional tournament, starting from early November.
On the occasion, Afridi also called for the modernisation of the PDCA. "PDCA needs professionals and competent individuals to transform the organisation on modern lines. These amazing players should also be highlighted on all media platforms," Afridi said He vowed to extend financial and technical support to the PDCA.
On a question the former captain paid rich tribute to another veteran cricketer Shoaib Malik who became the first Asian to score 10,000 T20 runs.
"This outstanding milestone speaks volumes about the discipline and work ethics of Shoaib Malik. I congratulate him on this feat," concluded Afridi.