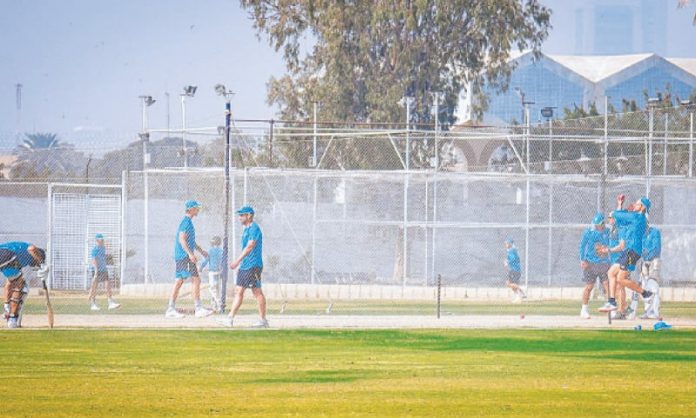 KARACHI: South Africa captain Quinton de Kock warned his charges on Monday to face a trial by spin when the tourists take on Pakistan in the opening Test of the two-match series here at the National Stadium from Jan 26.
Addressing his arrival virtual media conference at the start of the month-long tour during which they will also play three Twenty20 Internationals, de Kock said despite Pakistan opting for wholesale changes to the team in the aftermath of the 2-0 series loss in New Zealand would be playing on their familiar territory which would make them still a strong side.
"Look, we are not going take Pakistan lightly by all means. They have picked several spinners who are unknown to us. Of course we understand that spin plays a huge part in the subcontinent because the pitches suit them more [than elsewhere] and we have got our bases covered," the wicket-keeper/batsman said. "But in all honesty we don't know what the conditions would be like because none of us have played here before barring our head coach [Mark Boucher, who toured Pakistan in 1997, 2003 and 2007]. We have spoken to the coaches about how we'll prepare for the series.
"We are fortunate to be given the opportunity to start our preparations a bit early and the PCB [Pakistan Cricket Board] had given the best possible facilities for training because we'll be up against a side which have the advantage of home conditions, regardless of its makeup. The biggest challenge for South Africa will be the playing conditions.
"This is same when you travel overseas to places like Australia, India, England or Sri Lanka because the conditions aren't same as one expects at your home," he added.
De Kock further said the return of Babar Azam will considerably boost Pakistan after he was ruled of both T20 and Test series against New Zealand with an injured thumb.
"Pakistan will be a much more competitive side in the series because of their key player Babar who is returning from injury. Mind you, I have played in New Zealand and it's never easy playing there on seaming pitches and South Africa had also struggled to beat them [New Zealand] in their own backyard," de Kock said. "We all know how good Babar can be in all conditions."
Commenting on the security arrangements put in place since the 32-man squad landed in the city on Saturday morning, de Kock expressed his satisfaction while saying the top-notch blanket of armed personnel and armoured vehicles has given his side the luxury of completely focus on cricket.
"Before we arrived here security was a concern for obvious reasons. But once we landed in Karachi, the whole squad became much calmer and the worrying signs had gone and the guys are comfortable and feeling really safe here," de Kock remarked. "And we are able to fully concentrate on cricket. There is no doubt that corners [regards to security matters] are checked and all bases covered, touch wood. There is a lot of security, so now we are just worrying about cricket at the moment."
De Kock, who will be playing his 50th Test when he leads his side in the first match, was sceptic about life in the bio-secure environment as the South Africans are confined to their hotel and only allowed to go out for practice as they did for the second day running when they had nets at the adjacent Karachi Gymkhana Ground.
"Of course it is something that is never easy and as I have said before it [restricted to the bubble] will eventually catch up and some players will feel the impact of this confinement both emotionally and mentally," de Kock lamented. "Because at the end of the day you are trying to keep yourself mentally stable and perform for the country, all in one go. In the last six months, I have managed to be home for a maximum of three weeks. Honestly speaking, it has been extremely tough, but we have to keep going because people back home want to watch us in action."
The second Test will be played in Rawalpindi from Feb 4 before the T20 series is staged in Lahore on Feb 11, 13 and 14.