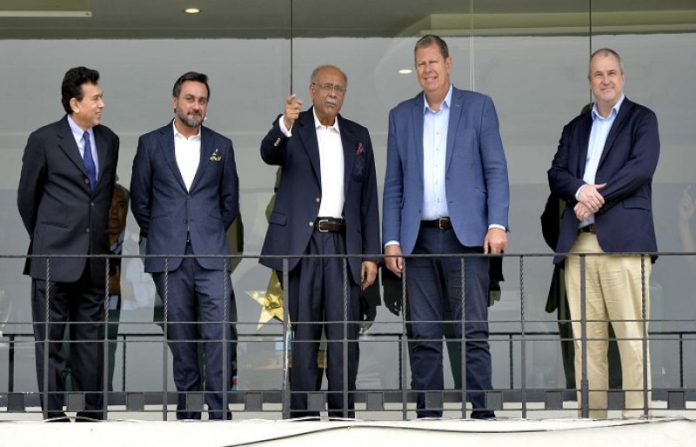 LAHORE: Pakistan will participate in the upcoming World Cup in India only if the country's cricket board is provided with a guarantee that the hosts of the 50-over showpiece will return the favour by travelling across the border for the ICC Champions Trophy in 2025.
The Pakistan Cricket Board's (PCB) leadership placed the demand in front of the International Cricket Council (ICC) chairman Greg Barclay and chief executive Geoff Allardice on the second and final day of the officials' tour to the board's headquarters on Wednesday.
The PCB's interim Management Committee chairman Najam Sethi had recently warned that Pakistan boycotting the World Cup was "very much a possibility" in the back drop of Board of Control for Cricket in India's (BCCI) refusal to send its team to the country for the Asia Cup, which is scheduled in September.
The BCCI, so far, is also opposed to accepting the PCB-proposed "hybrid model" for the continental tournament, which would see group matches not involving India held in Pakistan before the event moves to a neutral venue Even if the proposal is accepted, the PCB would mull playing the World Cup at a venue outside India and would provide the latter the same option come the Champions Trophy.
The Asia Cup, however, is a matter that doesn't concern the ICC and its top two officials preferred to stick to the issues revolving around the World Cup.
Sethi and co, therefore, asked the ICC officials a formal assurance of India's participation in the Champions Trophy, the hosting rights of which were awarded to Pakistan two years ago.
Barclay and Allardice's visit, although a "scheduled" one, is a high-profile one given the scenario, but there has been silence from both the ICC and the PCB and neither have made any officials announcements so far.
Discussions over the ICC's expected revenue sharing model — leaked figures of which have revealed that India would take away 38.5 per cent of the body's revenue, while Pakistan would get a mere 5.75 per cent — also continued between the PCB and the ICC officials.
According to sources, Pakistan's concerns and the whole issue regarding its deadlock with the BCCI will be discussed during the upcoming ICC Board meetings.
However, given India's stranglehold over the world's cricket economy, would make it difficult for the ICC to entertain PCB's asks. In such circumstances, the PCB may well consider forfeiting it's matches in the World Cup.