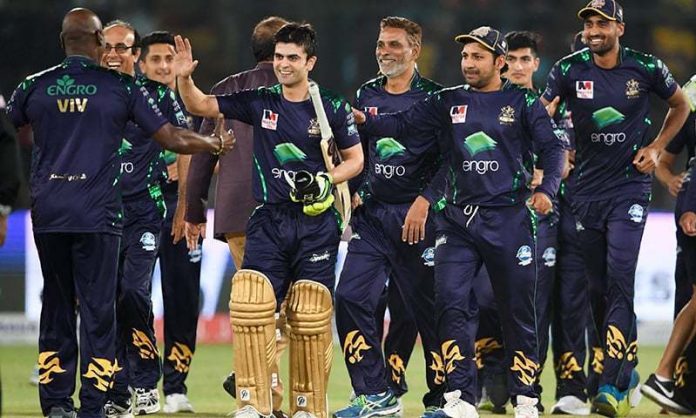 KARACHI: Quetta Gladiators have been the only HBL Pakistan Super League franchise which has retained the captain, head coach and mentor for the sixth straight season as Sarfaraz Ahmed, Moin Khan and the iconic figure of Sir Vivian Richards collectively dream of winning a second trophy this year.
The return of so-called 'gale force' in the shape of former West Indies great Chris Gayle at the ripe age of 41 is a massive gamble taken by Quetta. No one in the history of Twenty20 cricket has scored more runs than the globetrotting Gayle's staggering tally of 13,584 from 411 matches. Now it's up to the big left-handed opener to prove that he's still a powerhouse after signing up for his third PSL franchise.
Quetta, however, have been deprived of Shane Watson since the Australian stalwart has retired from all forms of cricket late last year.
The main cause of Quetta's fifth-place finish for the first time in 2020 was the haphazard tournament schedule that left them haggard as they were constantly on the move while crisscrossing from Karachi, Lahore, Multan and Rawalpindi, with hardly any space to overcome jet-lag.
But while that issue has been resolved due to the fact that only two centres — Karachi and Lahore — will be used due to the Covid-19 pandemic, the real worry could be the fact that they'll be playing four of their 10 league-phase fixtures during daylight hours.
On other team front news, Quetta —champions in 2019 — seems to have a squad which looks quite balanced with a good blend of experience and youth. The most interesting induction is that of Qais Ahmed as the 20-year-old Afghanistan leggie is finally poised to make his PSL debut, while batting prodigy Azam Khan — the 22-year-old son of Moin Khan — could be one of the forthcoming competition's real stars.
Dadu-born leg-spinner Zahid Mahmood finally made his international debut on Sunday and the coming weeks would further enhance the 32-year-old's reputation in his maiden PSL.
Squad: Sarfaraz Ahmed (captain), Tom Banton, Chris Gayle, Mohammad Nawaz, Mohammad Hasnain, Ben Cutting, Mohammad Azam Khan, Naseem Shah, Usman Khan Shinwari, Cameron Delport, Anwar Ali, Qais Ahmed, Zahid Mahmood, Abdul Nasir, Arish Ali Khan, Saim Ayub, Dale Steyn, Usman Khan.
Backroom staff: Moin Khan (head coach), Sir Vivian Richards (mentor/batting coach), Umar Gul (bowling coach), Julian Fountain (fielding coach), Azam Khan (team manager), Mohammad Asad (physio), Rashid Qureshi (trainer), Abdul Rauf (masseur), Nabeel Hashmi (media manager).
Result summary
Season M W L T NR/Abd SR Rank
2016 10 7 3 0 0 70.00 2nd
2017 10 5 4 0 1 55.55 2nd
2018 11 5 6 0 0 45.45 4th
2019 12 9 3 0 0 75.00 1st
2020 9 4 5 0 0 44.44 5th
Overall 52 30 21 0 1 58.82 —
Head-to-head count
Opponents M W L T NR/Abd SR
Islamabad United 11 7 4 0 0 63.33
Karachi Kings 10 7 3 0 0 70.00
Lahore Qalandars 10 5 5 0 0 50.00
Multan Sultans 5 3 2 0 0 60.00
Peshawar Zalmi 16 8 7 0 1 53.33
Quetta Gladiators' fixtures (all times PST)
Feb20; vs Karachi Kings (Karachi, 7:00pm)
Feb 22: vs Lahore Qalandars (Karachi, 7:00pm)
Feb 26: vs Peshawar Zalmi (Karachi, 8:00pm)
March 1: vs Islamabad United (Karachi, 7:00pm)
March 3: vs Multan Sultans (Karachi, 7:00pm)
March 6: vs Islamabad United (Karachi, 2:00pm)
March 7: vs Multan Sultan (Karachi, 2:00pm)
March 11: vs Lahore Qalandars (Lahore, 7:00pm)
March 13: vs Karachi Kings (Lahore, 2:00pm)
March 14: Peshawar Zalmi (Lahore, 2:00pm)