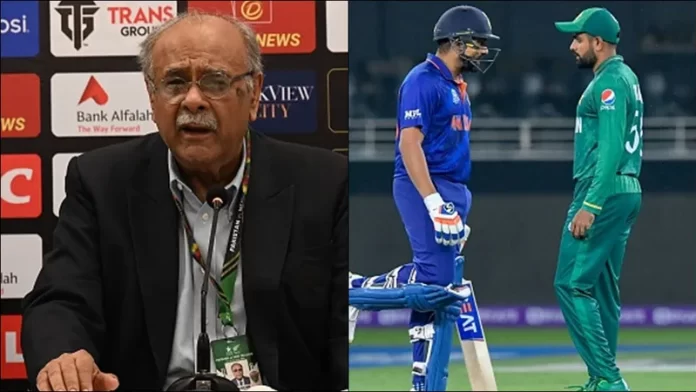 Najam Sethi, the chairman of the Pakistan Cricket Board (PCB) management committee, has announced that the Pakistan government will prevent the Men in Green from participating in the World Cup in India due to India's refusal to send its team to play in the Asia Cup hosted by Pakistan. 
Sethi has proposed a hybrid model for the World Cup 2023 in India and the Champions Trophy 2025 in Pakistan, but it will only be implemented if accepted. The Board of Control for Cricket in India (BCCI) has been pressuring the Asian Cricket Council (ACC) to move the Asia Cup out of Pakistan, causing tension between the two nations.
The hybrid model suggested by Sethi involves Pakistan hosting the Asia Cup in two phases, with four group-stage matches in Pakistan and the remainder in a neutral location, including the final. Sethi had discussed this model with a senior ACC representative, who later informed him that Jay Shah had no issues with it, but would need to consult with Bangladesh and Sri Lanka before making any decisions. 
However, Indian media reports suggest that Sri Lanka and Bangladesh are against the PCB's hybrid model due to concerns about the hot weather in the United Arab Emirates (UAE), where the neutral venue is proposed to be located.
Sethi has clarified that there will be no sanctions imposed by the International Cricket Council (ICC) on Pakistan if they decide not to participate in the World Cup due to security concerns. The ICC's force majeure clause permits member countries to withdraw from events if there are security issues or unforeseen circumstances.