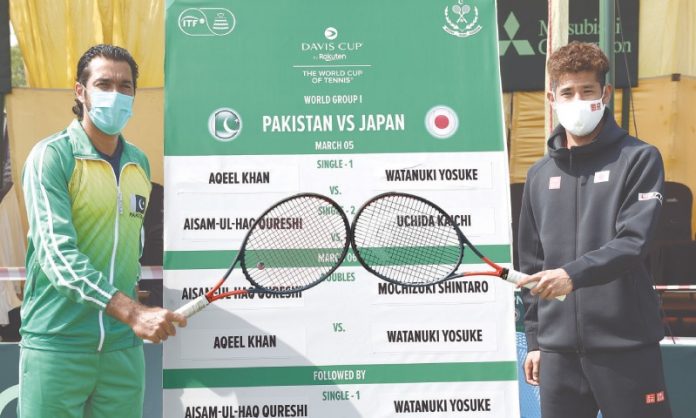 ISLAMABAD: Non-playing captain and coach of Davis Cup team Mushaf Zia on Thursday said that the Pakistan team have a chance to cause an upset against a strong Japan side as Davis Cup World Group I tie is all set to be played on Friday here at the Pakistan Sports Complex.
Pakistan's top player Aqeel Khan and Japan's top-ranked Yosuke Watanuki will open the proceedings on Friday here at the grass court of the Pakistan Sports Complex. "Though Japan is one of the best Asian teams, we have Aqeel and Aisam, who are highly skilled and experienced players. Aqeel has represented Pakistan in 111 matches while Aisam has an experience of 95 Davis Cup matches, I can say, we can cause an upset," said Mushaf.
Speaking to Dawn after the draws ceremony, Mushaf further said that besides the rich experience of Pakistani players, the home side also have the advantage of grass court.
"Aqeel and Aisam always love to play on grass court and on their day, they can beat anyone on this surface," said Mushaf.
He went on to add that Pakistan's Davis Cup team have already defeated strong teams like South Korea, Thailand and Slovenia on grass and are confident of doing well against Japan.
According to the draw, on the opening day of two-day tie, Aqeel will play against Watanuki while Aisam will be in action against Japan's number two player Kaichi Uchida. On Saturday, Aisam and Aqeel will play doubles against the duo of Shintaro Mochizuki, who is former junior Wimbledon champion and Yosuke Watanuki. Then two reverse singles will be played.
The Pakistani team comprises veterans Aqeel and Aisam, Muzammil Murtaza, Ahmed Chaudhry and Mohammad Shoaib. The Japanese team includes Yosuke Watanuki, who is world number 269, Kaichi Uchida (317), Yuta Shimizu (338), Shintaro Mochizuki (639) and Kaito Uesugi (1444).
Satoshi Iwabuchi is their non-playing captain.
Mushaf said that though the Japanese side is not very strong on paper, as for this tie, they [Japan] opted for players with less experience of Davis Cup matches, but "despite this we can't take them lightly."