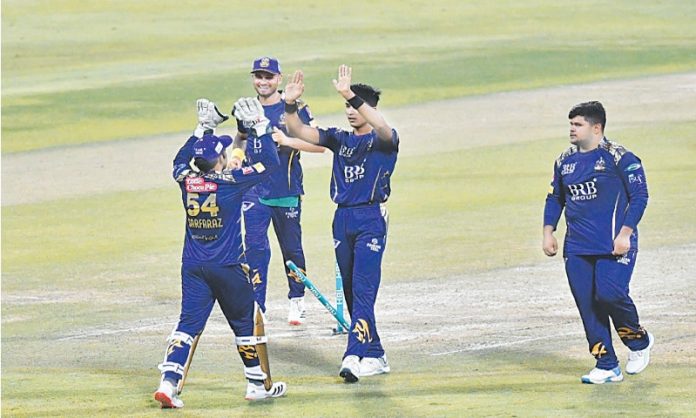 KARACHI: Former champions Quetta Gladiators kept themselves alive in the HBL Pakistan Super League 6 after clinching a remarkable come-from-behind 18-run triumph against Lahore Qalandars at the Sheikh Zayed Stadium in Abu Dhabi on Tuesday.
The only way Quetta could still make the playoffs is if both holders Karachi Kings and Multan Sultans lose all their remaining games — a scenario which is most unlikely to happen — particularly given the good form of Multan whom Quetta face on Wednesday before winding up their league campaign versus Karachi three days later. On top of it all, Quetta's net run-rate will also hurt them quite hard.
Down and virtually buried after just one victory in seven previous fixtures, Quetta bounced back bravely to hound Lahore, while brilliantly defending 158 through an inspirational bowling effort from Usman Khan and Khurram Shehzad when picking wickets in large cluster was the top priority. Sarfaraz Ahmed-led Quetta eventually dismissed the opposition for 140 but now they will have to hinge results of other fixtures coming to their aid.
Tim David, meanwhile, kept Lahore in the hunt when Sarfaraz blundered in bringing on PSL debutant pacer Zahoor Khan, who was clattered for 23 runs in the 13th over by the Singaporean right-hander. Having made a big impact in the tournament, David was unruffled by the precarious situation and kept finding the boundaries.
But one shot too many terminated David's blazing 27-ball innings of 46 (four fours and three sixes) as Shinwari — playing his first game of the Abu Dhabi leg — forced David to edge the final delivery of his spell to Sarfaraz. And although Shaheen Shah Afridi and Haris Rauf managed a few meaty blows much to Sarfaraz's chagrin, the final outcome came as a massive relief for the 2019 title winners.
A manageable chase was what Lahore had expected by restricting Quetta to 158-5. However, against the run of play, Lahore were jolted by Shinwari dismissing their skipper Sohail Akhtar for a first-ball duck. The rut continued when Mohammad Hasnain rattled Fakhar Zaman's stumps and Mohammad Hafeez was caught off a leading edge off Shinwari, who was adjudged player-of-the-match for claiming 3-32.
Young seamer Khurram and Mohammad Nawaz were Quetta's other heroes with the ball as the former bowled with great control to return excellent figures of 3-14 from three overs. Slow left-armer Nawaz snared the vital scalp of Ben Dunk and also saw off Rashid Khan in taking 2-16 off his four overs. But Hasnain, however, went for plenty and only redeemed himself by picking up the all-important last wicket as Haris was cleaned up for 19.
Earlier in the evening, Lahore retained the same XI but Quetta opted against risking Faf du Plessis — who is still feeling dodgy following the horrific collusion with Hasnain in their previous game against Peshawar Zalmi — and replaced the departed Andre Russell (flown home for West Indies' forthcoming Twenty20 series against South Africa) with 32-year-old UAE international Zahoor.
Predictably enough after being put into bat, Quetta lost an early wicket when Usman Khan chased a wide delivery from James Faulkner straight to point. Despite being unwanted by Australia, Faulknerhas proved an inspired choice for the Qalandars.
The 31-year-old left-armer went onto to claimhis third three-four in four matches of this legin the emirates and was chiefly responsible for denting Quetta's hopes of using the death overs to their advantage by removing Azam Khan with the first ball of his last over — the 15th over of the innings — the moment game resumed after the mandatory three-minute break for 'strategic time-out'.
Quetta were hugely disappointed when Azam got dismissed — mistiming a slower ball from the Australian — for an 18-ball 33 (five boundaries and one six). Haris Rauf was left bemused when Azam took four boundaries in one over. It was then left to Sarfaraz, 34 off 27 balls (three fours and one six) to take his team to a fighting score after Jake Weatherald, the top score with 48 off 41 (eight fours and one six) and Cameron Delport had added 58 in 40 deliveries for the second wicket.
Current standings
(Tabulated under, played, won, lost, tied, no-result, points, net run-rate):
Islamabad United 8 6 2 0 0 12 +0.932
Lahore Qalandars 8 5 3 0 0 10 -0.183
Peshawar Zalmi 8 4 4 0 0 8 +0.296
Karachi Kings 7 3 4 0 0 6 +0.301
Multan Sultans 7 3 4 0 0 6 +0.153
Quetta Gladiators 8 2 6 0 0 4 -1.467
*updated after Lahore Qalandars vs Quetta Gladiators match on Tuesday
Scoreboard
QUETTA GLADIATORS:
Batsmen & mode of dismissals R B 4s 6s SR
J. Weatherald b Hafeez 48 41 8 1 117.07
Usman Khan c David b Faulkner 0 4 0 0 0.00
C.S. Delport b Rashid 10 11 1 0 90.90
Sarfaraz Ahmed not out 34 27 3 1 125.92
Azam Khan c Fakhar b Faulkner 33 18 5 1 183.33
Mohammad Nawaz c and b Faulkner 6 5 1 0 120.00
Hassaan Khan not out 12 15 0 0 80.00
EXTRAS (B-1, LB-6, W-7, NB-1) 15 – – – —
TOTAL (for five wkts, 20 overs) 158 – – – —
FALL OF WKTS: 1-4 (Usman Khan), 2-62 (Delport), 3-66 (Weatherald), 4-109 (Azam), 5-115 (Nawaz).
DID NOT BAT: Zahoor Khan, Khurram Shehzad, Mohammad Hasnain, Usman Khan Shinwari.
BOWLING: Shaheen Shah Afridi 4-0-28-0 (1nb, 3w); Faulkner 4-0-25-3 (1w); Ahmed Daniyal 2-0-19-1 (1w); Haris Rauf 4-0-44-0; Mohammad Hafeez 2-0-12-1; Rashid Khan 4-0-23-1 (1w).
LAHORE QALANDARS:
Batsmen & mode of dismissals R B 4s 6s SR
Fakhar Zaman b Hasnain 12 9 1 0 133.33
Sohail Akhtar c Weatherald b Shinwari 0 1 0 0 0.00
Zeeshan Ashraf c Sarfaraz b Khurram 16 18 0 1 88;88
Mohammad Hafeez c Azam b Shinwari 1 5 0 0 20.00
B.R. Dunk b Nawaz 6 5 1 0 120.00
T.H. David c Sarfaraz b Shinwari 46 27 4 3 170.37
Rashid Khan b Nawaz 8 10 1 0 80.00
Ahmed Daniyal c Nawaz b Khurram 3 9 0 0 33.33
J.P. Faulkner not out 12 12 1 0 100.00
Shaheen Shah Afridi b Khurram 12 6 1 1 200.00
Haris Rauf b Hasnain 19 7 2 1 271.42
EXTRAS (LB-1 W-3 NB-1) 5 – – – —
TOTAL (all out, 18 overs) 140 – – – —
FALL OF WKTS: 1-4 (Sohail), 2-23 (Fakhar), 3-27 (Hafeez), 4-39 Zeeshan), 5-47 (Dunk), 6-57 (Rashid), 7-66 (Ahmed), 8-105 (David), 9-119 (Shaheen), 10-140 (Haris).
BOWLING: Usman Khan Shinwari 4-0-32-3 (1nb); Mohammad Hasnain 4-0-40-2 (2w); Khurram Shehzad3-0-14-3 Mohammad Nawaz 4-0-16-2; Hassaan Khan 2-0-14-0; Zahoor Khan 1-0-23-0 (1w).
RESULT: Quetta Gladiators won by 18 runs.
UMPIRES: Aleem Dar and Rashid Riaz.
TV UMPIRE: Shozab Raza.
MATCH REFEREE: Mohammad Anees
PLAYER-OF-THE-MATCH:Usman Khan Shinwari(Quetta Gladiators).
WEDNESDAY'S FIXTURE: Multan Sultans vs Quetta Gladiators (9:00pm PST).