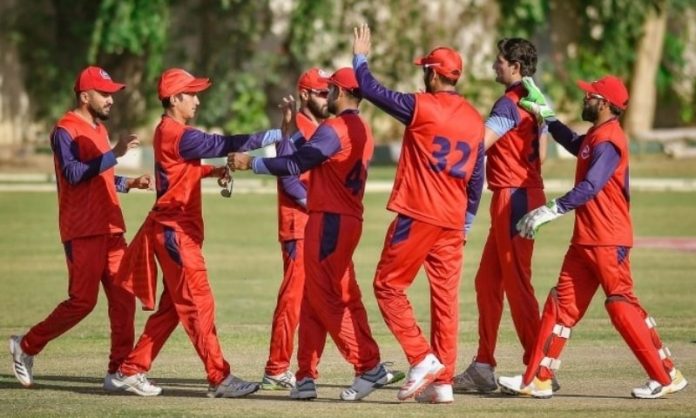 KARACHI: Inspired by a maiden one-day ton from opener Taimoor Sultan, Northern routed Central Punjab by 154 runs in the most one-sided fixture in round two of the Pakistan Cup at the SBP Sports Complex here on Sunday.
Sindh and Balochistan, meanwhile, swiftly recovered from their first-round defeats with contrasting results against defending champions Khyber Pakhtun­khwa and Southern Punjab, respectively.
Taimoor, the 26-year-old right-hander from Sargodha, showcased his repertoire with bat in the televised game with stroke-filled knocked of 102 while Northern made mockery of Central Punjab's decision of fielding first by amassing a huge 382-8 in their stipulated 50 overs.
Taking advantage of the rather small ground in North Nazimabad, Taimoor and Ali Imran (56 off 59 balls, five fours and one six) shared an opening partnership of 165 in 25 overs. Taimoor struck 11 fours and three sixes during his 94-ball innings which fetched him the man-of-the-match award.
Central Punjab's miseries in the field lingered on unabated with discarded Pakistan right-hander Asif Ali thrashing seven fours and five sixes in a blistering 41-ball effort of 76. Hammad Azam was also in a rampaging mood as the all-rounder blasted a 30-ball 45 (three fours and two sixes) before wicket-keeper Jamal Anwar provided a perfect 22-ball cameo of 36 not out in the death overs.
Ahmed Bashir grabbed four wickets but the paceman's 10 overs cost 86 runs.
Central Punjab's chase fizzled out at the start of the 38th over when they collapsed in a heap after being 161-3 at the halfway stage of the innings. Mohammad Akhlaq followed up his century against Khyber Pakhtunkhwa on Friday by top-scoring with a 51-ball 55 (seven boundaries, while stand-in skipper Saad Nasim made 53 and opener Tayyab Tahir 47.
Hammad completed a good day as he claimed 4-42 in eight overs with his brisk medium-pacers.
Long-discarded Pakistan all-rounder Anwar Ali made his presence felt at the NBP Sports Complex where Sindh came from behind to stun Khyber Pakhtunkhwa by 63 runs.
Put into bat, Sindh's innings was going nowhere when they slipped to 84-5 in the 25th over. But emerging all-rounder Hassaan Khan engineered the recovery by engaging in two game-changing partnerships.
Hassaan, who hit up a career-best 66 (100 balls, three fours and one six), joined Azam Khan in a stand of 78 before man-of-the-match Anwar outscored him during their partnership of 92 for the seventh wicket.
Slow left-armer Asif Afridi grabbed a bizarre hat-trick while capturing four wickets in the final over of the Sindh innings. He dismissed Hassaan with the second ball before taking care of man-of-the-match Anwar, Mohammad Umar and Mohammad Asghar on consecutive deliveries to end with 5-31 in 10 overs.
Khyber Pakhtunkhwa were bowled out for 193 in the 43rd with Sajid Khan making a 47-ball 52.
Balochistan pulled off a one-wicket win over Southern Punjab at the UBL Sports Complex with captain Imran Farhat, named man-of-the-match, scoring 96 (107 balls, 11 boundaries) in the chase after Sohaib Maqsood's charges mustered 244 all out.
Results on Sunday:
Second round:
At SBP Sports Complex, Karachi: Northern beat Central Punjab by 154 runs.
NORTHERN 382-8 in 50 overs (Taimoor Sultan 102, Asif Ali 76, Ali Imran 56, Hammad Azam 45, Jamal Anwar 36 not out, Umar Amin 22; Ahmed Bashir 4-86); CENTRAL PUNJAB 228 in 31.1 overs (Mohammad Akhlaq 55, Saad Nasim 53, Tayyab Tahir 47, Rizwan Hussain 29; Hammad Azam 4-42, Salman Irshad 2-31, Sohail Tanvir 2-39, Athar Mahmood 2-44).
At UBL Sports Complex, Karachi: Balochistan beat Southern Punjab by one wicket.
SOUTHERN PUNJAB 244 in 46.2 overs (Aamir Yamin 75, Mukhtar Ahmed 45, Saif Badar 35, Zain Abbas 30; Abdul Wahid Bangalzai 2-22, Taj Wali 2-37, Kashif Bhatti 2-42, Gohar Faiz 2-45); BALOCHISTAN 247-9 in 49.1 overs (Imran Farhat 96, Bismillah 48, Kashif Bhatti 33, Umaid Asif 30; Zahid Mahmood 4-46, Mohammad Ilyas 2-38, Umar Khan 2-50).
At NBP Sports Complex, Karachi: Sindh beat Khyber Pakhtunkhwa by 63 runs.
SINDH 256 in 50 overs (Hassaan Khan 66, Anwar Ali 65, Asad Shafiq 42, Azam Khan 37; Asif Afridi 5-31); KHYBER PAKHTUNKHWA 193 in 42.2 overs (Sajid Khan 52, Kamran Ghulam 38, Sahibzada Farhan 24; Mohammad Umar 3-21, Mohammad Asghar 2-33, Anwar Ali 2-38).
Tuesday's fixtures: Balochistan vs Khyber Pakhtunkhwa (SBP Sports Complex, Karachi); Northern vs Southern Punjab (UBL Sports Complex, Karachi); Central Punjab vs Sindh (NBP Sports Complex, Karachi).