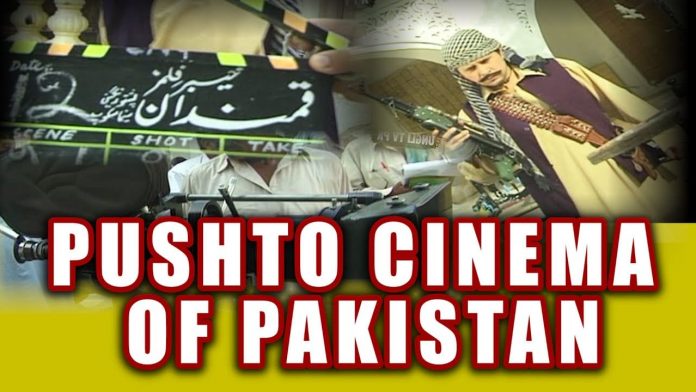 From the 1940s to 2019, the number of Pashto-language films produced is estimated to be about 1,560. However, more than half of these glorified gun culture, drug culture and vulgarity, and thus were not deemed worthy of being listed in Khan's book, which is considered to be the first authentic account of the rise and fall of Pashto cinema. Khan notes that earlier films had refined screenplays, quality music, decent casting and genuine comedy, but vulgarity and excessive commercialisation crept in over time to tarnish the silver of the Pashto screen productions.
Khan begins his book with Laila Majnoon, the very first Pashto-language film made. Interestingly, the set for the film was built in 1939 in the city of Kolkata, which was the centre of music and theatrical productions at the time. A considerable population of Pakhtuns also lived there. The inspiration for the film was a theatrical production of a Pashto-language play written by Ameer Hamza Khan Shinwari (1907-94). The Sufi poet and author would go on to write 30 books and receive the title of Baba-i-Pashto Ghazal.
The successful stage performance prompted noted music director and singer of the time, Rafiq Ghaznavi (grandfather of 1980s' actress Salma Agha), to turn the play into a fully-fledged film, despite not being associated with the original stage production. Ghaznavi had no previous experience in producing either theatrical plays or films, but he engaged Hamza Shinwari to craft the screenplay and dialogue, and Khan quotes the playwright as writing, in a letter to a friend, that he charged Rs 250 for his services.
Shinwari was also supposed to play the lead role but, when it transpired that his voice was too reedy to befit a hero, Ghaznavi played the character of Majnoon himself. Habib Jana, a dancing girl and folksinger from Bannu, played Laila. The film took two years to complete and was released in 1941 at Peshawar Imperial Talkies, a cinema built by Hindu business tycoon Acharch Ram Ghai in 1925 in Qissakhwani Bazaar, and long since razed.
Unfortunately, this first ever Pashto film failed to make the huge impact it was expected to, because of two reasons: one, the audience in Peshawar was predominantly non-Pashto speaking, the more widely spoken language being Hindko; and two, although Ghaznavi was a good music director and singer, he was not a good actor. Still, seven of the film's ten songs, sung by the time's top Pashto singer Mohammad Wazir, became superhits. The film's print no longer exists, but the songs remain with the author of Pakhto Filmoona, who has preserved them by transferring them from audio spools to computer discs.
The second Pashto film, Teega [Ceasefire], was produced after Partition by the Pakistani government's information department. Umar Daraz Khalil, who would later become known as a superstar of Pashto cinema, played the role of a tribal leader. Released in 1959, Teega was never shown in commercial cinema houses. Instead, as a reformative initiative, it was designed to be a mobile theatrical presentation for a target audience living in the villages around Peshawar.
A screen was constructed on a wagon which did the rounds of the villages; the intent was to raise awareness among the masses to avoid blood feuds and adopt Pakhtun values of jirga [tribal councils] and reconciliation. The initiative was also meant to interest the public in the concept of cinemas, which were generally looked down upon as places of evil.
In December 1970, Yousuf Khan Sherbano [Yousuf Khan and Sherbano] exploded on Karachi's silver screens. The film was a massive hit among the Pakhtun audience and its stars, Badr Munir and Yasmeen Khan, were showered with unprecedented fame and adulation. It was then that the Pashto film industry entered its golden era, despite most films being in black-and-white.
The tide of success continued until the late '90s, when the Pashto film industry derailed into shoddy productions incompatible with Pakhtun social norms. Even the standard of titles fell to their lowest ebb with Da Spee Lakai [The Dog's Tail] and Maar [Snake]. Khan writes that this was when non-Pakhtun filmmakers began to proliferate, producing films that caused writers, actors and investors to drift away. Many quit the profession entirely. Cinemas became dens for drug addicts and criminals and, as a result, the true cinebuff disappeared.
Khan's book meticulously details 700 of the best Pashto films which were a reflection of Pakhtun history and culture, and he gives due space to their scriptwriters, including Ali Haider Joshi, Dr Lajbar Salim, Ameer Ghulam Sadiq, Murad Shinwari, Ghazal Sial, Younas Qaisi, Akram Umarzai, Najeeb Parwana, Hamish Gul and Sardar Khan Fana.
Renowned directors mentioned are Mumtaz Ali Khan, Aziz Tabbasum, Qaiser Sanubar, Nasir Raza Khan, Rahim Gul, Nasim Khan, Arshad Khan and Jalal Khattak. They were responsible for discovering the acting talents of Naimat Sarhadi, Suriya Khan, Mussarrat Shaheen, Aman Khan, Jamil Babar, Tariq Shah and Nadara Mumtaz, who became superstars and reigned over the hearts of millions for over three decades.
The producers, among them Habibullah Khan, Aziz Jahangiri, Lala Sudhir, Gul Akbar Afridi, Ali Khan and Aqaldin Afridi, were local Pakhtuns who knew the social norms and taste of their people and wanted to educate them on social evils prevailing in typical Pakhtun society. And then there were the comedians — Liaqat Major, Bashir Jafari, Jahanzeb Suhail, Abdul Majeed Khan, Iqbal Bukhari, Charry Badam, Akbar Khan Lala and Rahim Shahzad — who were crucial elements, since a Pashto film would never be without humorous scenes designed to elicit rich laughter.
The final stamp of success was unforgettable music composed by Rafiq Shinwari, Sher Afgan Ustad, S.T. Sunny, Kamal Ahmed, Lal Mohammad, Rahdat Hussain and Jahanzeb Nowsheravi, and songs sung by Khial Mohammad, Hidayatullah, Kishwar Sultana, Gulnar Begum, Mashooq Sultana, Mahjabeen Qazalbash, Ahmed Khan, Rehana Yasmin and Nagina Khanum.
There was plenty of space to showcase the productions as well, with more than two dozen film theatres in Khyber Pakhtunkhwa, and Quetta, Karachi and Kabul regularly screening Pashto films. Unfortunately, now many cinemas, particularly those in Peshawar, have been demolished to make way for shopping plazas.
The reviewer is a Peshawar-based contributor on Pashto literature and culture