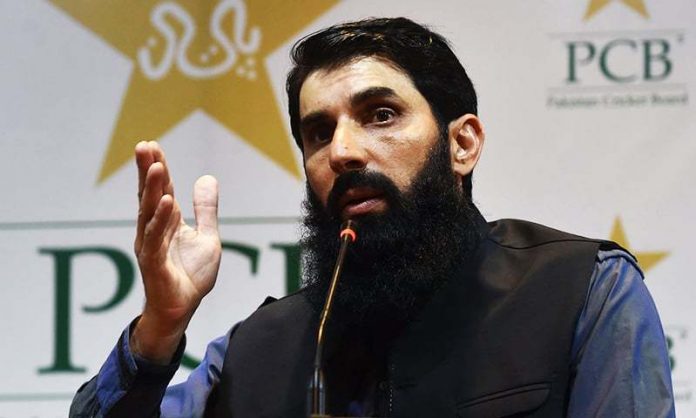 KARACHI: Head coach Misbah-ul-Haq paid glowing tribute to his charges following Pakistan's victorious tour of southern Africa, while claiming that the critics are boiling their own blood by being critical of his stature.
Addressing the tour-ending virtual media conference in Harare on eve of the Pakistan's departure for Lahore on Tuesday, the 46-year-old Misbah admitted winning six series on the trot across all formats — having defeated South Africa at home in Test and Twenty20 series in January/February — were important steps as the team prepares for tougher challenges in the Twenty20 World Cup year.
"My philosophy always has been to make Pakistan among the top sides in world cricket. I think after the tours of South Africa [winning ODI series 2-1 and T20 series 3-1] and Zimbabwe (winning T20 rubber 2-1 before trouncing hosts by innings in both Tests] provided glimpses that we are heading in the right direction because winning obviously gives team confidence for the bigger challenges in the months ahead," Misbah told reporters. "As a unit we can only work hard. On the way the results are not in our hands but as a coach, I am mighty proud of what we have achieved in recent weeks.
"Winning all [four] series in South Africa and Zimbabwe have given team to aim for the top. At the same time, whatever the critics say about me have not thought about my future and will not start doing that now either. The people who have been criticising me are simply boiling their own blood because I don't care about them."
Pakistan's most successful Test captain remarked the overall results in alien conditions of South Africa and Zimbabwe were extremely encouraging.
"It is never easy playing South Africa in South Africa and to go there and win both One-day International and T20 series gave us great satisfaction with a young side. And despite winning, we have identified certain grey areas which need to be rectified if we aspire to take on top sides in white-ball cricket," Misbah emphasized. "It was important for Pakistan to win in tough conditions we encountered in both these countries [South Africa and Zimbabwe]. Our middle-order batting in white-ball cricket was glaringly exposed. We will now go back to the drawing board and do a rethink over some of the selections on that front.
"Overall speaking, there is nothing more satisfying to play consistently good cricket throughout the period during a time when the entire world is battling with the Covid-19 pandemic. It is obvious to all that these are not normal times because of the restrictions of bio-secure bubble. Life in the bubble is a harrowing experience because in normal situation you are able to mingle with people day in and day out without worrying about your life in general.
"Here it was a sort of chastening experience since we have been touring from last year [starting with the England tour]. Hats off to everyone for sticking together through difficult times, be they the players or the backroom staff because the pressure of international cricket itself is very, very tough to handle in an abnormal environment.
"In fact, the pandemic gave us time to know each other more than we could have imagined because we have been working together while confined to virtually one spot. Over past four weeks, we have been spending time together meeting everyone at Sehri and Iftar times. The players deserve more of the credit because they were giving their best out there on the field. The commitment of everyone involved had been exemplary because cricket is our passion and to ensure we keep that passion alive we have to perform as one team."
Commenting on Zimbabwe Test series the head coach singled out Hasan Ali as a rising star, while lauding the batting of Abid Ali, Azhar Ali and Fawad Alam. "I thought Hasan Ali has been magnificent since his comeback during the home series against South Africa. He performed extraordinarily throughout these months. We would like him to continue this momentum when Pakistan head to England for the white-ball series in July," Misbah said. "And then the openers did a decent job during the first Test and Abid carrying on the excellent form in the next Test with a double century [unbeaten 215]. Fawad and Azhar also made centuries. With the ball, Nauman Ali did consistently well but the one area which pleased me most was the catching and overall fielding. In New Zealand, we were extremely poor but in Zimbabwe the catching was outstanding and we performed better in the field as well."
Misbah also backed induction of Tabish Khan into the Test side despite the pacer being 36-year-old on his international debut. "We gave him a chance without compromising on team's strengths without putting [all-rounder] Faheem Ashraf's place in jeopardy. Faheem had been performing very well in recent series.
"Actually I have no issues with guys coming into international cricket whatever their ages are. I can give you my example. When the [Pakistan] captaincy was given to me, I was already past 36 and yet I played for seven years from then on. Age doesn't mean much from my point of view because you can never be sure of what the players are capable of. How can one be sure that a 20-year-old cricketer would have a long [international] career or someone in the age bracket of 35-37 will fizzle out quickly?
"Therefore, as long as one is performing at the top of his game, he deserves recognition at the top level," Misbah stressed.
Misbah also praised Babar Azam's captaincy which he termed as a learning curve for Pakistan's batting ace. "You gain more experience and go through different situations as captain and your tactical acumen improve accordingly. You keep learning about these strategies as you play more matches and I think the same applies to Babar."