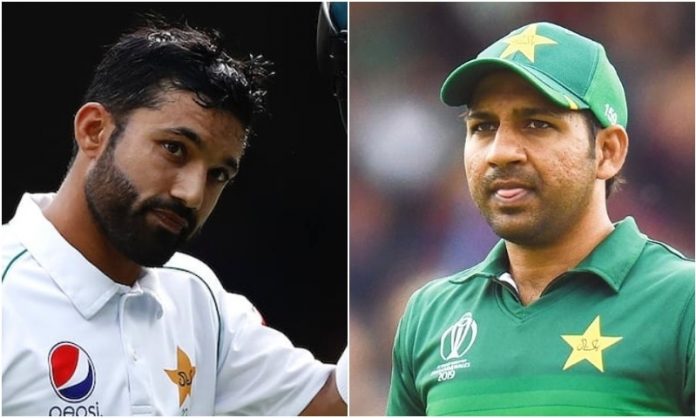 The most favourite pastime of sports fans is to create rivalries, manufacture beef and then feed off it when all the goals have been scored and runs made.
This is constant across the globe. You won't ever see Cristiano Ronaldo say a word about Lionel Messi but their supporters are known to wage comment wars all over the World Wide Web.
Pick any sport and you'd find legions of diehard fans going to any length to prove that their idol is better and the other is 'Penaldo'. Tennis has Federer-Nadal, basketball has LeBron and MJ, and others have others.
Pakistan cricket also has one such rivalry, which is the doing of everyone but the two men involved. You will not find one Sarfaraz Ahmed quote against Mohammad Rizwan (or vice versa) but their supporters clash online every time one does better or worse than the other.
Read: I have profound respect for Sarfaraz, says Rizwan
After Sarfaraz promoted himself up the order in Quetta Gladiators' PSL 6 opener against Karachi Kings and failed (scored 7 runs), parallels were again drawn and comparisons made — even more so when the very next day, Rizwan scored a 71 for Multan Sultans batting at the same position.
The umpteenth round saw Rizwan fans rub their beloved's half-century in the faces of Sarfaraz supporters, who, in response, found fault in how Rizwan had slowed down after his 50.
The back and forth has gone on for quite some time and will go on until God knows when. Neither side can be expected to show grace any time soon.
Wasim and Waqar both had their spots guaranteed and never had the fans divided, even if they both were. It means that Rizwan-Sarfaraz's fan rivalry could perhaps be the most bitter and polarising Pakistan cricket has seen in at least the recent past.
And it's easy to see why this has lasted so long and with such fervour. Sarfaraz and Rizwan, even though they themselves have always maintained that they represent one unit under the Pakistan banner, have actually been made de facto representatives of regions.
Their internal competition has once again brought to the forefront the ethnic and regional divides that have long existed but gone unnoticed or been deliberately ignored.
If you're around cricket discussions these days or frequent forums on the interwebs, you will be aware of the so-called "Karachi lobby" — a pejorative term for fans and media men rallying the cause of cricketers from the port city.
Also read: I have no issues being backup wicket-keeper on England tour: Sarfaraz
In the opposite corner supposedly stands the 'system' or the 'status quo' that allegedly favours players from Punjab and elsewhere, and has it in for Karachiites. PCB being branded the Punjab Cricket Board is a regular jibe.
As ostensible 'proof', the treatment of Fawad Alam is often cited but what's conveniently ignored is that the people who ignored the unorthodox lefty for years also installed Sarfaraz, a bona fide Karachiite, the team's all-format captain.
In fact, no questions are ever asked from Sarfaraz for Fawad's unofficial blacklisting even though he was the captain for three years straight and after the Champions Trophy triumph had become one of the most powerful men in Pakistan cricket. Is it because that wouldn't fit the narrative?
As a born-and-bred Karachiite myself, I fail to understand the logic of this purported discrimination, especially in light of the aforementioned example and many more.
In the Sarfaraz versus Rizwan debate, it is clear for all to see that Rizwan's numbers since the lockdown last year have been astronomical — or as the benchmark is in Pakistan, "Babar Azam-esque".
Since taking over from Sarfaraz in late 2019, Rizwan's Test average is a staggering 46.31 over 12 matches — of which only five were at home and just three against weak opposition such as Sri Lanka and Bangladesh.
Battling knocks of 95 against Australia in Brisbane; back-to-back 72 and 53 against England in England; 71, 60 and 61 (again back-to-back-to-back) against New Zealand in New Zealand and an unbeaten 115 against the likes of South Africa's Kagiso Rabada and Anrich Nortje is something you'd traditionally expect from a specialist batsman, not a keeper that bats part-time.
A massive knock on Rizwan's game was his inability to hit or slog in T20 cricket. Over the past two series, he has put to bed that concern as well, finishing as Pakistan's top scorer in consecutive series against New Zealand and South Africa — scoring at an average of an eyewatering 65 and strike rate of 140 over that stretch.
It is clear to see that Rizwan is nearing or at the top of his game right now. The numbers cannot lie in multiple formats and over a sample size that is growing with every match.
With that said, Sarfaraz's services to the national team can never be forgotten and he can and should still remain the number two until there is a better understudy. But on merit and merit alone, the top spot is only one man's domain as of now.
The cricket fraternity should always be indebted to Saifi for leading Pakistan during not just that Champions Trophy win but also the Under-19 World Cup triumph in 2006. His legacy will remain of one of the best captains Pakistan ever produced. His critics should also put some respect on his name because a trophy won against India three years ago means much more than the one won against England almost three decades ago.
That said, while legacies last, the ability doesn't. Not even the best and the greatest can beat Father Time. It got Mohammad Ali stopped against Larry Holmes, it made Michael Jordan miss play-offs with the Wizards, it sent Wasim Akram into retirement and it is now slowly bringing down Lionel Messi right before our eyes.
Then, for a 33-year-old Sarfaraz's powers to wane against a 28-year-old ball of energy should not be surprising at all and certainly is no reason for the latter's die-hard fans to cry ethnic discrimination in a case it doesn't exist — even if it may in others. Not when the man himself has never done so and has always been appreciative of what his former understudy is doing for the national cause.
Here is to hoping that a day would come when we'd learn to appreciate Pakistan as one unit rather than a fragmented collection of cities, cultures and ethnicities.