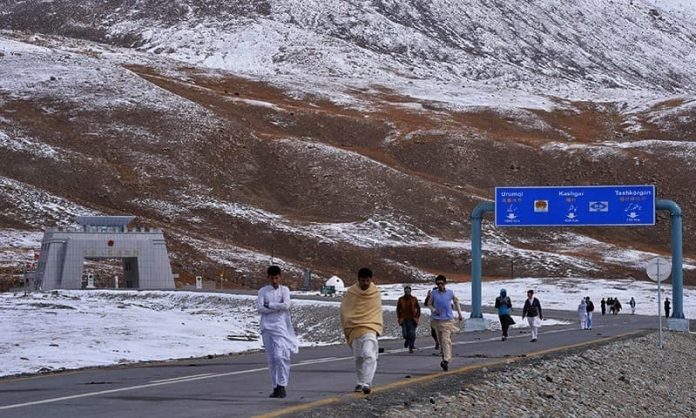 Two containers carrying medical equipment donated bythe Xinjiang province to Gilgit-Baltistan police department arrived at the Khunjerab pass following its opening.
The ministry of foreign affairs had written a letter to the China embassy in Pakistan on August 18, proposing that the border should be kept opened till December 31 to facilitate trade activities.
The letter had also suggested that containers from Chinese side should be unloaded at the Sost dry port instead of the Khunjerab top.
The Khunjerab pass was closed for trade and travel between the two countries in May this year due to Covid-19 pandemic.
Usually, the border remains open for trade and travel from May first to November end every year.
According to a letter issued by the Chinese embassy in Pakistan the border will remain open from Sept 18 to 30.
Officials of the Pakistan Customs told Dawn that stranded containers of Pakistani traders in China would move across the border under strict SOPs to contain coronavirus transmission.
Earlier, the GB traders had requested the ministry of foreign affairs to request Chinese authorities to reopen the border as thousands of people affiliated with border trade had became jobless due to its continued closure.
GB importers and exporters association president Mohammad Ismail, and Nagar Chamber of Commerce and Industry official Ali Mustafa told Dawn that the trade bodies had informed the relevant authorities that the 12-day opening of the border was not enough, and had requested its opening till December end.