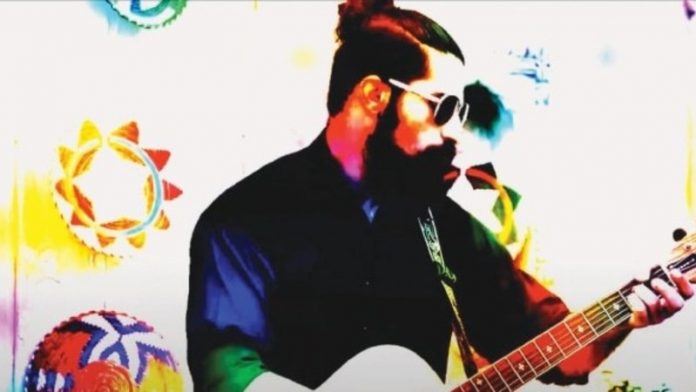 "People ask 'What is this robotic effect?' and then you tell them it's not an effect, it's one of the voices of Balochistan," says Sparlay Rawail one of the band-members of Peshawar-Islamabad based Khumariyaan.
He's talking about the 'throat singing' in the band's latest track, 'Chaap Trance', featuring the talents of Bujla Bugti, Haider Ali Bugti and Roomi.
The song has been released as a part of a project by the Foundation of Arts Culture and Education (Face) and Pakistan Poverty Alleviation Fund (PPAF) called by the name of Heritage Live. It's a sort of artists' residency, connecting folk artists with more urban ones and helping them record and release music.
"It's meant for folk artists," explains Sparlay. "They're trying to make them self-sufficient but also make a bank [archive] of all these instruments, by recording their tutorials [among other things]. At the end of the residency, as I understand it, they call in different established and semi-established artists to feature the folk artists in their songs. That's how we were called in to work with the Baloch singer and flute player."
'Chaap Trance' begins with a light beat on the zerbaghali, a percussion instrument similar in shape to the djembe, followed by Farhan Bogra on the rabab. The song then morphs straight into an EDM-esque track.
The singing itself sounds like warbling almost in monotone. The acoustic instrumentation, more than the electronic beats, provide the movement and colour in the song.
"The language that's being sung is Balochi but it's a very old folk Baloch dialect," explains Sparlay. "Haider and Bujla, the instrument [flute] that they play and the way that they sing, when combined it's called 'nar sur' — to sing and play the flute with it. We [Khumariyaan] used to jam on stage to something called the Baloch chaap. It's a kind of Baloch traditional folk dance.
We always found the beat very interesting. When the opportunity came to do a chaap-based track… and when we found out there were two Baloch artists, we decided to meet with them."
While the translation is available in the description of the video, the song is celebrating a devotion to a friend or a beloved. Two lines stand out, towards the end, Precious to my heart, I can't seem to forget you/ And my heart is primed for love like a full moon.
How has the experience been? "You find out the disjoint between studio-produced music and folk singing style," says Sparlay. "Not all folk artists can work with a metronome. We'd also figured that out in Coke Studio and other projects. But you also get to see the folk phenomenon up-close and personal while it's happening. You learn that most folk artists aren't exactly well-to-do. The [economic] class distinction is kind of painfully obvious. I don't know if there'll ever be a time when folk musicians can transcend [that] class."
It's quite an experimental track. What has the feedback been like? "Everyone seems to really like it," says Sparlay. "A few people found the throat singing a bit shocking. They're kind of thrown, overwhelmed by it. Even those who like it, didn't know there's Baloch throat singing. To see people liking it, not knowing this is their culture and then finding it out, is doubly rewarding." He points out that there are dozens of videos about Baloch throat singing on YouTube.
As a band, Khumariyaan has been keeping busy.
"Just as 'Chaap Trance' came out, we also did a track to highlight gender-based violence in Pakistan, in collaboration with the US Embassy. [It's called] Jeenay Do," says Sparlay. "We have another video on the edit, Sheenai. We're working on yet another track called Qataghani. There's a little surprise stored in it as well."
Qataghani is a popular Afghan composition. There was even a bootlegged version of one of the band's performances of Qataghani online which I can no longer find, but they have also released a demo of their current version — and surprisingly, it features some choir-esque singing!
"Apart from that, what we're looking forward to is Khumariyaan playing live on stage very soon," ends Sparlay. Indeed.