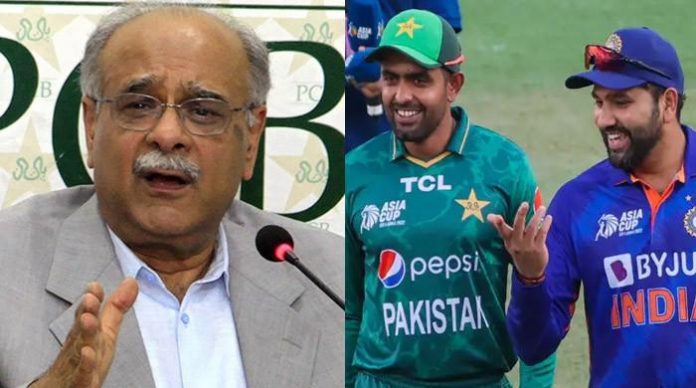 The chairman of the Pakistan Cricket Board (PCB) Management Committee, Najam Sethi, has urged India to tour Pakistan for this year's Asia Cup.
The 2023 Asia Cup is set to be hosted by Pakistan but it is likely to be shifted to a neutral venue due to Board of Control for Cricket in India (BCCI)'s reservations about touring Pakistan.
"Obviously, we want to host Asia Cup in Pakistan since all the top international teams are now touring Pakistan. England, Australia, New Zealand and West Indies have all visited Pakistan which shows that there is no issue now," Sethi told Sports Tak in an exclusive interview.
"There is no security issue, which was their [India] stance previously. But then Pakistan also had security issues but we still went and played in India during the World Cup [in 2016].
"We are not requesting because it's our right that India should come and play in Pakistan. Indian team also got a lot of love from Pakistani crowd when they played last time here in Lahore. Disputes between nations will continue but cricket must go on."
While responding to a question about shifting the Asia Cup to a neutral venue, Sethi said that the decision will depend on directives from the federal government.
"We will cross that bridge when we come to it. We will consult the government, if they say it's okay then it's okay. If they say no, it's no," Sethi said when asked about moving Asia Cup to a neutral venue.
It must be noted that, in October last year Pakistani cricket authorities hinted they may pull out of next year's World Cup in India, a day after officials there said they would not send a team to the 2023 Asia Cup in Pakistan.
Jay Shah, who is BCCI secretary and also the president of the Asian Cricket Council, had said that India "can't" send a team to Pakistan, adding the tournament would be moved to a neutral venue.
His announcement caught Pakistan by surprise, with officials warning it could "split" the international cricket community.
The PCB said Shah's comments "can impact Pakistan's visit to India for the ICC Cricket World Cup 2023 and future ICC Events in India in the 2024-2031 cycle".
The Pakistan board said it has not received any official communication from the ACC, and noted that hosting rights for the 2023 Asia Cup had been given to Pakistan under Shah's leadership.
Despite being considered one of sport's greatest rivalries, India and Pakistan have not met on home soil in any version of the game since 2012, and only play each other in multinational tournaments on neutral grounds.