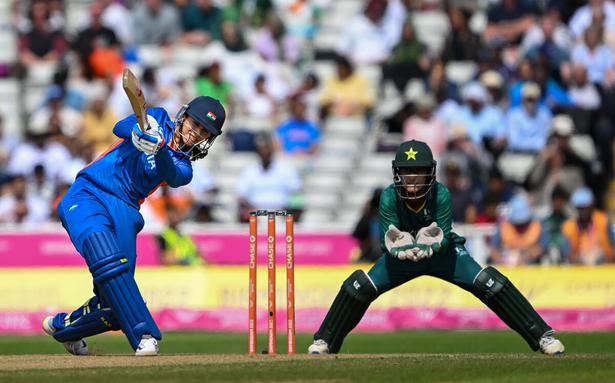 CWG 2022: Get the score updates, commentary and highlights as India Women face Pakistan Women in a Group A match of the Commonwealth Games on Sunday.
Hello and welcome to Sportstar's HIGHLIGHTS of the Commonwealth Games 2022 Group A match between India and Pakistan at Edgbaston in Birmingham.
INDIA BEAT PAKISTAN BY EIGHT WICKETS
India completes a demolition job of Pakistan with chilling efficiency. After electing to bat, Pakistan lost wickets at regular intervals, including three in the last over, before it was skittled out for 99 in 18 overs. Other than ordinary batting, poor communication also played a huge role in Pakistan's collapse as India effected three run outs. Sneh Rana and Radha Yadav picked two wickets apiece to add to Pakistan's woes.
Chasing 100 runs was never going to challenge India, but few would have expected them to finish off the game inside 12 overs. It was a Smriti Mandhana show all the way as the stylish southpaw raced to a 31-ball fifty before imparting the finishing touches. India now tops Group A with a win and a loss in two matches.
IND 102/2 IN 11.4 OVERS
A couple of singles off the first three balls as Fatima continues. FOUR! And India sails home with eight wickets in hand and 38 balls to spare. It was full outside off and Mandhana deposited it to the midwicket boundary. Mandhana ends unbeaten on 63 off 42 balls.
IND 96/2 IN 11 OVERS
Eight runs to win. Omaima into her third over. Meghana on strike. She slashes through the gap between gully and point for a couple of runs after dancing down the wicket. OUT! Meghana steps out and misses and she is cleaned up as off-spinning delivery breaches her defences. Rodrigues comes in next and gets off the mark with a single at square leg. One more for Mandhana next ball.
IND 92/1 IN 10 OVERS
Fatima back with the ball. Four singles off the first five balls as India nears a huge win. Mandhana drives the last one back to the bowler along the ground.
IND 88/1 IN 9 OVERS
Omaima continues and beats Mandhana outside off on the drive. But the next one is too wide outside off and turns away even further. The keeper fumbles and three extras added to India's score. FOUR! Meghana gets her first boundary as she steps out, gets to the pitch of the ball and drives over the covers for four runs. FOUR! Another boundary to end the over. Meghana thumps it down the ground to beat the long-on fielder.
IND 76/1 IN 8 OVERS
Wide ball first up from Tuba. Meghana is beaten with the one that turns away. The keeper is also beaten and India collects two byes. SIX! Fifty in style as Mandhana steps out and clobbers this over long-on off the middle of the bat. Fifty off 31 balls for Mandhana and India now 24 runs away from the win with 60 balls remaining.
IND 65/1 IN 7 OVERS
Omaima comes with the ball. S Meghana the new batter. Mandhana moves over outside off and laps one over short fine leg for a couple. She is beaten with the one that drifts and spins away outside edge, missing the outside edge by a whisker.
IND 61/1 IN 6 OVERS
Mandhana and Shafali pick up a boundary each off Tuba Hassan. Mandhana steers one past short third before Shafali rocks back and and punishes a short one through midwicket. OUT! Wide outside off, turning away and Shafali gets a feather trying to cut off the backfoot. Shafali goes for 16 off 9 balls.
IND 52/0 IN 5 OVERS
Medium-pacer Fatima with the ball. Mandhana stays back and pushes to mid-off for a dot ball. FOUR! Shortish and Mandhana swivels and pulls this to the square leg boundary. SIX! Dismissed with disdain! Mandhana ventures out of her crease and lifts this over long-on for another six. Fifty-run partnership up in 29 balls.
IND 41/0 IN 4 OVERS
Now Shafali cuts loose. SIX! Full and straight from Amin and hammers this over long-on for a maximum. Heaved again to long-on but this is just a single. FOUR! Thick outside edge as Mandhana steps out to go inside out over covers and this runs away to the backward point boundary. FOUR! Shafali slashes over the covers after stepping out to make it 16 runs from the over and India is cruising.
IND 25/0 IN 3 OVERS
Baig continues. Shafali is off the mark with a nudge on the leg side off the first ball of the over. FOUR! Mandhana is eager to finish this quickly. Too full outside off, Mandhana plants her foot forward and drives over the covers and to the boundary. Big swing and miss wide outside off. FOUR! With no fielders in the deep on the leg side, Mandhana rocks back and lifts this over square leg and to the boundary. FOUR! Huge over for India as Mandhana guides this to the third man boundary with an open face.
IND 12/0 IN 2 OVERS
Left-arm spinner Amin from the other end. SIX! Mandhana presses forward and slog sweeps this from wide outside off and over wide long-on for a maximum. FOUR! Full toss and Mandhana drives this down the ground to make 10 runs from the over.
IND 2/0 IN 1 OVER
Mandhana and Shafali are out to open the innings. Diana Baig with the ball. India off the blocks with a leg-bye first ball. Mandhana steps out looking to go over midwicket but gets an inside edge onto the pads and takes a single.
INDIA NEEDS 100 RUNS TO WIN IN 18 OVERS
PAK 99 ALL OUT IN 18 OVERS
Radha Yadav to bowl the last over. Imtiaz gets a top edge on the sweep first ball and she steals a single. OUT! Big swipe across the line from Diana Baig and she misses it as Yastika does the rest behind. Umpire doesn't even go upstairs. OUT! Another run out and this is the third one of the innings. Imtiaz drags this to long on and comes back for the second and Tuba Hassan is short of her crease at the bowler's end. OUT! Pakistan 99 all out as Imtiaz is clean bowled off the last ball of the innings. She comes down the track but fails to connect and the ball clatters into the off-stump. Three runs in threw wickets off the last over and India needs 100 runs to win in 18 overs.
PAK 96/7 IN 17 OVERS
Riaz is hit on the arm by a throw from behind square and is OUT! a few balls later as Meghna Singh gets a direct hit from mid-off at the non-striker's end. And another one bites the dust next ball and Fatima is OUT! Shafali has taken a stunner caught and bowled wicket diving to her right and taking a low one. Fatima slapped it back to the bowler and Shafali did well to get down in time and wrapped her hands under the ball before it grazed the pitch.
PAK 92/5 IN 16 OVERS
A couple of boundaries in that Deepti over. Riaz first stepped out and smashed one over the bowler's head before Fatima drove a half-volley between cover and point. 10 runs from the over and Pakistan will at least get to three digits.
PAK 82/5 IN 15 OVERS
Shafali with the ball. Length outside off and Riaz chops this to point for a dot ball. OUT! Omaima is left stranded halfway down the pitch after Riaz cuts straight to point. Shafali whips off the bails at the bowler's end. A couple at deep point for Riaz to end the over.
PAK 78/4 IN 14 OVERS
Radha continus. Full and straight and swept for a single by Omaima. Riaz carves this to short third and hares for a single. Umpire review for run out at striker's end but Riaz is well inside. Stumping review next ball as Omaima misses the sweep as the ball turns away from her. Her bat was in the air when the stumps were broken but she managed to drag her foot inside in the nick of time. Thick outside edge past the keeper as Omaima looked to go big off but gets three runs nevertheless.
RaPAK 72/4 IN 13 OVERS
Too straight and full from Rana and Aliya Riaz sweeps this to the fine leg boundary. This one is carved away past short third for a couple more. Loud LBW appeal to end the over as Omaima comes out to nudge this on the leg but misses. Umpires turns it down but Kaur reviews this. Riaz survives despite the ball crashing into middle stump as the impact is umpire's call.
PAK 66/4 IN 12 OVERS
Full on the legs and Ayesha heaves this on the leg, looking to clear the boundary and ends up skying this to Rodrigues at deep midwicket. Two singles to end the over and Renuka bowls out with 1-20 from 4 overs.
PAK 62/3 IN 11 OVERS
Rana into her third over. Another tight one as Rana draws a few miscued shots and play and misses. Yastika misses a tight stumping chance that could have seen the back of Omaima. Rana two for nine after three runs.
PAK 61/3 IN 10 OVERS
Omaima and Ayesha at the crease. Radha Yadav into the attack. Grip and turn for Radha as Ayesha almost chips this into the hands of short cover. Pulled away to deep midwicket for a couple. Short again next ball and Ayesha sends this to the boundary for four runs. A couple more to end the over.
PAK 51/3 IN 9 OVERS
Rana continues. Single to mid wicket and 50 up for Pakistan in 8.1 overs. 50 partnership up as well. OUT! Full and straight and Maroof is struck in front after missing the sweep. Given out straightaway but Maroof reviews this. Clearly no bat involved, and this is hitting middle of middle stump and Pakistan loses its captain and its second wicket. Omaima is in next and is beaten with the turn first ball outside off. She gets off the mark with a single. OUT! Plopped back straight to the bowler and Rana has two in the over. Ali goes after showing promise with 32 off 30 balls.
PAK 49/1 IN 8 OVERS
Meghna returns from around the wicket. Maroof drive this full one outside off for a single. Short, Ali pulls and gets a top edge that flies over the keeper for four runs. The bowler won that battle despite the boundary. Ali looking to break the shackles here as she skies this one to mid off, where Rana dives in front but it falls just short of her. And finally Ali cuts loose. Full on a tight off stump line and Ali bludgeons this over the midwicket boundary for SIX runs.
PAK 35/1 IN 7 OVERS
Sneh Rana with the ball. Tossed up outside off and Maroof drives through the offside for a single. Almost chops on! Ali gets a thick inside edge that almost knocks her stumps over. She chased this from wide outside off to smash it through the covers. Five singles to end the over.
PAK 30/1 in 6 OVERS
Deepti continues. She sees Ali advancing and pitches it shorter, forcing Ali to scamper back a bit and nurdle the ball on the off side. Two singles to start the over. Floated up full and Ali gets down to sweep but misses as the ball turns away. This is turning across again and Ali stays back and cuts through point and cover for one. This is guided by Maroof for a single at deep point. Ali tries to sweep from wide outside off and misses again.
PAK 26/1 IN 5 OVERS
First boundary of the match as Ali makes room outside off and slices it aerially and over backward point for a one-bounce four. Four next ball again and this clattered through midwicket. Cleared her front leg and packed some power behind that! A couple of singles at square leg follow before Renuka changes angle and comes around the wicket. End of the PowerPlay in this 18-over per side innings.
PAK 15/1 IN 4 OVERS
Deepti into the attack. Ali sweeps to square leg and wants a single but is sent back and just about makes her ground. Direct throw would have been gone. Maroof is looking fluent and takes a couple off the last ball with a sweep to deep square.
PAK 12/1 IN 3 OVERS
Renuka continues and Ali is beaten first ball trying to go for a booming slash wide outside off. She is finally off the mark with a quick single at mid-on and collides into the bowler trying to make her ground. First run conceded by Renuka after eight balls. Maroof ends with the over with a couple as she times the ball well again to midwicket.
PAK 7/1 IN 2 OVERS
Meghna Singh from the other end. Sharp movement away first two balls and beats the batter. OUT! Swinging away again but Javed goes for the drive this time and edges behind to the keeper. Meghna Singh strikes. Fist runs for Pakistan as Maroof flicks this full one on the leg side and runs a couple. Swing again but this goes down leg side and wide ball. Full outside off and driven through the covers by Maroof with sweet timing for three runs. Maroof nudges this length ball to midwicket for a single to end the over.
PAK 0/0 IN 1 OVER
Renuka Singh Thakur, who took 4-18 in the last game, will open the bowling. Muneeba Ali and Iram Javed will open the batting for Pakistan. One slip for left-hander Ali. Over the wicket. Angling across, full and beats Ali's gentle poke outside off. Four dot balls in a row to start the match. Ali is dancing down the track but is either beaten by the in-dipper or the one that goes out. Outside edge to short third to end the over. Maiden over.
Loud cheers from the fans as the players file onto the field. Team India in an intense huddle before they disperse.
It is still overcast but the rain has relented. The openers are also sitting beyond the boundary ropes. The umpires now come out and we will finally see live action.
Revised conditions: Play has been reduced to 18 overs per side due to the rain delay and the PowerPlay will now have just five overs instead of the standard six.
The skies are clear and the players are out to begin live action. The Indian players are milling around the boundary ropes, itching for play to begin, as are all of us!
The rain had resumed after the toss but has stopped now and looks like we will live action as her the revised schedule.
INDIA VS PAKISTAN PLAYING XI
India: Smriti Mandhana, Shafali Verma, Yastika Bhatia (wk), Harmanpreet Kaur (c), Jemimah Rodrigues, Sabbhineni Meghana, Deepti Sharma, Radha Yadav, Sneh Rana, Meghna Singh, Renuka Singh.
Pakistan: Iram Javed, Muneeba Ali (wk), Omaima Sohail, Bismah Maroof (c), Aliya Riaz, Ayesha Naseem, Kainat Imtiaz, Fatima Sana, Tuba Hassan, Diana Baig, Anam Amin.
Harmanpreet Kaur is happy after losing the toss as she wanted to bowl first. Nida Dar of Pakistan is out after receiving a concussion in the last match against Barbados.
TOSS: Pakistan wins toss and elects to bat. India has two changes. Rajeshwari Gayakwad is out and in comes Sneh Rana. Harmanpreet Kaur has forgotten the other change but we will know soon enough.
In other CWG action, Jeremy Lalrinnunga has won the gold medal in the 67kg Weightlifting event and now India has five medals.
15:49 IST
Finally some good news as the toss is scheduled for 3:55 PM IST and the covers are off. However, Pooja Vastrakar still has not joined the squad and India will dearly miss her services.
The toss was scheduled for 3:30 PM IST after rain abated, prompting even the covers to come off. But the rain is back again now and there will be another delay. As the interruption has lasted more than 30 minutes now, we are likely to lose overs now.
TOSS DELAYED DUE TO RAIN
As we wait for the final, let's take a look at what has happened in CWG cricket so far. India suffered a heartbreaking loss in the opener against Australia. It had reduced Meg Lanning's team to 49 for five in a chase of 155 before Grace Harris and Ashleigh Gardner turned the match on its head. Barbados, playing its first-ever international match but having the services of six West Indies players in its ranks, beat Pakistan by 15 runs.
New Zealand rode on Suzie Bates' exceptional 64-ball 91 to script a 13-run win over South Africa before host England began its campaign by beating Sri Lanka by five wickets in a 110-run chase.
Barbados and England are on top of Group A and Group B, respectively.
There is a 30-minute buffer allotted to each CWG cricket match, barring the final, which means that overs will be lost only if 30 mintutes of play is lost.
15:05 IST
The toss has been delayed but the drizzle is lighter now and there are signs of the sun peeking through the clouds a bit.
It might be raining in Birmingham but it isn't enough dampen the spirit of the fans ahead of an Indo-Pak match
'The drizzle has gotten heavier' is what our man on the ground, Santadeep Dey, has to say
14:48 IST
There is a heavy drizzle at Edgbaston and the news is not encouraging. It is unlikely the toss will be as per schedule.
Team India has arrived!
14:15 IST
The news is not too good from Birmingham and we could see some rain interruptions during this high-stakes match
India and Pakistan will lock horns in a crucial Group A encounter of the Commonwealth Games 2022. Both teams are coming off losses in their first matches and will hope to bounce back on Sunday.
INDIA VS PAKISTAN PREDICTED XI
India: Harmanpreet Kaur (c), Smriti Mandhana, Shafali Verma, Yastika Bhatia (wk), Jemimah Rodrigues, Deepti Sharma, Harleen Deol, Radha Yadav, Meghna Singh, Rajeshwari Gayakwad, Renuka Singh.
Pakistan: Bismah Maroof (c), Muneeba Ali (wk), Iram Javed, Omaima Sohail, Nida Dar, Aliya Riaz, Ayesha Naseem, Fatima Sana, Diana Baig, Anam Amin, Tuba Hassan.
INDIA VS PAKISTAN DREAM11 FANTASY TEAM
Wicketkeepers: Muneeba Ali
Batters: Shafali Verma, Smriti Mandhana, Harleen Deol, Bismah Maroof
All-rounders: Deepti Sharma, Harmanpreet Kaur (c), Nida Dar
Bowlers:  Renuka Thakur (vc), Diana Baig, Fatima Sana