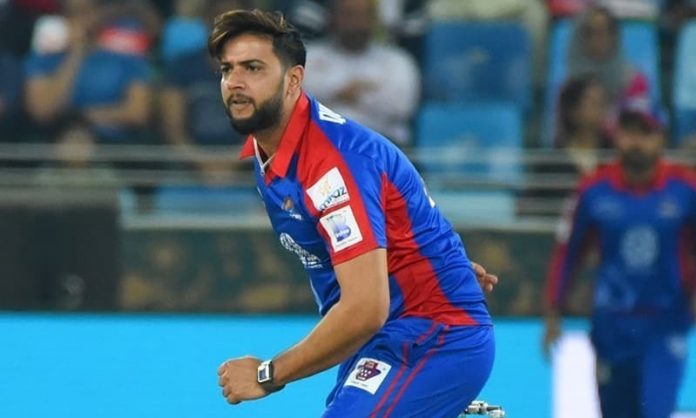 KARACHI: Imad Wasim admitted if Karachi Kings had scored another 20 runs, the outcome of Eliminator 1 clash in the HBL Pakistan Super League 6 against Peshawar Zalmi at the Sheikh Zayed Cricket Stadium could have been different.
Karachi, who were defending the crown, which they won by defeating old foes Lahore Qalandars in Karachi last November, lost by five wickets on the penultimate ball of Monday's late night fixture in Abu Dhabi. Karachi, who were put into bat, made 175-7 with batting maestro Babar Azam — the leading run-getter of this edition with a record tally of 554 — top-scoring with 53 off 45 deliveries.
"Probably in hindsight, I would say that we were at least 15 to 20 runs short of setting a reasonable chase for [Peshawar Zalmi] in high pressure situation. As the captain I am proud of my boys for the way they fought until the very end," a dejected Karachi captain commented during the post-match interview.
"But it happens in cricket and we will take [defeat] on the chin and move on. I thought [Hazratullah] Zazai played really an extraordinary innings [77 off 38 balls with 10 fours and five sixes] under the circumstances and took the game away from us.
"In the last match against Karachi, Zazai had been difference between winning and losing. But credit to him because in both Peshawar games, he came hard at us. And if one looks back, then I'll admit that we're lacking experience on the bowling front. Overall, it was a fantastic game. We know the [Karachi] are pretty disappointed at the outcome of this fixture but it happens and life has got to move forward," Imad added.
Meanwhile, Peshawar skipper Wahab Riaz revealed being nervous until his side got over the line while saying his players showed a lot of character.
"In the given situation in a game of this magnitude when you know only a victory will keep the team in the tournament, I was a bit nervous," Wahab said afterwards. "Hats to the boys for keeping themselves under control because the match could have gone either way because it was very tense out there, particularly after we didn't have great time in the previous game [against Islamabad United]."
Wahab sad Zazai played an outstanding innings and kept Karachi under pressure when he was at the crease. "When a team is chasing 170-plus target, it is imperative that one of the opening batters had to bat deep especially in a knockout game, and that's exactly what Zazai did tonight.
"He [Zazai] is one of the strikers of the ball, and the way he showed the [right] intention, we were confident [of winning] because he never let Karachi stage a comeback and throughout kept their bowlers and fielders under pressure with a tremendous knock since it wasn't that easy batting last because the surface was getting slower and slower and some of the deliveries were keeping a bit low. But when a guy plays a special innings as Zazai did, it was extremely heartening for the team.
"Moreover, Shoaib [Malik] and Khalid [Usman] also played a key role in our victory when we needed stability in the middle overs after Zazai got out and partnership [52 in 29 balls]."
Looking forward to Tuesday's Eliminator 2 clash against Islamabad — the winners to qualify for the final against Multan Sultans on Thursday — Wahab remarked: "It's another do-or-die situation for us and them as well. But we'll try to execute our [game] plans accordingly and Insha'Allah win."'
Scoreboard
KARACHI KINGS:
Batsmen & mode of dismissals R B 4s 6s SR
Sharjeel Khan lbw b Irfan 26 20 5 0 130.00
Babar Azam c Powell b Wahab 53 45 6 0 117.77
M.J. Guptill c Kamran b Umaid 0 3 0 0 0.00
Danish Aziz c Imam b Irfan 13 12 0 1 108.33
N.L.T.C. Perera c Powell b Umaid 37 18 4 3 205.55
C.A.K. Walton c Rutherford b Wahab 9 8 0 0 112.50
Imad Wasim c Powell b Imran 16 9 1 1 177.77
Mohammad Ilyas not out 4 3 0 0 133.33
EXTRAS (LB-6, W-4) 10 – – – —
TOTAL (for seven wkts, 20 overs) 175 – – – —
FALL OF WKTS: 1-41 (Sharjeel Khan), 2-42 (Guptill), 3-73 (Danish Aziz), 4-101 (Babar Azam), 5-134 (Perera), 6-142 (Walton), 7-165 (Imad Wasim).
DID NOT BAT: Arshad Iqbal, Noor Ahmed.
BOWLING: Wahab Riaz 4-0-29-2 (2w); Mohammad Irfan 4-0-21-2; Mohammad Imran 4-0-37-1; Umaid Asif 4-0-37-2 (1w); Khalid Usman 4-0-45-0 (1w).
PESHAWAR ZALMI:
Batsmen & mode of dismissals R B 4s 6s SR
Hazratullah Zazai c Guptill b Perera 77 38 10 5 202.63
Kamran Akmal b Noor 13 12 2 0 108.33
Imam-ul-Haq b Perera 11 17 0 0 64.70
Shoaib Malik c Walton b Amir 30 25 2 1 120.00
Khalid Usman b Ilyas 17 14 1 1 121.42
S.E. Rutherford not out 17 10 3 0 170.00
R. Powell not out 1 3 0 0 33.33
EXTRAS (LB-4, W-6) 10 – – – —
TOTAL (for five wkts, 19.5 overs) 176 – – – —
FALL OF WKTS: 1-49 (Kamran Akmal), 2-92 (Imam-ul-Haq), 3-103 (Zazai), 4-155 (Khalid Usman), 5-163 (Shoaib Malik).
DID NOT BAT: Wahab Riaz, Umaid Asif, Mohammad Imran, Mohammad Irfan.
BOWLING: Imad Wasim 3-0-26-0 (1w); Mohammad Amir 4-0-37-1 (1w); Mohammad Ilyas 3.5-0-30-1 (1w); Arshad Iqbal 3-0-28-0; Noor Ahmed 4-0-41-1 (3w); Perera 2-0-10-2.
RESULT: Peshawar Zalmi won by five wickets.
UMPIRES: Aleem Dar and Shozab Raza.
TV UMPIRE: Asif Yaqoob.
MATCH REFEREE: Mohammad Javed Malik.
PLAYER-OF-THE-MATCH: Hazratullah Zazai.