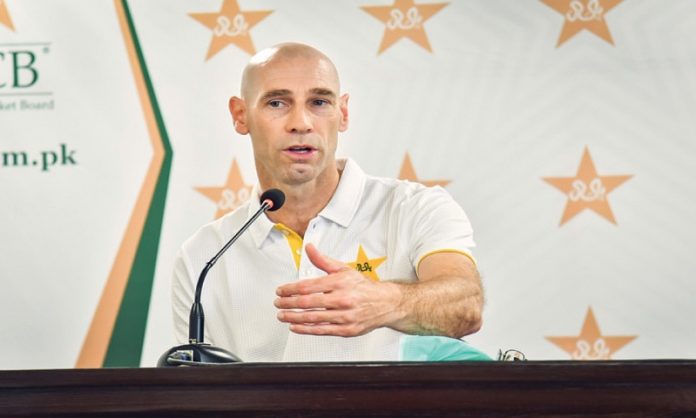 Addressing his maiden media conference here at the National Stadium, the former Bermuda batsman, who famously scored an undefeated half-century — an unbeaten 76 — against India during the 2007 ICC 50-over World Cup in the West Indies, said he is undeterred by the challenges he'll face in the months to come.
"It's great honour and privilege to lead Pakistan women's side as the head coach. The country is blessed with a great history in terms of cricket and to be part of that and to work with the Pakistan Cricket Board from my own personal perspective is a fantastic opportunity," Hemp said.
"I have been involved in coaching officially for 30 years and I say this because my first 'job' was in 1990 at a high school in Durban as a director of coaching. Within that period I've worked in various countries — South Africa, UK, Australia, Bermuda and now Pakistan — and on the way I've experienced different cultures and worked in different roles in that regard."
Hemp, who was born in Hamilton — the capital of Bermuda — who will turn 50 on Nov 8, is indeed cricket's true journeyman. Apart from representing his country in 22 ODIs and two T20 Internationals between 2006 and 2009, Hemp has played for Glamorgan (1991-1996) and Warwickshire (1997-2001) and also turned out for Free State in South Africa domestic competition in 1997-98.
"I was also fortunate to captain and coach Glamorgan at the backend of playing career and also led Bermuda. I also played for England 'A' for a while," Hemp, based in Melbourne for the past seven years and holds dual passports of Britain and Australia, pointed out.
"In terms of this role, obviously I'm delighted to be given a chance to work with Pakistan women's side. And although I have yet to see the players [Hemp came to Karachi on Thursday after holding discussions with PCB officials since arriving in Lahore on Monday], but I can say there is lot of talent in the group.
"I've been observing the performances of Pakistan players through various sources and noted the graph is gradually on the rise. The most heartening aspect was their fifth-place finish in the second edition of ICC [Women's] Championship. It is appropriate to say 'well done' to all those players and the coaching staff who were involved in that event."
Hemp conceded that Pakistan's current seventh rank on the ICC table is something he'll be aiming to improve.
"That's ground reality, isn't it? But that's surely we don't want to be. Ideally we definitely do want to be among the top four nations. That is one of the priorities during my [two-year] tenure despite the fact it may seem far away. The main task in front of us is to harness the available talent to improve our ranking which is definitely attainable."
Hemp noted the pool of players, which is currently limited to just 45 girls, is a drawback that needs to be addressed with the passage of time.
"Ideally you want to have more players to compete for places in the national side. The PCB has been looking at this anomaly for a while to improve growth of players at the grassroots levels. Urooj Mumtaz [head of cricket board's women's wing] is working behind the scene in terms of increasing the depth," he said.
"But if you look at the other side, there are 45 players in the pool and 27 of them are here at the [ongoing] camp with one unfortunately got Covid-19. That is still lot [of players] to choose from and work with. What it does mean that the quality might be reduced and the expectations on top players will be a little bit higher.
"You then think about the Australian system where I have worked. Australia just played New Zealand in a series with a squad of just 18 players and on top of there were about five or six of them were not involved and were left behind. They were all international players but didn't make it.
"Is that a challenge? Yes it is. That's how you inculcate a culture of competition among the players. And to me that is a good because there is always room for improvement if we aspire to get into that top four bracket," he added.
"I will again give you Australia's example. I had been working with them closely in different capacities for five years with the states and national camps. So I know how they approach things and how they look to improve continuously.
"Coming to the Pakistan side I think what we need to look at their skill-sets in all departments of cricket [batting, bowling and fielding] and even off-field fitness. Being a professional athlete you can't afford to neglect these areas. I again go back to Australia with due apologies by giving their example because to mind my mind they are the benchmark for all teams and being there at the top for a long, long time."
Hemp, meanwhile, refused to believe that Pakistan need a foreign coach for the women's team after the green shirts had New Zealand's Mark Coles previously working in the role with mixed results.
"Look that is something I obviously I cannot comment on. The PCB advertisement for the position to which I applied and they interviewed me before offering the job. If the PCB thought I was the best candidate [for the job] and so be it. As I said before, this is a challenge which I have accepted and will relish while being with the Pakistan team," Hemp remarked.