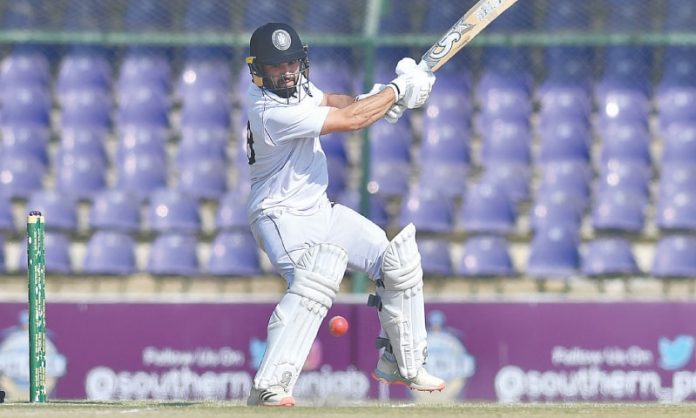 KARACHI: A record-breaking century from the prolific Kamran Ghulam, who shattered a 36-year-old landmark, laid a solid platform for Khyber Pakhtunkhwa to dictate terms against holders Central Punjab on the decisive day three of the Quaid-e-Azam Trophy final at the National Stadium here on a chilly Sunday.
Following Central Punjab's rather surprise closure of their overnight first innings after the addition of 45 runs into 38 minutes of play, Khyber Pakhtunkhwa built on a lead of 43 by going to stumps at 243-5 and holding an overall advantage of 286 with Kamran (104) and skipper Khalid Usman (14) at the crease.
Hasan Ali's declaration was a calculated ploy since Central Punjab wanted to prevent Khyber Pakhtunkhwa picking an additional bowling point first thing on Sunday. At the conclusion of respective first innings, both teams had collected six pints each with Khyber Pakhtunkhwa's share being equally divided between batting and bowling to Central Punjab's four bowling points and the remaining two for batting.
In case of the five-day decider concluding in a draw, the coveted title would be shared but that now seems to be the most unlikely outcome over the remaining two days of action on a result-oriented National Stadium pitch that has already seen 25 wickets tumble over the opening three days.
Without any shadow of doubt, the moment of glory came Kamran's way only two days after being honoured with the PCB Domestic Cricket of the Year award for amassing 1,065 runs in 10 league-round matches in the current season.
On Sunday the 25-year-old right-hander from Upper Dir surpassed Saadat Ali's longstanding landmark of most runs in a single season of Quaid-e-Azam Trophy. Saadat — the older brother of former Test wicket-keeper Ashraf Ali represented Pakistan in eight One-day Internationals in 1984 — held the record for 36 years after piling up 1217 runs during the 1983-84 championship.
Kamran, who had top-scored with 76 in the first innings, needed 77 when he strode out to the middle after Khyber Pakhtunkhwa had lost the disappointing Fakhar Zaman — the honorary Pakistan Navy lieutenant followed his 17 on Friday with only a 22-ball four on Sunday— and the promoted Zohaib Khan (5) with 33 runs on the board.
Israrullah carried on from where he had left during the first innings (when as the pugnacious left-handed opener shared a third-wicket partnership of 88 with Kamran before losing his balance while trying to charge at spinner Qasim Akram and was smartly stumped for 63 by Mohammad Akhlaq, who took over behind the stumps after regular wicket-keeper Ali Shan reported ill with a stomach disorder.
Adil Amin then joined Kamran and the duo gradually stitched together another productive stand of 83 to follow their partnership of 132 on day one. But Central Punjab suddenly evened up the game when Adil (34) and Rehan Afridi (1) fell in the space of two runs to an injudicious shot selection and a reckless piece of running, respectively.
The abrupt loss of his partners didn't put Kamran off his track after a huge slice of luck had earlier given him a reprieve when he was bowled by a no-ball from off-spinner Qasim on 63. Having cemented his place in history, Kamran duly notched up his sixth century of the season in the dying minutes of the day and had adorned his ninth first-class ton with 15 boundaries one straight six while negotiating 203 balls during a stay of 285 minutes.
Scoreboard
KHYBER PAKHTUNKHWA (1st Innings) 300 (Kamran Ghulam 76, Adil Amin 75, Israrullah 61, Zohaib Khan 30; Hasan Ali 4-62, Waqas Maqsood 3-59).
CENTRAL PUNJAB (1st Innings, overnight 212-8):
Mohammad Akhlaq c Rehan b Irfanullah 4
Ali Zaryab c Kamran b Irfanullah 8
Usman Salahuddin c Rehan b Khalid 60
Mohammad Saad c Rehan b Sajid 26
Saad Nasim b Arshad 55
Qasim Akram not out 35
Ali Shan b Irfanullah 9
Bilawal Iqbal c Rehan b Khalid 1
Hasan Ali c Rehan b Irfanullah 1
Ahmed Safi Abdullah not out 0
Waqas Maqsood not out 20
EXTRAS (B-1, LB-8, NB-4) 13
TOTAL (for nine wkts decl, 83 overs) 257
FALL OF WKTS: 1-8, 2-12, 3-76, 4-124, 5-185, 6-205, 7-206, 8-207, 9-220
BOWLING: Irfanullah Shah 20-4-73-4; Sameen Gul 15-6-33-0 (2nb); Arshad Iqbal 17-3-53-1 (2nb); Sajid Khan 15-2-57-1; Khalid Usman 15-3-32-3; Fakhar Zaman 1-1-0-0.
KHYBER PAKHTUNKHWA (2nd Innings):
Fakhar Zaman c M. Saad b Waqas 4
Israrullah st Akhlaq b Qasim 63
Zohaib Khan c Akhlaq b Bilawal 5
Kamran Ghulam not out 104
Adil Amin c Hasan b Waqas 34
Rehan Afridi run out 1
Khalid Usman not out 14
EXTRAS (B-1, LB-5, W-1, NB-8) 18
TOTAL (for five wkts, 76 overs) 243
FALL OF WKTS: 1-24, 2-33, 3-121, 4-204, 5-206.
BOWLING (to-date): Waqas Maqsood 17-6-52-2; Hasan Ali 15-3-47-0 (6nb); Bilawal Iqbal 17-5-41-1; Qasim Akram 9-0-40-1 (1w); Ahmed Safi Abdullah 16-5-43-0 (2nb); Mohammad Saad 2-0-11-0.