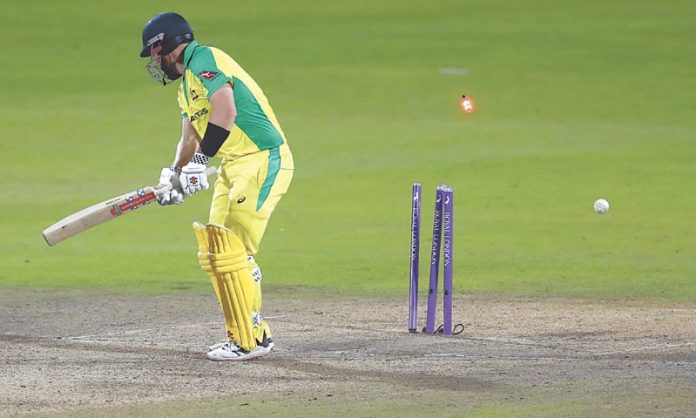 Australia appeared to be cruising as they reached 144-2 thanks to a 107-run third-wicket partnership from captain Aaron Finch (73) and Marnus Labuschagne (48) before capitulating to 207 all out.
All-rounder Chris Woakes triggered the collapse when he had Labuschagne lbw, beginning a run which saw Australian lose three wickets for one run in eleven deliveries.
England also got themselves off the hook during their own innings. Having won the toss and chosen to bat, they ambled along at a pedestrian pace with Joe Root needing 73 balls for his 39.
They looked to be in real trouble at 149-8 but then hit 53 runs in the last four overs with Tom Curran (37) and Adil Rashid (36) adding 76 for the ninth wicket.
Archer made two early breakthroughs in Australia's innings when he had both David Warner and Marcus Stoinis caught by Jos Buttler to leave Australia at 37-2.
But Finch — who escaped a run out in the first over — and Labuschagne appeared to have put Australia in charge, prompting Morgan to bring Archer and Woakes back into the attack.
It paid dividends as Woakes removed Labuschagne, Finch and Glenn Maxwell while Archer castled Mitchell Marsh to leave Australia reeling on 147-6.
Sam Curran sprang late into action as he dismissed Pat Cummins and Mitchell Starc in successive balls and also claimed Adam Zampa's scalp.
Morgan praised Archer and Woakes for their last-ditch heroics.
"Jofra is obviously an ace and so is Woakesy. It's our strongest suit," said Morgan. "You like to bowl them in the most important parts of the game and I felt at the time I brought them back that was the most important part because the game was edging away from us.
"I think it was getting to a stage where we needed to make a move. Finch and Marnus made it look easier than it was. So I threw everything at it.
"For Jof and Woaksey to come back like that was outstanding. When they bowl like that they make the captain look good," the Irishman added.
Morgan insisted Australia's collapse was down to impressive bowling rather than poor batting on a used pitch.
"Australia didn't make too many mistakes. It was lbws and bowled — it either nipped or swung back. That's a bowler getting a batsmen out.
"When you make inroads like that it sends quite a big message for the guys coming in about how difficult it is out there."
Left-arm paceman Sam took 3-35 after Woakes and Archer having completed their stints.
"This might be underselling them but it's the truth. Every time they come in there is a level of competitiveness that is more visual than any other player," said Morgan.
Alex Carey kept Australia in contention, although it was slow going as they managed one boundary in a 16-over spell, before being stumped off Rashid in the penultimate over.
"England squeezed us — they bowled a really good length. It was hard to hit boundaries but I'm still very disappointed," said Finch. "It was getting more difficult as the match went on but that's no excuse for the collapse. It probably wasn't the greatest viewer match but it was good to see an equal match between bat and ball."
Scoreboard
ENGLAND:
J.J. Roy run out 21
J.M. Bairstow c Carey b Starc 0
J.E. Root c Finch b Zampa 39
E.J.G. Morgan lbw b Zampa 42
J.C. Buttler lbw b Cummins 3
S.W. Billings b Zampa 8
C.R. Woakes c Carey b Hazlewood 26
S.M. Curran c Carey b Starc 1
T.K. Curran b Marsh 37
Adil Rashid not out 35
J.C. Archer not out 6
EXTRAS (LB-5, W-8) 13
TOTAL (for nine wkts, 50 overs) 231
FALL OF WKTS: 1-20, 2-29, 3-90, 4-107, 5-117, 6-140, 7-143, 8-149, 9-225. BOWLING: Starc 10-1-38-2 (3w); Hazlewood 10-2-27-1; Cummins 10-3-56-1 (3w); Marsh 8-1-49-1 (2w); Stoinis 2-0-20-0; Zampa 10-0-36-3.
AUSTRALIA:
D.A. Warner c Buttler b Archer 6
A.J. Finch b Woakes 73
MP.. Stoinis c Buttler b Archer 9
M. Labuschagne lbw b Woakes 48
M.R. Marsh b Archer 1
A.T. Carey st Buttler b Rashid 36
G.J. Maxwell b Woakes 1
P.J. Cummins b S Curran 11
M.A. Starc c Buttler b S Curran 0
A. Zampa c Archer b S Curran 2
J.R. Hazlewood not out 7
EXTRAS (LB-11, W-1, NB-1) 13
TOTAL (all out, 48.4 overs) 207
FALL OF WKTS: 1-9, 2-37, 3-144, 4-145, 5-145, 6-147, 7-166, 8-166, 9-176. BOWLING: Woakes 10-1-32-3; Archer 10-2-34-3; T.K. Curran 10-2-28-0; Adil Rashid 9.4-0-67-1 (1nb); S.M. Curran 9-0-35-3 (1w). RESULT: England won by 24 runs to level three-match series at 1-1. UMPIRES: M.A. Gough (England) and M.J. Saggers (England). TV UMPIRE: R.K. Illingworth (England). MATCH REFEREE: B.C. Broad (England). MAN-OF-THE-MATCH: Jofra Archer. FIRST MATCH: Old Trafford, Australia won by 19 runs. THIRD MATCH: Old Trafford, Wednesday (5:00pm PST).