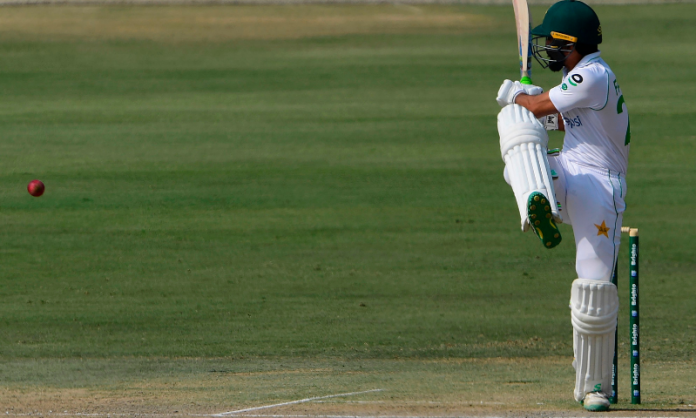 KARACHI: Resilience has been the hallmark of how Fawad Alam plays cricket, all his life. Wednesday saw him once again give ample sights of these virtues. A third ton in a Test career, abruptly shortened by shenanigans of the men responsible for selecting Pakistan's national team.
The customary celebrations upon get there with a huge six off Keshav Maharaj, with his left hand and feet up in the air was another emphatic signal to the past national selectors who had been ungrateful at their collective failure of recognising the tons of guts and determination in the Karachi-born left-hander and son of a former first-class cricketer — Tariq Alam whose brother Riffat Alam also played at the top tier of domestic cricket.
"Obviously there is nothing more satisfying than scoring a Test hundred in your hometown, and that too at first attempt," Pakistan's batting hero told reporters during the virtual presser after his making a courageous 109 that eventually guided the hosts into a position of strength.
"I'll never forget this moment in my life even though it had been long overdue. The century in New Zealand [102 at Mount Maunganui last month] was special too because many had written me off. But this one gave me more joy because the team needed it most. I had left it to Almighty Allah to grant me success coming into this Test. I had dreamt of achieving something special and cherish it for the rest of my life. Scoring a ton in a hometown is a feat everyone dreams of. Couldn't have asked for more after what I had performed today. At the moment I'm utterly feeling over the moon."
Fawad said despite the poor start by Pakistan, he was confident that the remaining batsmen were capable of coming good.
"Both Ajju [Azhar Ali] and myself decided together last night that pressing the panic button won't do any good and the best way out of what happened on the first day [when Pakistan were in the mire at 33-4 at stumps] was to get the negative thoughts out of the mind," Fawad went on. "Our sole goal was to bat deep today as long as we could. We applied ourselves and were rewarded for our collective hard work.
"Honestly speaking, we felt that we could put them [South Africa] on the defensive by rotating the strike regularly and we did exactly that. As a team we are proud of the way we came back into the Test. Everyone chipped in well. Azhar was simply outstanding for setting up the stage and then [Mohammad] Rizwan and Faheem [Ashraf] all contributed when they were needed most," Fawad added.
Meanwhile, Maharaj conceded bowling to someone with the unconventional batting style Fawad was frustrating for South Africa.
"Yeah, it was tough for the bowlers out there because of the way Fawad led the fightback but I thought we did well to control the scoring rate [of Pakistan]. We have never seen a batter who adapts such an awkward stance while being at the crease. But the way he [Fawad] batted was something to be praised," the frontline slow left-armer remarked.
"It was difficult to find the right spots to put Fawad in bother because his [batting] style is something we've never experienced before. Credit to him for playing a splendid knock under immense pressure."
Maharaj was of the view that it the wicket had behaved normally but admitted it was too early to expect it becoming tough for batting in the later stages of the match.
"I think the wicket looks pretty good at the moment but yeah, one can't say how it would play [over the remaining days]. But one area that we must improve is to get decent runs in the second innings. No one can say whether there'll be deterioration setting in batting deep into the match. There are footmarks created by the bowlers that could come into play. And Yasir Shah being a wrist spinner, can troubles our batters," he observed.
"It is imperative that we should restrict Pakistan's lead to a minimum and try to bat as long as possible to set Pakistan with a decent target [to chase]," Maharaj remarked.