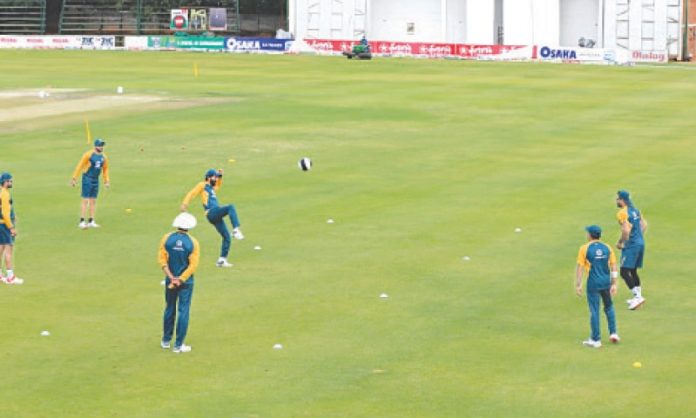 KARACHI: Pakistan captain Babar Azam on Wednesday admitted the unfamiliar conditions of Zimbabwe offer a new challenge for his side in red-ball cricket when the two-match Test series begins in Harare on Thursday.
Addressing a virtual media conference on eve of the first Test at the Harare Sports Club, Babar expressed optimism about Pakistan doing well over the course of coming two weeks after Zimbabwe.
"No doubt the change of format [from white ball to red ball] does create issues but basically the main thing is to adapt to the overall conditions, which are somewhat difficult at this time of the year in Zimbabwe. Playing Zimbabwe in Zimbabwe has always been not that easy if you look in the past," Babar told reporters.
"It's more of mental adjustment than anything else and prepare yourself accordingly. We may have not played much Test cricket in recent times [since Pakistan defeated South Africa at Rawalpindi in early February] but the players are experienced enough to handle the situation," the skipper added.
"The secret behind success in any field is the amount of time one spends on preparations. As the captain I can say with conviction that Insha'Allah we will do well because collectively as a unit everyone involved here has been working hard to overcome whatever the situation we may come across. The Test players, who were not part of the white-ball team, have been training both in Lahore and since they arrived here in Harare. So our preparations have gone extremely well."
Babar continued, "The only worry that matter from our point of view is the opposition because Zimbabwe have always shown tremendous resilience whenever Pakistan played against them and since we haven't played a Test in this country in almost eight years, we have to play really well to win."
The captain also said that the playing surface was a key factor behind both teams struggling in the T20 International series — which Pakistan won 2-1 — while adding the Test match pitch appears to be on the better side.
"We played on bouncy tracks during the South Africa [white-ball] tour but the pitches during the T20s in Harare were on the slower side. However, the Test strip has a nice topping of grass which is good to see because it would help the bowlers to get some kind of carry," Babar stressed.
"It was always tough on the batters to post a 180-plus total because of the slow nature of the pitch which at times played doubled-paced but I'm sure Pakistan will play with a positive intent," the Pakistan captain remarked.
Zimbabwe, who will be led in the first Test by Brendan Taylor with Sean Williams still handicapped by fitness issues, have won only three Tests against Pakistan with two of them coming on home soil, a point Babar took notice of.
"As for Zimbabwe, they gave us great fight during the T20 series and made it difficult for us to dominate. And though, they won't have Williams [recuperating from a soft tissue injury on his left hand] to lead them, they'll still be a competitive side, particularly when they play in their own conditions.
"But we have the experience to strengthen our chances of winning. Azhar Ali and Fawad Alam are very experienced. And although our openers [Abid Ali and Imran Butt] didn't have great [home] series against South Africa, we need to back them because they have the capacity to play big innings," Babar stated.