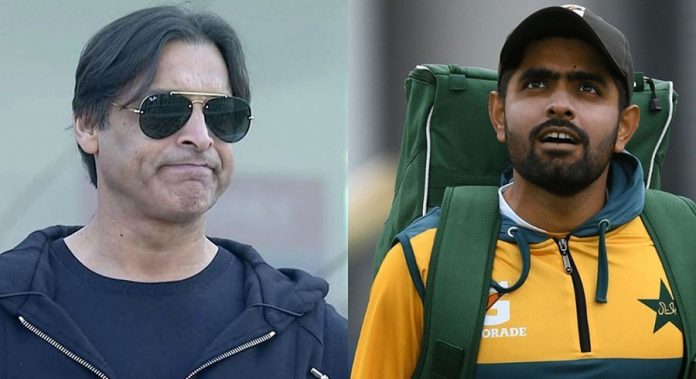 Former Pakistani cricketer Shoaib Akhtar's comments on Babar Azam's communication skills caused a controversy in Pakistan's cricket world recently. Shoaib Akhtar claims that Babar Azam's lack of English-speaking skills is hindering his brand-building potential as a cricketer known for his brilliant performance. 
Akhtar said, in an interview with a Pakistani news outlet, "Babar Azam has not become Pakistan's biggest brand because he cannot speak English." He went on to say that communication in English is a must in today's world of global marketing and sponsorships for Pakistani cricketers. Akhtar continued by saying that it is important for Babar Azam to be fluent in English to earn some international fame. 
Akhtar's comments on Babar Azam's English language skills have sparked a heated debate. Many cricket fans and experts criticized his remarks. In fact, well-known Pakistani cricket player Kamran Akmal called it a publicity stunt by Shoaib Akhtar to stay in the headlines. The audience argues that Azam's talent on the pitch should determine his success in the sports world, not his language skills.
Undoubtedly, Babar Azam is widely regarded as one of the most talented cricketers in team Pakistan. The player has already made a remarkable name for himself on the international stage. Besides receiving numerous accolades, Azam has been compared to legendary cricketers such as Virat Kohli and Steve Smith because of his impressive performances in the past. 
Critics of Akhtar's comments argue that his remarks support the idea that English is the only language of business and is a determinant of success. According to Akhtar, those who cannot speak English are at a disadvantage. 
Pakistani Cricketers' English language skills have been criticized before and Akhtar's comments have brought the topic into the spotlight again. The reaction from Babar Azam to Akhtar's comments is awaited news for the cricket fans.