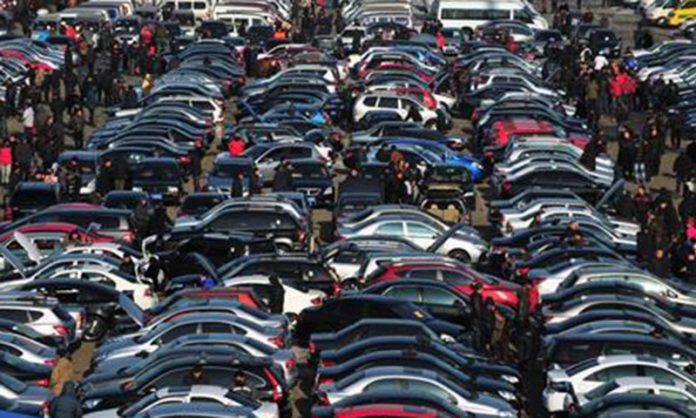 Atlas Honda Ltd assembled and sold all-time high units of 116,024 and 116,000 respectively in October, breaking its own record of 115,972 assembled and 115,161 sold units in April 2018.
Total car sales stood at 43,865 units in July-October 2020-2021 as compared to 40,853 units in same period last fiscal year, supported by 68pc gain in Honda Civic/City sales, which rose to 8,341 units followed by 62pc rise in Suzuki Bolan to 2,438 units, 36pc hike in Suzuki WagonR to 3,658 units and 20pc in Suzuki Swift to 810 units.
Among the losers were Suzuki Alto, witnessing 38pc fall to 10,544 units in 4MFY21 while sale of Toyota Corolla dropped by 34pc to 4,928 units and Cultus by 15pc to 4,079 units, figures released by Pama revealed.
Toyota Corolla ceded space to Toyota Yaris, as sales of the newly-launched model were reported at 9,067 units despite Indus Motor Company increasing the vehicle's prices two times.
However, total car sales in October slightly inched up to 11,997 from 11,860 units in September, while in October 2019, total car sales were 9,566 units.
In jeeps, vans and SUVs, Toyota Hilux and Toyota Fortuner took the lead with 90pc and 71pc increase in sales to 2,572 and 629 units in the first four months of the current fiscal year. Honda BR-V registered an increase of 51pc to 1,324 units while Suzuki Ravi recorded a 2pc rise to 2,010 units.
Among the newcomers, sales of Hyundai Tucson and Porter stood at 448 and 333 units respectively.
In farm tractors, Fiat sales suffered a fall of 7pc to 4,950 units while Massey Ferguson posted a growth of 50pc to 10,232 units, signaling better agriculture indicators.
In two- and three-wheeler segment, a total of 403,154 and 404,005 units were produced and sold by Atlas Honda Ltd during July-October FY21, up by 21pc each compared with the same period last fiscal year.
Suzuki and Yamaha sales plunged by 4pc and 22pc to 6,628 and 6,823 units respectively.
Sale of United Auto Motorcycle, country's second highest bike assembler after Honda, grew by 18pc to 134,120 units while Road Prince bike sales also rose by 19pc to 51,099 units in the first four months of the current fiscal year.
Qingqi three-wheeler sales jumped by a massive 106pc to 6,840 units while United and Road Prince three-wheeler sales stood at 2,821 and 4,092 units in 4MFY21, up by 33pc and 66pc respectively, compared with the same period last fiscal year. A 49pc rise was recorded in Sazgar three-wheeler sales to 5,224 units.
Total truck sales stood at 1,104 units, down by 0.9pc despite 63pc fall in Hino sales to 181 units in July-October while Master and Isuzu sales surged by 99pc and 21pc to 295 and 568 units.
Total bus sales remained depressed witnessing a fall of 28pc, as Isuzu and Hino suffered 62pc and 42pc drop to 27 and 72 units in the first four months of the current fiscal year while Master reporting sales of 87 units, up by 28pc versus 4MFY20.
Despite multiple price shocks amid rupee recovery from July till to date, buyers have remained upbeat towards new cars and bikes/three wheelers due to cut in interest rates to 7pc from 13.25pc in March. Meanwhile, rising prices of various cash crops has also increased fresh buying.
Syed Fawad Basir of Top Line Securities said demand for cars is expected to grow stronger owing to lower interest rates for auto financing along with pickup in economic activity.