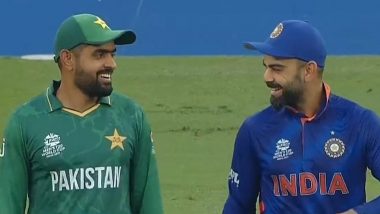 Asia Cup 2022: India vs Pakistan Match Likely To Play On August 28 – Report
India and Pakistan are likely to clash in the Asia Cup 2022 ahead of the T20 World Cup 2022 in Australia, as per reports in Sri Lanka media. The Asia Cup 2022 will be the 15th edition of the regional tournament since it was first conducted in 1984 in Sharjah. The continental tournament is scheduled to be played in the T20 format between August 27 and September 11.
Sri Lanka was named the hosts for the Asia Cup, which they were initially supposed to host in 2020 but the tournament was deferred due to the rising COVID-19 cases in the country.
Sri Lanka to host Asia Cup 2022 – Reports
Sri Lanka is currently hosting Australia for multi-format series with just one Test left in Australia's month-long tour to the island nation, which is facing political turmoil and the worst economic crisis in its history.
Despite the tensions in the country, it is understood that Sri Lanka will continue to host the biennial event after getting clearance from the Board of Control for Cricket in India (BCCI). However, the Asian Cricket Council (ACC) is yet to officially announce the groups and schedule for the tournament.
India vs Pakistan to be held on August 28 in Asia Cup 2022 – Reports
According to a Sri Lankan journalist, India and Pakistan will be paired in one group while Sri Lanka, Bangladesh and Afghanistan will play in another group. The scribe also mentioned the high-octane clash between India and Pakistan will take place on August 28. The two teams will be joined by the winner of the qualifiers round.
India and Pakistan will also lock horns on October 23 in the T20 World Cup 2022 at the Melbourne Cricket Ground (MCG), which has the capacity to hold around 100,000 spectators.
It will be riveting moments for the fans of both teams to witness two thrilling encounters this year as the India-Pakistan bilateral series is not a possibility in current times owing to political tensions between the two nations.
In their last meeting in the 2021 T20 World Cup, Pakistan outplayed India by 10 wickets, the first win for Pakistan against their arch-rivals in any World Cup event.