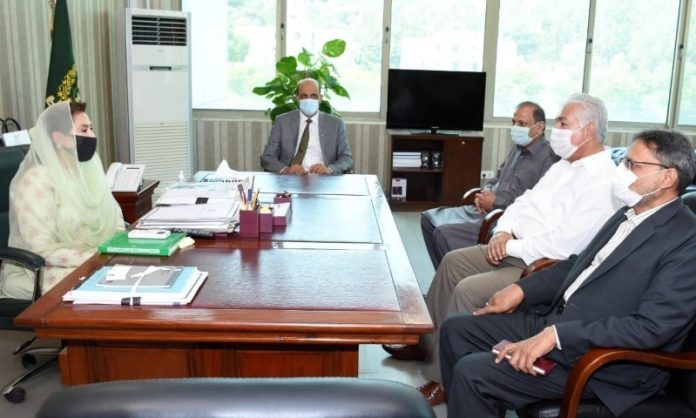 ISLAMABAD: Ashfaq Hussain Shah called on the Federal Minister for Inter-Provincial Coordination Dr. Fehmida Mirza in her office on Thursday during which he shared the proposals suggested by his group to end the ongoing football crisis in the country.
Pakistan has been suspended by FIFA after Ashfaq and his group of football officials, who came to power after a Pakistan Football Federation election held by the Supreme Court which was not accepted by the global football body, took over the headquarters of the country's football governing body from the PFF Normalisation Committee which was appointed by FIFA to hold fresh elections.
The ban will only be lifted if Ashfaq's group vacates the PFF headquarters.
Thursday's meeting was a follow-up to another meeting held by the Ashfaq group last week. In between, the IPC minister also held talks with a delegation of the PFF NC.
Sources close to the matter said that the IPC minister will call the PFF NC for another meeting next week.
"The IPC ministry and the Pakistan Sport Board wants to build consensus between the Ashfaq group and the PFF NC," the sources told Dawn. "The PSB wants both of them to send a joint-letter to FIFA to lift the ban on Pakistan."
The Ashfaq group as well as the PSB have claimed in the past that they want a final election date from the PFF NC. Earlier this week, they demanded that they will only vacate the headquarters if they receive guarantees that the election will be held by September.
PSB director general retired Col Mohammad Asif Zaman were also present in the said meeting, as was IPC ministry secretary Mohsin Mushtaq.
"During the meeting, various proposals/suggestions came under discussion besides suspension of football operation in Pakistan by FIFA, role of the normalisation committee, incident on March 27 FIFA House (when Ashfaq Group took over) and the resumption of football activities in the country," a PSB news release said.
"The meeting was positive is an important step towards resolving the issues. A similar meeting will be held with the officials of the normalisation committee as well as, with relevant factions. It should be noted that these meetings are part of the dialogue process initiated by Minister IPC last week."