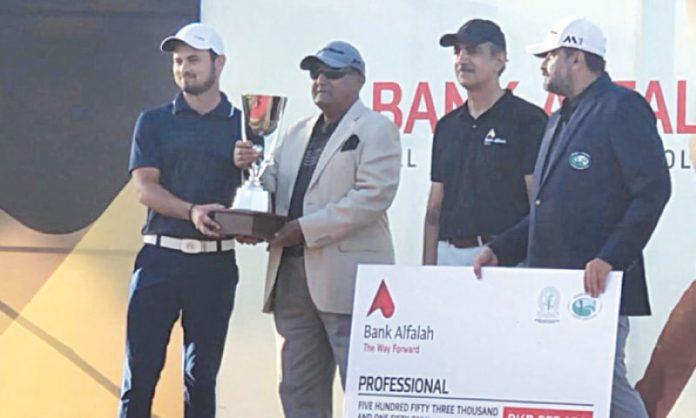 KARACHI: Having relinquished his Sindh Open title last week, Ahmed Baig had vowed he will rebound very quickly.
For sure, he did.
Ahmed stormed to victory at the DHA Karachi Cup All Pakistan Golf Championship on Sunday as he emphatically turning a two-stroke deficit into a six-shot margin of victory, leaving his rivals trailing in his wake.
The 22-year-old sensation was so good at the Defence Authority Golf and Country Club that once he got into the lead, no one really stood a chance.
"Everything went according to plan today," Ahmed told Dawn gleefully after a final-round 65 that saw him finish at 11-under 205. "It was one of those days when everything falls into place."
Since turning professional in 2019, Ahmed has quickly transformed his talent into title triumphs. He's now emerging as the closest challenger to Pakistan number one Shabbir Iqbal.
Shabbir beat Ahmed to the Sindh Open title last week but this time it was he who finished runner-up on 211 after carding a 68.
Hamza Amin (67) got the due reward for being on the course till late Saturday night trying to fix his swing as he took third place, a shot further adrift.
"I'm happy with my performance," Hamza told Dawn. "I had chances late on to push for second but sadly they didn't fall."
For overnight leader Mohammad Ashfaq, it was a 'disastrous' day as he could only manage a 75 to finish fourth on 213.
It was a similar scenario for Mohammad Alam, who started a day a stroke behind Ashfaq, but ended up tied for fifth on 214 with Mohammad Munir (72) after returning to clubhouse with a 75.
Mohammad Tariq (69) and Mohammad Khalid (67) ended a further shot adrift, one shot ahead of Waheed Baloch (71) and Talat Ijaz (71).
Hamza Ghani won the amateurs' title with a final round 78 giving him a 232 and a three-shot win over Omar Khalid (76).
Mohammad Akram (72) prevailed in a playoff against Ashiq Naz (70) to win the two-round senior professionals' contest after both ended on 147.
Abdul Wadood had won a two-round junior professionals' contest on Saturday.
Also, Humera Khalid, Omar Khan Bangash and Sameer Sayed won their 18-hole contests in ladies, senior and junior amateurs respectively.
All eyes, however, were on the professionals' title race on Sunday with Ashfaq, Alam and Ahm­ed separated by two strokes in the leader flight.
Alam had drawn level with Ashfaq with a birdie on the first hole but he was soon out of the race when he triple-bogeyed the fourth.
With a birdie on the fourth, following another on the second, Ahmed had moved level with Ashfaq. They stayed that way till the 10th, with Ahmed hitting a birdie on the sixth with Ashfaq responding with a birdie of his own on the eighth.
After both bogeyed the 10th, Ahmed moved two shots ahead with a birdie on the 11th as Ashfaq bogeyed that hole. After that, there was no looking back for Ahmed even if he was concerned with Shabbir charging his way up from behind.
"I had a feeling that Ashfaq was beaten there [on the 11th hole] but it was in the back of my mind that Shabbir will try to mount a title charge," Ahmed said.
A title charge from Shabbir, who hit two birdies and a 15th-hole eagle in a bogey-free round, never really materialised in the end as Ahmed sped away with birdies on the 12th, 14th, 15th, and 16th holes in a resounding finish.